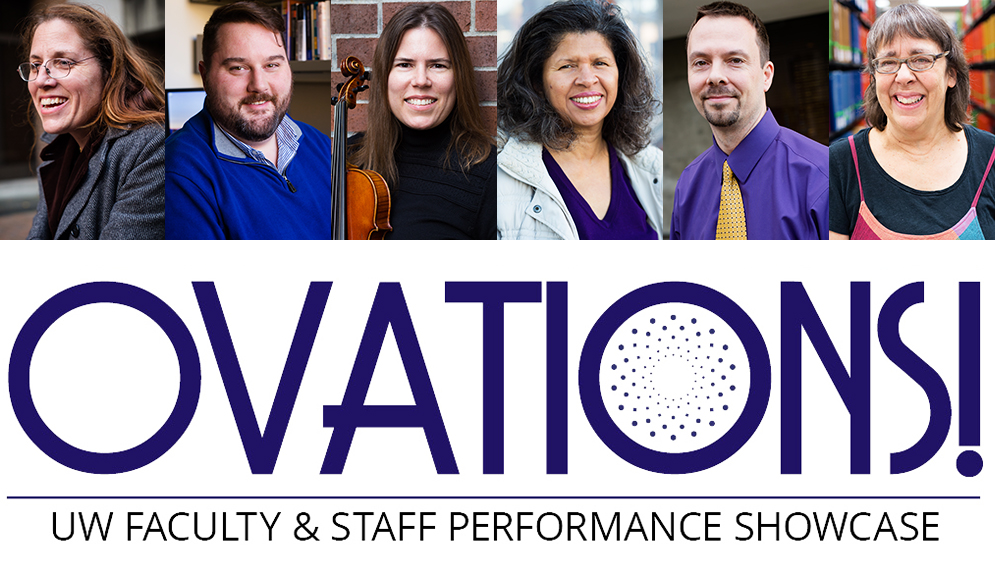 Last week, we kicked off a Q&A series to showcase our talented lineup for Ovations (which you can register to attend here). Our second installment features a breakdancer, a Christmas caroler, and a cellist from the Seattle Philharmonic Orchestra.
Tess Morgan, Jazz Singer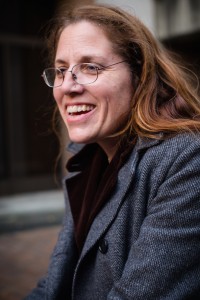 Position: Administrative Coordinator, School of Medicine
At UW since: On and off since 1989
Alma mater: UW
Hometown: Seattle, Washington
Favorite singer: Peggy Lee
Favorite movie: King of Hearts (1966)
Favorite place for lunch: Agua Verde
What's your talent?
I'm a vocalist and I specialize in jazz, big band, and Americana music. My personal mission is to help songs that are being forgotten stay living
What are you going to be singing?
We're going to perform "Skylark," which is a classic tune. It's a nice opportunity to showcase a simple, elegant tune about a more innocent time.
What drew you to Ovations?
By day, I'm a secretary for cancer docs — in a passive role working for active people. Oftentimes in support roles you're quiet, and this is an area where I believe I have a gift and should use it. I know that arts, music, and nature are really vital to our health; this is a direct way to give to my community.
Are you worried about getting stage fright?
That's a fair question. When I get stage fright, my right leg starts moving. So I just stand on the leg and it's fine.
Kevin King & Chris McEwen, Traditional Irish Music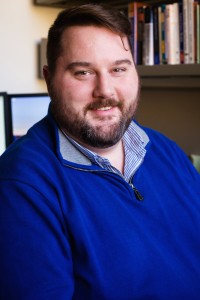 Position: Associate Professor, Department of Psychology
At UW since: 2007
Alma mater: University of North Carolina; Arizona State University
Hometown: Washington, D.C.
Favorite band: Solas
Favorite movie: Hot Fuzz (2007)
Favorite place for lunch: Banana Leaf Cafe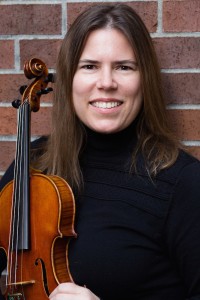 Position: Director of Advancement Training & Support, University Advancement
At UW since: 1996
Alma mater: Coe College
Hometown: Joliet, Illinois
Favorite musician: Jim Malcolm
Favorite movie: Bagdad Cafe (1987)
Favorite place for lunch: Cultivate
What do you do at UW?
Kevin: I teach at the graduate and undergraduate level. My research focuses, in a sentence, on why some people are good at self-control and why I'm not good at self-control (laughs).
Chris: My work deals with computer support and training for the Advancement staff, and the staff around the university who aren't directly employed by Advancement but use Advancement applications and reporting tools.
What instrument do you play?
Chris: We're playing three tunes, and I'm playing fiddle on all three.
Kevin: So she contributes the melody. I'll be playing a traditional Irish drum, called the bodhrán, and the tenor banjo.
How many people on this campus play traditional Irish music?
Kevin: As far as we know, two.
How did you find each other?
Chris: We found each other three years ago. The UW Alumni Association asked me if I would play some Irish fiddle music at the Science Center for people who were in line to see a Harry Potter movie. But I didn't want to play alone ­— I wanted a rhythm player.
Kevin: She found me through a traditional Irish music discussion board. I got this email out of the blue saying, "Hey, I'm at the UW. Do you want to get together?"
Chris: And I wasn't even specifically looking for someone at the UW.
Angela Roberts, Christmas caroling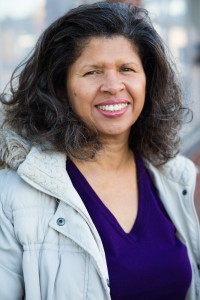 Position: Administrative Specialist, University Police
At UW since: 1990
Hometown: Kalamazoo, Michigan
Favorite singer: Aretha Franklin
Favorite movie: Red (2010)
Favorite part of campus: Henry Art Gallery
What's a typical day at your job like?
I'm in charge of the budgets, so fiscal operations and the front office staff. And I'm also an assistant RAD instructor, which is self-defense for women on campus. I've been with the police department for the last three years.
Where were you before that?
I was with the Minority Science and Engineering Program for five years, and then five years in the Center for Studies in Demography and Ecology. Prior to coming to the Police Department, I was with Recreational Sports at the IMA for 11 years.
How long have you been singing?
I sing in the choir at the church I attend. I've been singing with my brothers and sisters since I was little. My brother was into Elvis, and my sister was into Pat Boone. But then I heard Aretha Franklin, and that was it. I was sold on Aretha.
What will you be doing at Ovations?
It's a Christmas carol called "Mary, Did You Know?" Since it's going to be in December, and there's a lot of Christmas caroling at that time, I thought maybe that would be good.
Are you excited to perform in front of your peers?
I'm nervous to perform. Oh, my goodness! I thought it was going to be just a little get-together, but they've made it a whole stage production!
William Beauchere, Breakdancer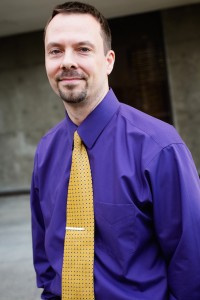 Position: Operations Manager, Bay Laurel Catering
At UW since: 2001
Hometown: Seattle, Washington
Favorite movie: Airplane (1980)
Favorite musician: Lionel Richie
Favorite place for lunch: McMahon Hall
Favorite spot on campus: Quad at springtime
What does Bay Laurel Catering do?
We do events for anybody who's connected to the university in some way. We do anywhere from 10 to 50 events a day, ranging from coffee breaks for as few as 10 people to seated, served meals for over 1,000.
How did you get into breakdancing?
A friend of mine in Seattle had showed me a few things in high school. I picked it up a bit. My mother had moved us to Federal Way, where very few people had even heard of it. When I showed somebody in my small school, it was the coolest thing ever. I was always the kid in the corner who didn't get a lot of attention; I went from that to the most popular kid in the school. The more I learned, the more popular I got.
Did you perform shows or just battle other dancers?
It started with battling. There was a breakdance crew in Seattle called the Emerald City Breakers, probably the best crew in Seattle, and they included me in their group. That's when other opportunities came up. But before you get there, it's just battling. I got sketchy IDs and was a regular patron at three different nightclubs in Seattle. It was what was happening at the time. It was great. And then it went away.
Did you ever have a go-to song?
There's a song called "Five Minutes of Funk." If I heard it come on, no matter where I was, I would find a battle somewhere. I would work my way into the circle and wait for the opportunity to take on whoever was in there, because it fit what I did so well.
Why did you want to participate in Ovations?
The last eight months straight this place has gone non-stop, busier than I've ever seen it. We've been through such a grind. Morale is pretty low. So if it takes me getting up on stage and making an idiot of myself in front of everybody, it's the least I can do.
Noreen Jacky, Cellist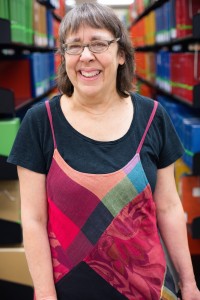 Position: Library Supervisor, Built Environments Library
At UW since: Over 35 years
Alma mater: UW
Hometown: Seattle, Washington
Favorite movie: Classic musicals
Last book read: Biography of Ada Lovelace
What's a typical day at your job like?
My area is the front desk, and I supervise students. I started working in a library when I was partly through school, and I took advantage of tuition exemption. It was nice to be able to graduate without debt. Took me a while. I've lived at the U for a long time.
What's your favorite past about working the library?
The people, easily. My first full-time job here was at the Health Sciences Library. I met my husband there.
Why did you start playing cello?
When I was probably 12, I was taking piano lessons and I wanted to play in a group. I was tall, so they handed me a cello. I've been playing in the Seattle Philharmonic Orchestra for more than 20 years.
How have you managed to reach a high skill level while also having a full-time job?
It's hard (laughs). I stress sometimes when I'm not quite there. Sometimes after a long rehearsal on Wednesday I'm a bit bleary-eyed on Thursday mornings. But I love it.
That's a wrap for the second week of Ovations profiles. We'll be sharing 11 more accomplished acts over the next two weeks, so check back soon!