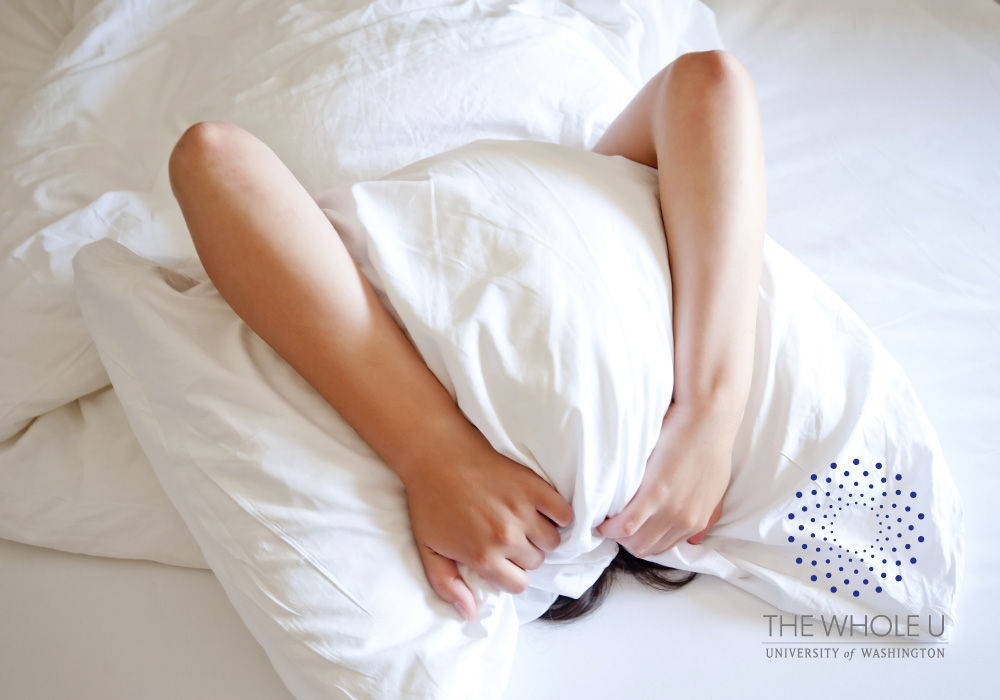 What keeps you up at night? Maybe it's the birth of a new baby, trying to keep up with your family or social schedule, irregular working hours, lifestyle changes or a disorder, like sleep apnea…or everyone's favorite—stress!
According to the National Sleep Foundation, adults sleep an average of 6 hours and 40 minutes during the week and 7.5 hours on the weekends. Healthy sleep for an adult is between 7.5 to 8.5 hours a night.
Getting your best sleep is important but making it a priority can be a challenge. Take the first step toward better sleep and register for the next Whole U Speaker Series with Dr. Michael Vitiello, professor of Psychiatry & Behavioral Sciences, Gerontology & Geriatric Medicine, and Biobehavioral Nursing.
On Wednesday, November 12 from noon – 1 p.m., take a break, bring your lunch, and learn what sleep can do for your health, why we tend to get less than we need, and the link between sleep and illness. Walk away with tips on getting good quality sleep, resources for what to do if you have a sleep disorder, and how UW Medicine Sleep Center can help.
In addition to his School of Medicine appointment, Dr. Vitiello also serves as co-director of the Center for Research on the Management of Sleep Disturbances and co-director of Northwest Geriatric Education Center. Don't miss this opportunity to learn from an internationally recognized expert in sleep, circadian rhythms, and sleep disorders in aging,
Why do you need to get your best sleep possible? According to research consolidated by the Division of Sleep Medicine, there are three reasons to strive for a normal amount of sleep each night.
Proper sleep improves your mood
Feeling cranky, irritable or just not right… you might need more Zzzs.
Researchers found limited sleep resulted in stressed, angry, sad, and mentally exhausted subjects. When subjects resumed normal sleep, they reported a dramatic improvement in mood.
Depression has also been linked to people who have trouble sleeping. Fifteen to 20 percent of those diagnosed with insomnia will develop major depression.
Proper sleep improves your memory
Do you dream of a quick fix to improve your memory?
A reduction in total sleep time can inhibit your ability to associate memories. Studies show the most critical period of sleep for memory consolidation is the one immediately following a lesson.
Proper sleep improves your judgment and safety
This is scary. Research compiled by Division of Sleep Medicine, shows that drowsy driving causes 1 million crashes, 500,000 injuries, and 8,000 deaths each year in the U.S. Being awake for 22 hours straight can slow your reaction time more than consuming four alcoholic drinks.
Do you have any questions about sleep? Share them below!