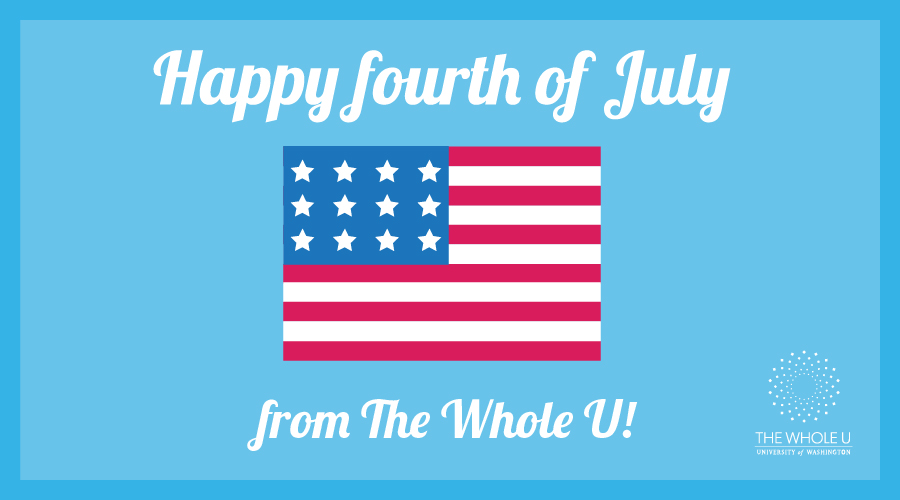 Recipes: Grill Out with Brats, Summer Side, & a Bubbler
Happy 4th of July, UW! It's time to grill out and celebrate.  Enjoy your day off and maybe try some of these delicious recipes from Chef James at Cultivate and Chef Tracey MacRae, campus executive chef.
Beer boiled brats
Ingredients:
Brats
Hoagie rolls
Beer (enough to cover the brats in a pot)
Onion (amount depending on how many brats you serve)
Stone ground mustard
Preparation:
Simmer the brats in enough beer to cover them with some sliced onions for about 15 minutes.  You may want to prick them a few times to prevent them from exploding in the beer.
Continue cooking them on a grill, turning occasionally, until the brats are done through and a nice, golden-brown all over.
Toast some hearty hoagie rolls on the upper rack of the grill.  Do not use flimsy hot dog buns, as you will want a pretty substantial bun.
Serve with stone ground mustard (the yellow stuff is not the best option with these) and chopped onions (sweet onions work really well here too).
Sugar snap pea, tomato and orange salad w/ Dijon-marjoram and honey vinaigrette

Serves 2 quarts of salad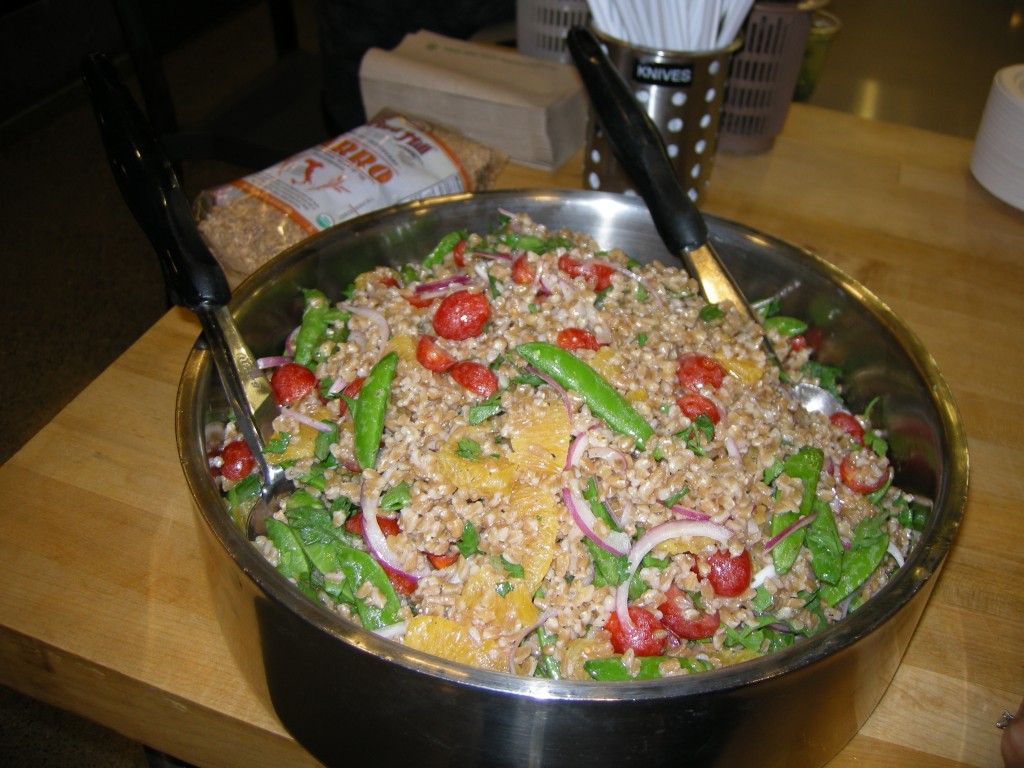 Ingredients:
1lb sugar snap peas, raw, trimmed and stringed, leave whole or slice in half on the bias
2 cups grape tomatoes, halved
2 large oranges
½ medium red onion, julienned
½ cup fresh Italian parsley (flat leaf), chopped, not too fine
2 cups cooked and chilled farro, or wheat berries or bulgur or Israeli cous cous (in that order for me) (you can also omit for gluten free)
1 cup Dijon-marjoram-honey vinaigrette (recipe included)
Preparation:
In a large bowl, gently toss all the ingredients together with your clean hands (except the dressing), breaking up any onions that may have clung together and evenly distributing the ingredients.
Now pour the vinaigrette over the salad, and again, gently toss with your clean hands to evenly coat the salad with the vinaigrette.  Taste a sugar snap for salt and pepper. It should be fine, but tastes vary.
I prefer this salad at room temperature, but it can be served iced cold and even warmed.
Dijon-marjoram and honey vinaigrette
Makes about a cup
Ingredients:
1/3 cup white balsamic or rice wine vinegar
1 tablespoon lemon juice
1 tablespoon Dijon mustard
1 teaspoon whole grain mustard (opt)
1 tablespoon honey
1 tablespoon shallot, finely chopped (red onion works too)
1 garlic clove, finely chopped
1-2 tablespoons fresh marjoram, finely chopped
2/3 cup grape-seed or olive oil
Kosher or sea salt and freshly ground black pepper to taste (I like ½ tsp of each to start)
Preparation:
Combine the first seven ingredients (or eight if using optional mustard) in a mixing bowl. Let stand at room temperature for 30 minutes.
Slowly add the grape-seed oil to the mixture in a steady stream while whisking vigorously.  You can do this in the blender on the lowest/slowest setting if you like.
Season with the salt and pepper.
Farro

Makes two cups of cooked farro
Ingredients:
1 cup farro, rinsed
2 ½ cups water
1 tsp salt
Preparation:
Put the water and the farro in a pot together and bring to a boil.
Now, turn it down to a simmer, cover, and let it cook for 20 minutes.
Uncover and give it a good stir. Let it continue to cook uncovered for 5 more minutes to dry up any excess liquid.
When tender-chewy, drain the farro of any remaining water, but do not rinse it.  Spread it out on a rimmed cookie sheet or tray and let it cool to room temp.  Store it in a container in the fridge if not using right away.
Cucumber mint bubbler
About 13oz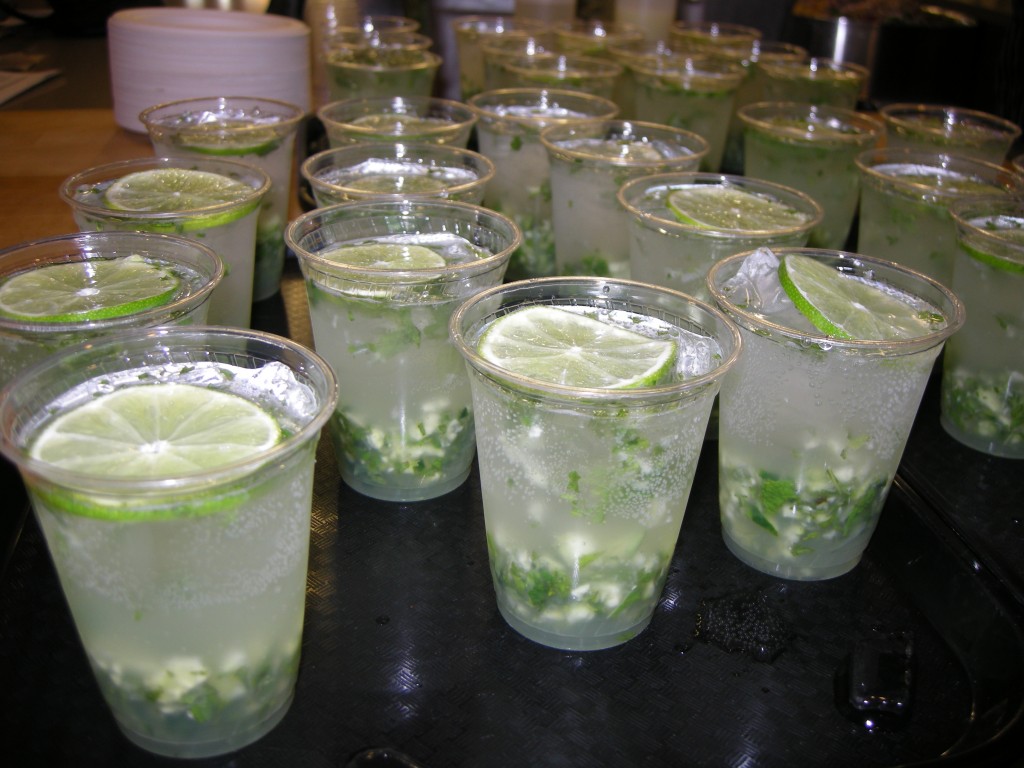 Ingredients:
2oz slices of English or hothouse cucumber or about 5 salad size slices
1oz sliced limes  (¼" slices), plus extra for garnish if you like
5oz mint leaves or about 5-7 leaves, depending on how minty you like it, plus extra for garnish
2 tablespoons fresh lime juice (about the juice of a golf ball sized lime)
8oz cold plain soda water
Rock candy or simple syrup, to your taste, I like about 2 tablespoons (recipe below)
Preparation:
Put sliced cucumber, sliced limes, mint leaves and simple syrup into a shaker or sturdy pint glass and muddle (you can use the handle of a wooden spoon if need be) OR for larger batches you can put all the goodies into a blender and pulse about 5 times to bruise and chop.
Pour into a tall glass (at least 16oz) and add ice.
Pour cold soda water over the base and stir well.
Garnish with a lime wheel and mint leaf in the glass.
Pass around & let summer begin!
It almost goes without saying an "adult" version of this would be lovely with vodka or gin.
Simple syrup
Ingredients:
2 cups sugar
1 cup water
Preparation:
Bring the water to a boil.
Dissolve the sugar into the boiling water, stirring constantly.
Once the sugar is dissolved completely, remove the pan from the heat (Note: Do not allow the syrup to boil for too long or the syrup will be too thick).
Allow to cool completely and thicken, then bottle.
The Whole U wishes you a great long weekend!  Share some of your favorite grilling recipes below and be entered into a drawing for a Whole U prize pack.