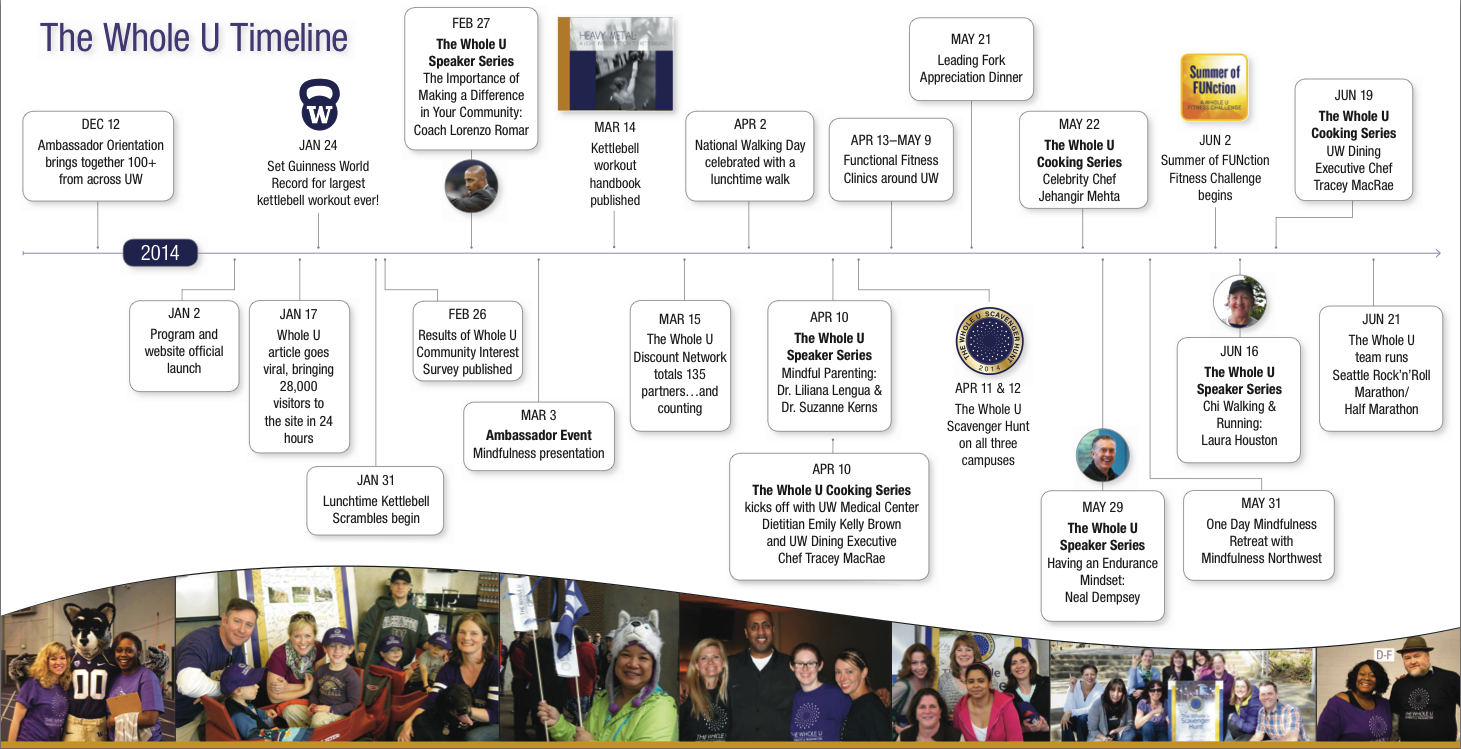 The Whole U: Our First Six Months
It should come as no surprise to those who frequently visit The Whole U that we like to celebrate milestones. This month we get to celebrate one of our own: The Whole U's first half birthday! And while there is no half-birthday cake to mark the occasion, we did celebrate by pulling together our first six-month progress report, which President Young shared at the June meeting of the Board of Regents. Faces of The Whole U provides an overview of activities to date, data on participation, and feedback we've received. (Click to enlarge, right click to save.)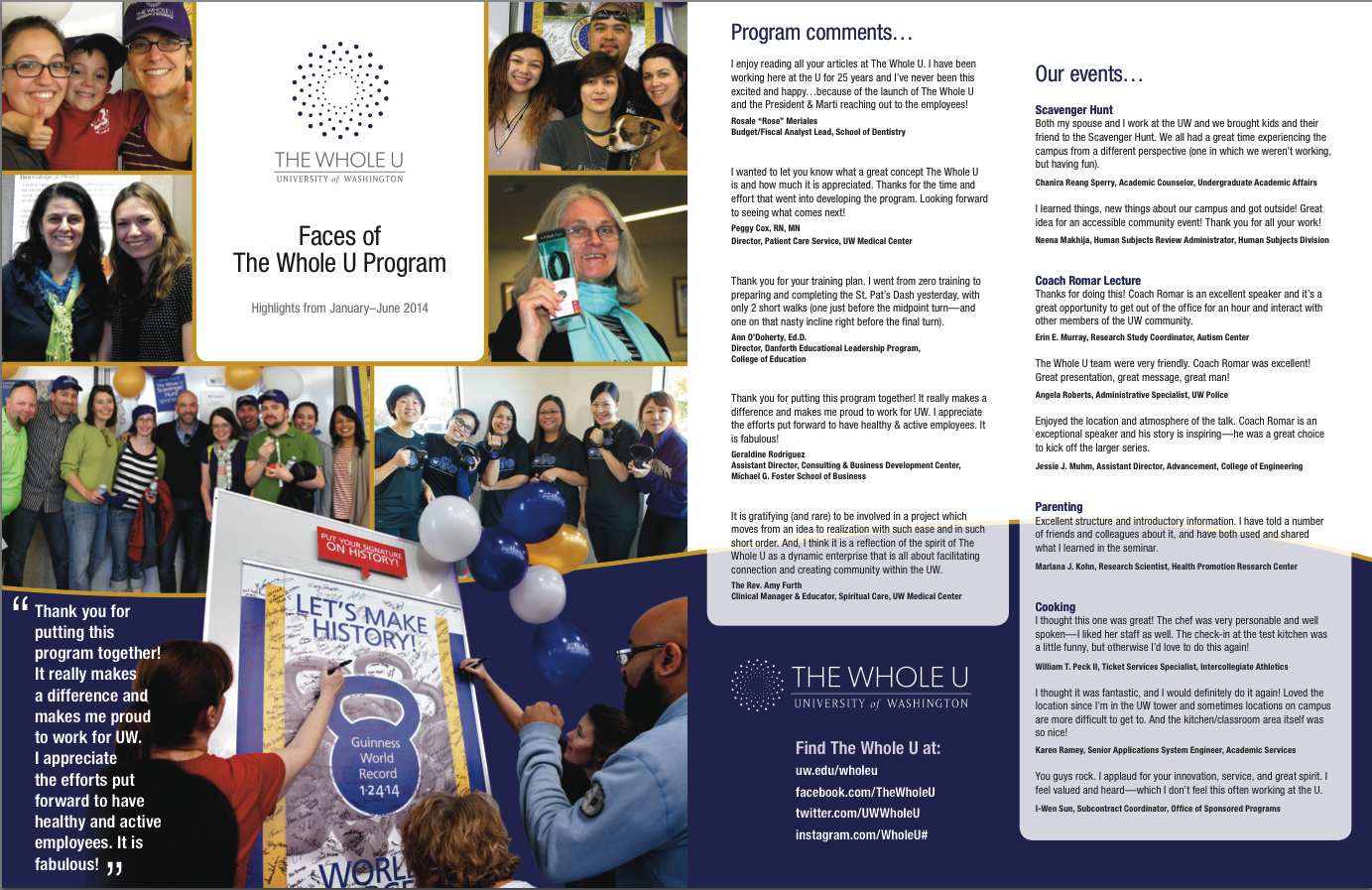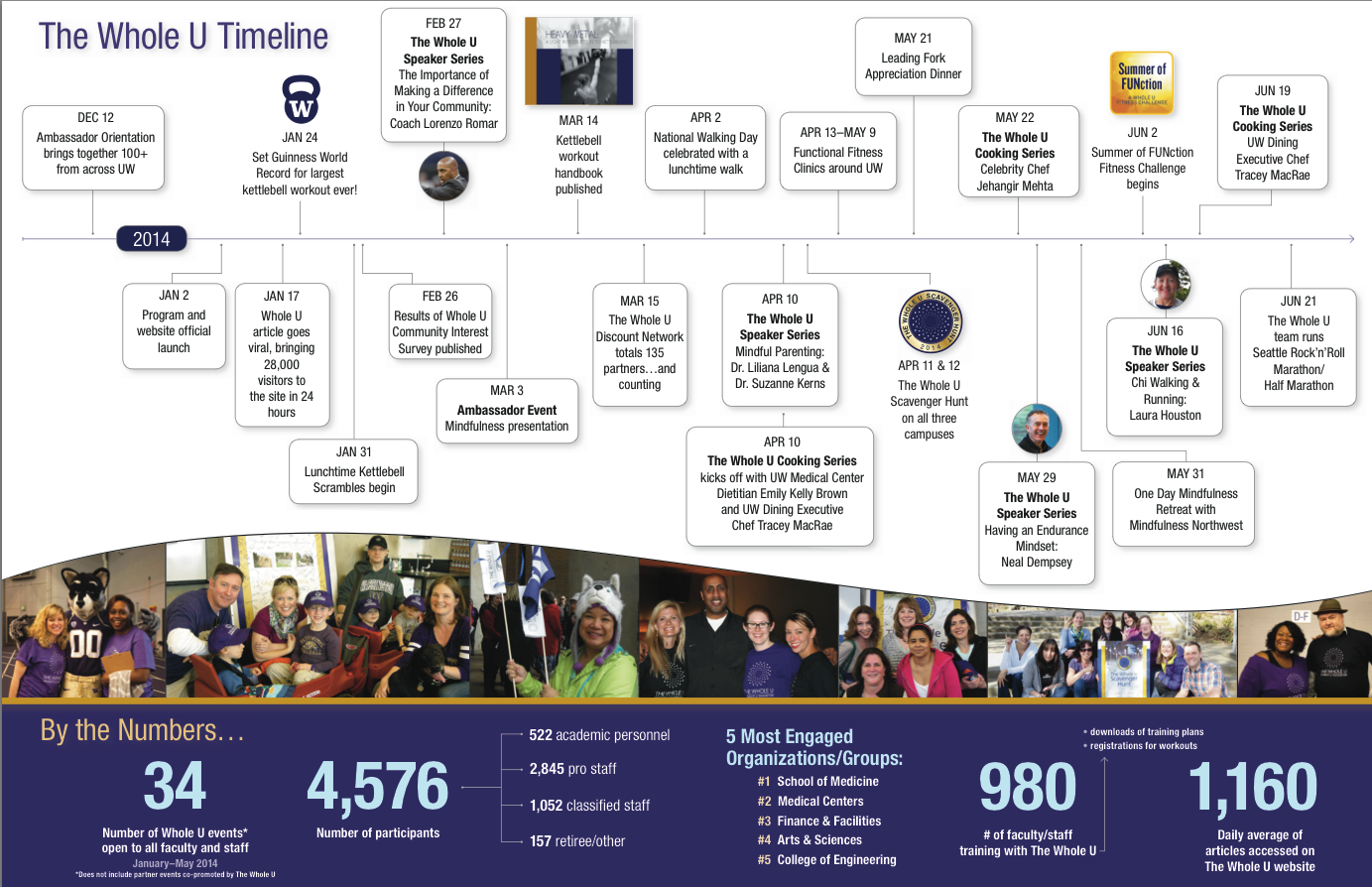 "By UW, for UW" is the mantra we started with as we began conversations with UW leaders and our campus partners on developing The Whole U late last fall. And it's a mantra we've kept since launching the program in January. Through innovative collaborations with UW Medicine, Athletics, UW Dining, UWAA, and others, to a speaker series that has so far showcased faculty from the School of Medicine and Psychology, the program is leveraging UW's experts and resources. In just six months, more than 4,500 faculty and staff have attended 34 Whole U events and close to 1,000 have signed up for online training plans created for a variety of fitness levels and interests.
The Whole U website, which started with just a few articles, grows every day with the help of faculty and staff contributors from all three campuses. Yesterday, the 150th article was published!
The team also owes very special thanks to the 135 faculty and staff who serve as Whole U Ambassadors. Our ambassadors not only help promote programming and events at the department level, they also provide sound advice and ideas to The Whole U team so we can bring you more of what you want!
The Whole U has already helped faculty and staff set the Guinness Record for the world's largest kettlebell workout—and we have only just begun.
How can we better leverage the amazing resources and talents we have in our community? How can we foster a stronger sense of connection among colleagues? In our hyper connected world, how do we make time to care for ourselves while attending to the competing demands of our work and home lives? It is these sorts of questions along with the "for UW, by UW" mantra that guide our program choices as we plan for the next six months and beyond.
This fall, we will build more programming around engaging personal interests and volunteerism and take our already robust resources and activities on healthy eating and being active to a new level. And, of course, we are already prepping to break another world record in 2015!
To all of you who have visited the website, swung a kettlebell, attended a Whole U Speaker Series seminar or cooking demo, taken advantage of the discount network, tried an online training plan, or started bringing workout clothes to work to join colleagues in fitting fitness into workday breaks…thank you for helping us launch The Whole U.
Please keep watching the website for upcoming events like Free Photo Day, a lunchtime talk with one of UW Medicine's sleep doctors, and activities that will keep you eating healthy and moving more at work—and don't be shy if you have ideas for us! Your ideas, feedback, and suggestions make The Whole U even better.