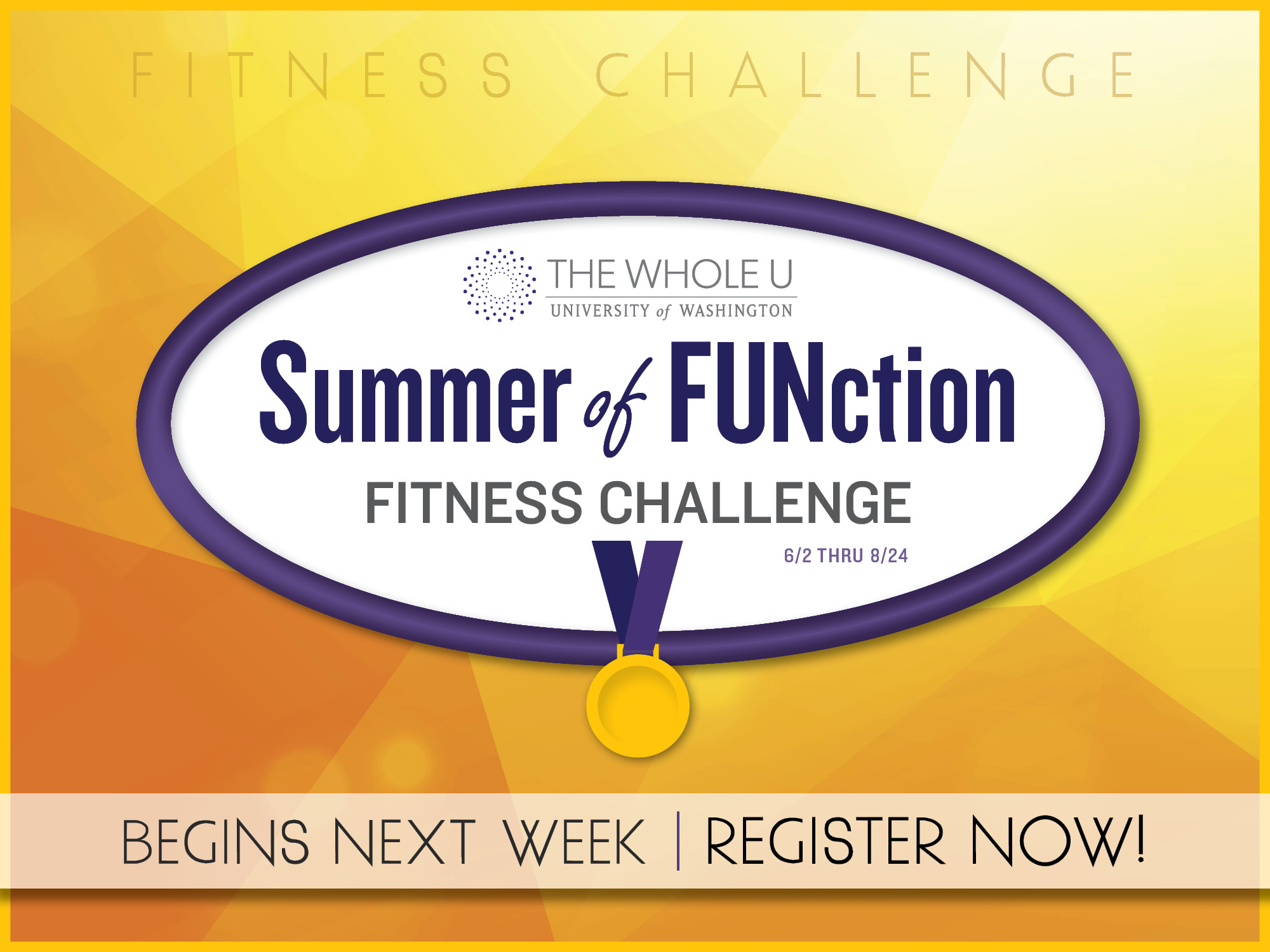 Get Strong, Lose Weight, Eat Healthy. Summer Challenge Registration Ends Soon.
Believe it or not, the summer months can be the hardest to keep up with your exercise and healthy eating habits. With vacations, out of town guests, outdoor patio socials, retirement parties at work, and kid birthday parties with cake, it can be difficult to stick to your typical routine. The Whole U Summer of FUNction Fitness Challenge is designed for you and your team members to "fit it in" together, to support one another's goals, to provide accountability, to try new activities, and to host a few healthy lunches. The challenges are fun yet serve the purpose of sustainable healthy behaviors.
We want to give a shout out to a few teams who obviously have the right idea when it comes to the challenge. How do we know? Check out these team names:
UW Tacoma Library's "Ripped" Pages
Mission Slimpossible
Summer Gladiators
HFS – Foodies Finish First
UWEO FUNatics
The Summer Salts
Pharm Animals
SPHandex
CoE Fit and Fabulous Fundraisers
FUNtastic Mussle Sprouts
With team names like these, we can't wait to share their updates with everyone who is participating!
For some team training may be the support to keep you accountable over the summer or for others it may be the kick-start that you need to make your health a priority. We designed this program to meet all fitness levels whether your team climbs, bikes, swims, walks, hikes, dances, runs or are yogis. Exercise and eating healthy does not need to be intimidating or overwhelming. Our weekly emails will include motivational tips on how to keep it fresh and fun, a variety of workouts to try together in 10 minutes, and stories from other teams to keep you going. Some of our partners in our Fitness Network have offered to give out free day passes to those participating in the challenge and every participant that successfully completes the challenge will receive a medal and a certificate.
Teams that complete the challenge will also get a chance to have a BBQ with President Young and Mrs. Young at their house and one special team will be chosen to workout with them and have breakfast afterwards.
So grab 2-5 colleagues and accept the challenge. We are looking for just 25 more teams, so register NOW and get through the summer by having FUN!
To request disability accommodation, contact the Disability Services Office at 206.543.6450 (voice), 206.543.6452 (TTY) ordso@u.washington.edu, preferably at least 10 days in advance of the event.
Related articles: Fitness Challenge: Are You Ready for the Summer of FUNction?
The Never Bored Board