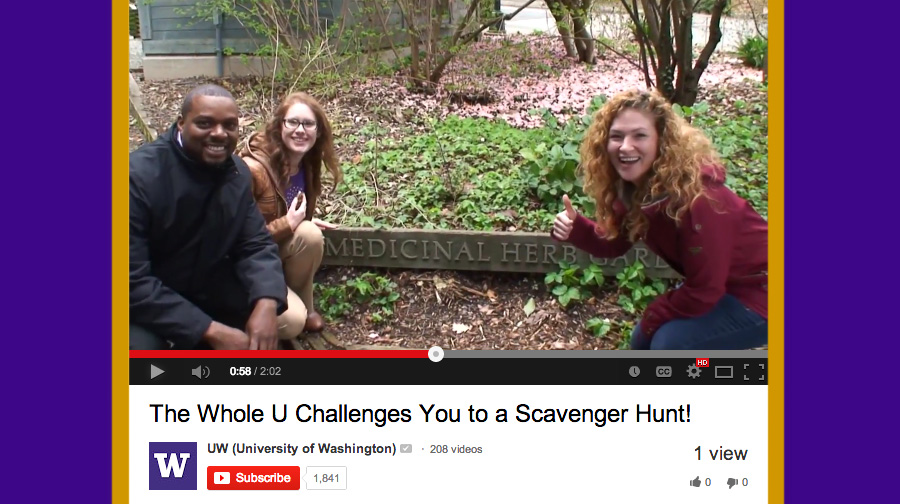 VIDEO: Less Than 2 Weeks 'til Whole U Hunts!
We've been talking about the Scavenger Hunt for weeks, but nothing compares to seeing it yourself. So I teamed up with two Ambassadors—Patrick Osby from Libraries and Heather Rieck from Office of Research—-and we made the video above! It featured test locations so that you can get a feel for the Hunt without ruining any of the surprises.
We can't wait to see you there! REGISTER HERE!
Still have questions? Check out this list of  FAQ's for The Whole U Scavenger Hunt:
When is the Scavenger Hunt?
Participate anytime between 9 a.m. – 5 p.m. on April 11 & 12, Seattle and April 11, Bothell and Tacoma
Do I need a Smartphone to participate?
No. You can request a paper copy when you register for the Hunt. OR use one smartphone if you are participating with a team. Only one profile is needed per team.
How long do the Hunts take?
Bothell and Tacoma take between 30-45 minutes to complete. The SHORT version of Seattle takes 30 minutes and the FULL version takes 60 minute to complete. The Hunts range from 1 to 3 miles long. That is 2,000 to 6,000 steps and 100-400 calories burned depending on how fast you complete it.
What does the Scavenger Hunt entail?
The Whole U has picked a few locations on each campus to find. The website or hard copy version will provide descriptions and coordinates of each location and lead you to the closest one. Once you find the location there will be a question for you to answer in the "find code" field. If you find the clue and enter the correct "find code," you will receive a smiley face and move onto to the next closest location. Once completed you will receive the award medallion and celebrate with The Whole U!
Who is eligible for the GRAND prize?
Anyone that completes ANY of the hunts will be put into a drawing for the Grand Prize: Four seats in the VIP box for the UW Night at the Mariners on Saturday, July 12. You and three friends or family members will get to cheer on the Mariners against the Oakland A's with UW leaders!
What does the celebration include?
The first 500 people to complete the Hunt in Seattle each day and the first 50 in Bothell and Tacoma will receive Whole U baseball caps and bracelets (a.k.a. proof of completing the Hunt for bragging purposes). There will also be a commemorative banner to sign and some other surprises! Snacks and beverages will be provided.
Raffle prizes?
Raffle prizes include coupons and gift cards.
Can my spouse participate?
Absolutely! Friends and family are welcome to join your team.
Do I have to be on a team?
Nope. Individuals are welcome!
Have any other questions? Please let us know in the comments!