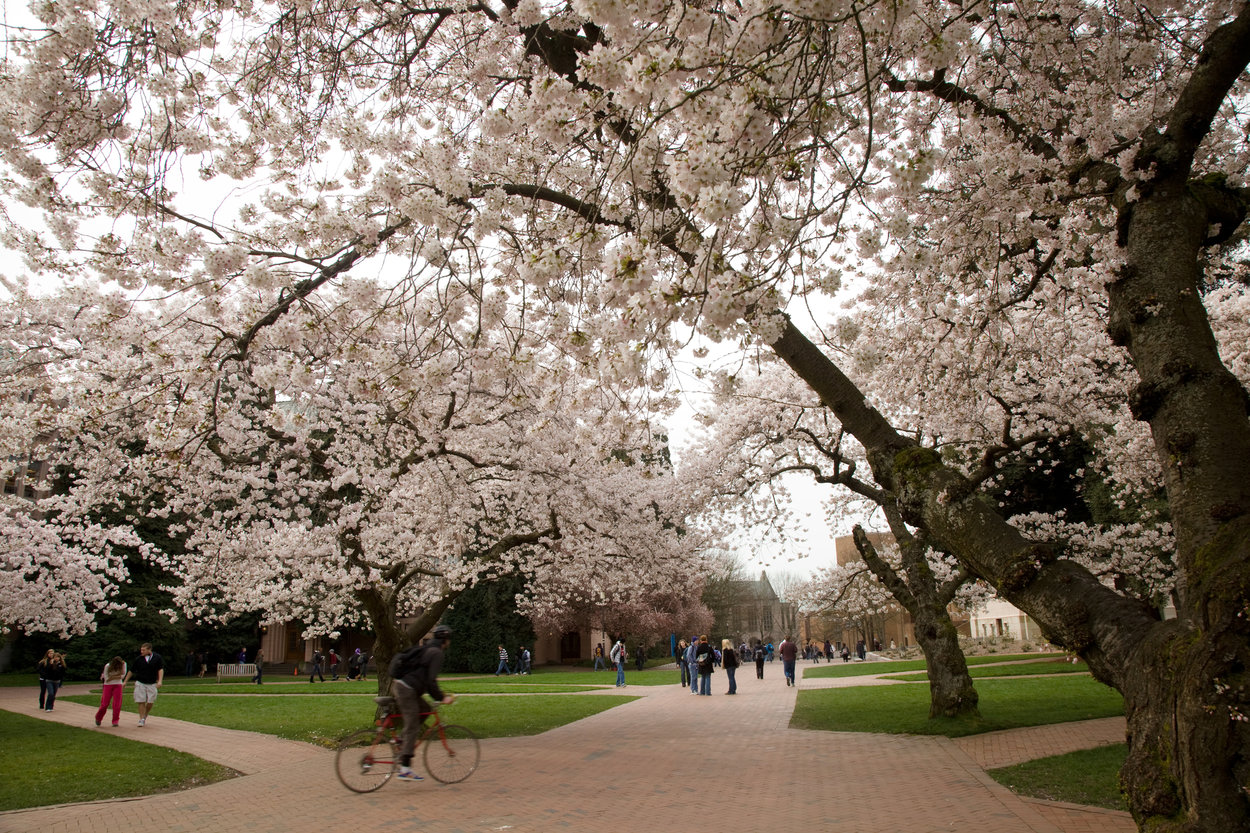 We Challenge You to a Scavenger Hunt!
Spring is coming, and we have the perfect event to celebrate: a giant, challenging, and unique scavenger hunt of UW! Put your University knowledge to the test and explore campus in a whole new way.
Why Play?
Because it's fun! Scavenger hunts bring out the kid in us. Go new places, track down clues, and learn interesting trivia. Correctly answer all the questions to find 10 locations, including the final celebratory location!
Because you can play your way! If you're competitive, why not challenge your co-workers to see which team can complete the hunt the fastest? We won't be keeping score, but that doesn't mean you can't! If you're not the team type, you can do the scavenger hunt on your own, leisurely exploring campus. You can bring your family, your friends…it's up to you!
Because it's convenient! This is something you can start during your lunch break, do after work, or on your day off. It's completely free.
Because campus is beautiful! I work at UW, but most days I never leave my office. This is the perfect excuse to get outside and interact with campus in a new way.
Because you could win! The first 500 participants on each day will receive a Whole U baseball cap and prizes along the way as they find key locations. Everyone who completes the entire hunt will be entered to win the Grand Prize: Four seats in the VIP box for the UW Night at the Mariners on Saturday, July 12. You and three friends or family members will get to cheer on the Mariners against the Oakland A's with UW leaders!
Who Can Play?
You can hunt on your own, with your colleagues, or with your family. The only requirement is that team leaders (or individuals playing on their own) must use their UW email address in order to register. Please limit teams to 5 people.
How Does it Work?
We recommend using a smartphone to play. (Only one needed per team.) Using GPS technology, you will receive clues and navigational assistance to explore campus in a totally new way. Correctly answer all the UW questions to find the final location and earn bragging rights! If you don't have access to a smartphone, you can opt for a paper version. The hunt will take 60-90 minutes to complete, depending on your pace.
When?
Friday, April 11: Scavenger hunts will be hosted at all three campuses 9 a.m. – 5 p.m.
Saturday, April 12: The scavenger hunt resumes from 9 a.m. – 5 p.m. on the Seattle campus.
Register yourself or your team now.
Need an accommodation?
Please contact the Disability Services Office at 206.543.6450 (voice), 206.543.6452 (TTY) or dso@u.washington.edu, preferably at least 10 days in advance of the event.
What next?
The hashtag for the Scavenger Hunt is #WholeUhunts. Use this on Twitter or Instagram to find team members, ask us questions, or share your thoughts. We've also created a Facebook event. And keep your eyes peeled on The Whole U website next week…Peeps will be getting into the action with a diorama contest!
What do you think about the Whole U Scavenger Hunt? Let us know below!