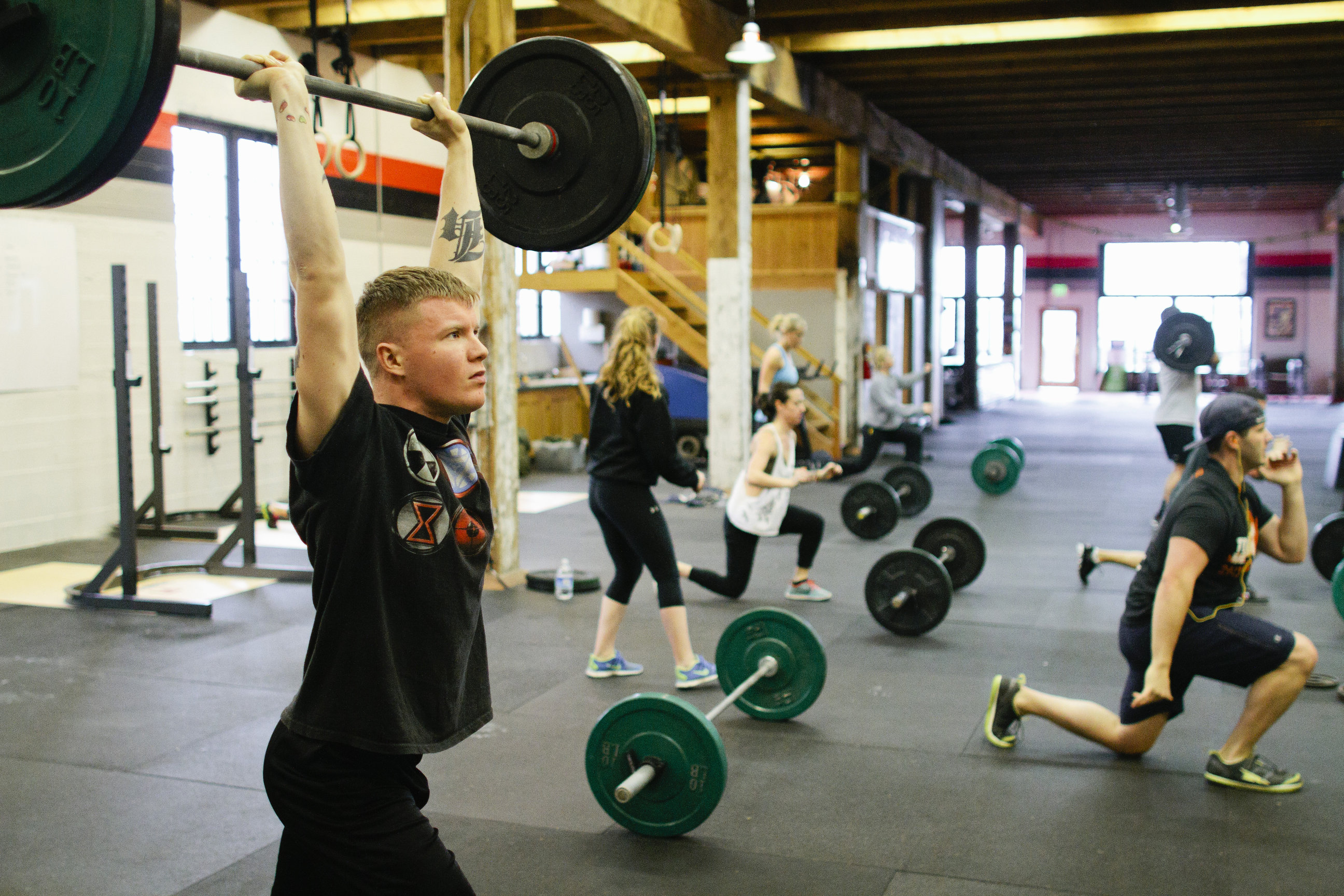 Tacoma Can Stay Fit for Free with Tons of Great Options Around Campus
With fitness, it's easy to either get stuck in a boring rut or be tempted to spend a lot of money trying out every new class you see. But on the Tacoma campus, fitness can be fun and free: faculty, staff, and students can take classes at local participating gyms free of charge, thanks to partnerships managed through UWT Recreation and Fitness.
The classes range from deceptively difficult barre classes to self-guided indoor climbing to cycling and Crossfit, so there's something for everyone, according to Zach Druce, Student Facilities Specialist at UWT and the man responsible for working with local businesses to provide the classes. Most of the gyms are in or near downtown Tacoma, meaning classes are just a short walk, bike or light rail ride away from your desk. Below are the most up-to-date details on class offerings. If you see something you're interested in, act fast: Some gyms have a monthly cap for UWT participants. Other times, partnership details can change on a monthly basis.
Barre 253: This downtown studio offers barre classes, which involve ballet-inspired moves designed to tone the whole body. They also offer Les Mills Body Pump classes, with the never-boring combination of weights and pop music. All classes on Mondays and Thursdays are free – and there's a big discount for monthly unlimited memberships for the UWT community. Find Barre 253 at 915 Pacific Avenue.
The Handlebar Cycling Studio: This gym has a cheeky handlebar mustache logo, but the one-hour cycling classes are serious business. There are 20 free slots for UWT students, faculty and staff per month, available any day of the week, but you must register in advance online or pick up a pass at the campus fitness center. Handlebar is located at 715 Commerce St.
Edgeworks Climbing: This climbing gym has 10,000 square feet of vertical climbing space, as well as a space for yoga class and weight training. UWT faculty, staff and students can get a free day pass that includes climbing and gear rentals. Passes are limited and go quickly. Edgeworks is located at 6102 North 9th Street, Suite 200 near the intersection of Pearl Street and 6th Avenue.
Expand Yoga: This downtown yoga studio offers a half dozen types of yoga, including 90 minute hot yoga, hour long prenatal classes, as well as new twists, like Acro Yoga. Classes are free all day Tuesday and Wednesday for faculty, staff, and students. If you're signing up for hot yoga, bring a towel and water. Mats are available for rent, but bring your own if you have one. Expand Yoga is located at 1015 Pacfic Avenue.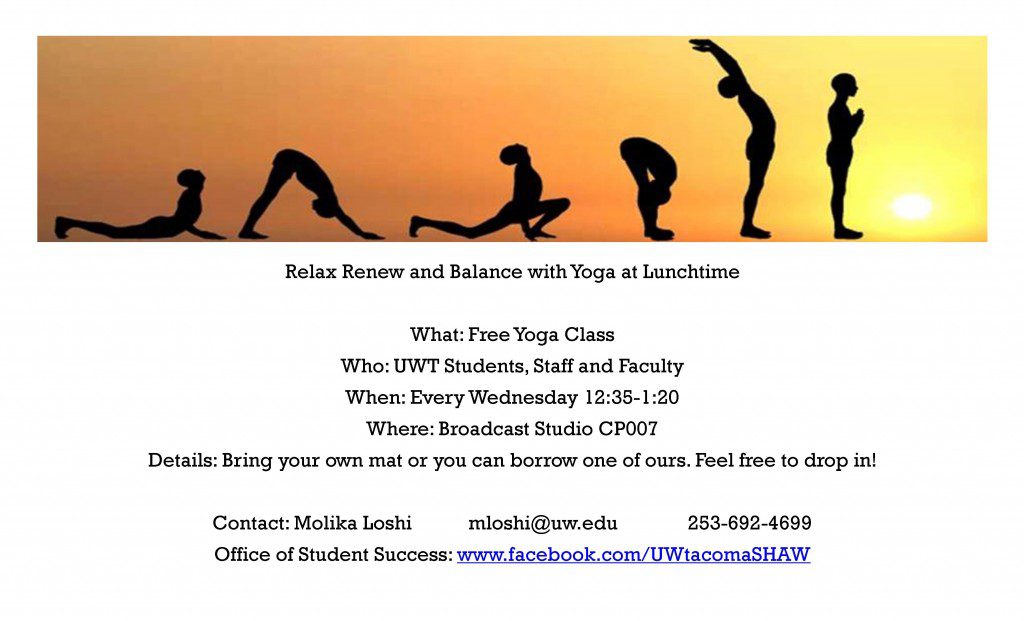 UWT has another yoga option that doesn't even involve leaving campus: On Wednesdays during the lunch hour, there's a free yoga class for anyone on campus held in the Broadcast Studio in Cherry Parkes 007. The class, coordinated by Student Health and Wellness, is free and mats are available for those who don't have their own. Class starts at 12:35 and ends at 1:20 p.m., leaving plenty of time to get to and from class and meetings. For more information, contact Monica Loshi at mloshi@uw.edu.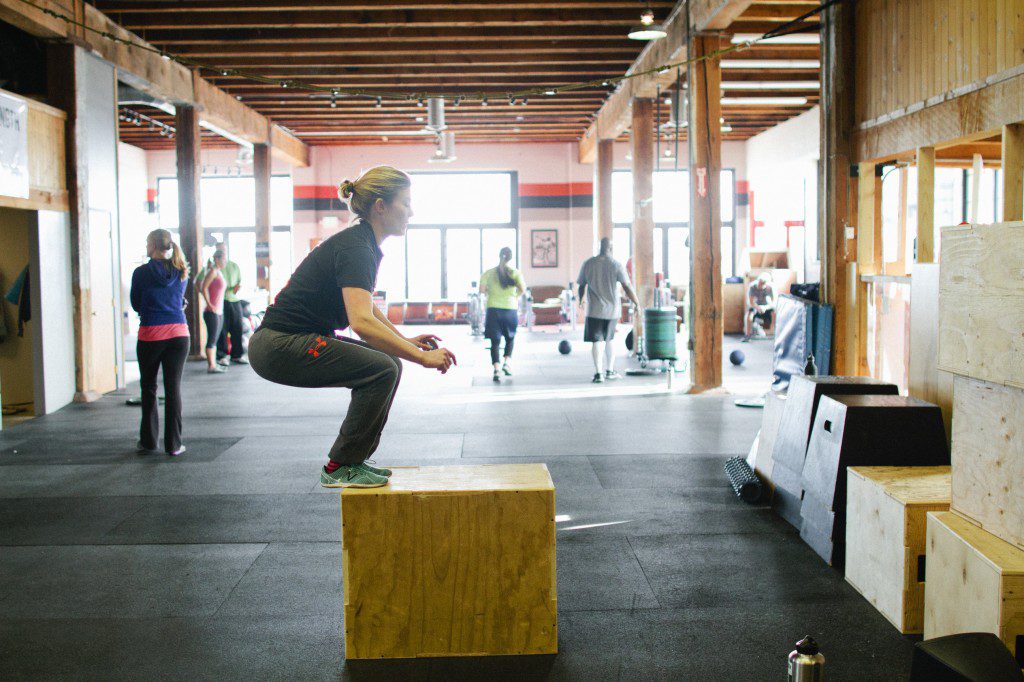 Tacoma Strength: This Crossfit gym just blocks from campus offers strength and conditioning classes that are as intense as they are fun. Because classes often involve heavy weights, an on-ramp class is required for UWT participants. Once completed, UWT staff, faculty and students can take two classes a week for free – or attend unlimited classes for $50 per month, a significant discount. Tacoma Strength is located at 2354 Jefferson Ave. Register for UWT orientations by emailing info@tacomastrength.com.
If you have any questions about current class offerings or want more information, contact Zach Druce at zfdruce@uw.edu.
Related articles: Top Options for Eating Healthy on Campus: Tacoma Edition
Why it's Time to Become a Yogi or Yogini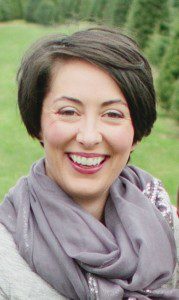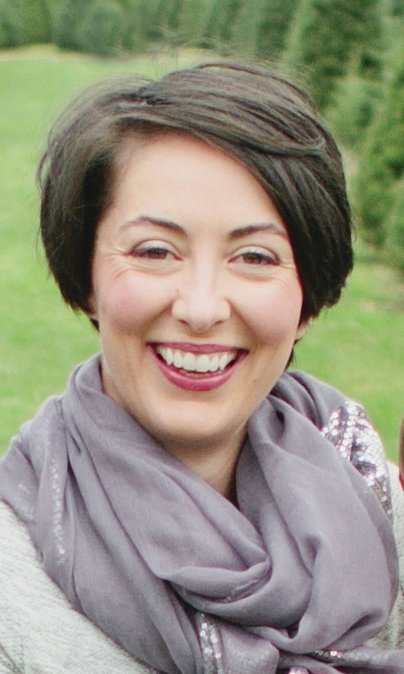 Niki Reading is the Publications Manager for the UW Tacoma's student newspaper and literary arts magazine. She loves going on adventures with her toddler, Vivian, husband, Jeff, and their two dogs. 
Photo credit: Lisa Hepfer