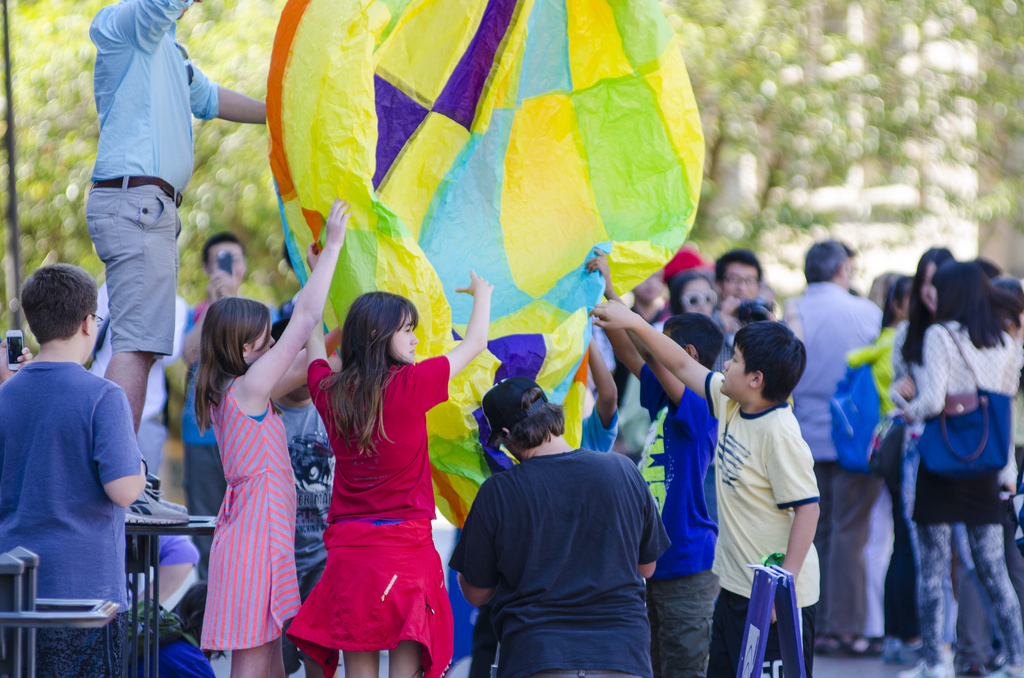 Bring Your Kids to Work with Summer Youth Programs
As a working parent, the thought of summer approaching fills me with excitement— a reprieve from homework nagging, rushing to and from meetings at the school, and not-so-strict bedtimes. But before I can experience the joys of a more relaxed schedule and longer days, I need to figure out camp.
Sounds easy, but I drive myself (and, I am sure, my husband) crazy with the camp possibilities. There are so many choices—even right here at UW. Summer Youth Programs offers day programs and courses for children and teens with plenty of half and full day options.
Program Director Leslie Rome-Nagata explained that these programs fill with returning families very quickly, so if you are considering a summertime program that blends learning and fun, check out their website for the full rundown of offerings available for your elementary, middle school, and high school student.
I did just that and Leslie was right: Summer Youth Programs offer lots of options for summer enrichment. From The Physics of Flying, Falling & Flinging (elementary program) to Green Energy – A STEM Approach to our Energy Future (middle school program) and Project Splash: Girls Designing Underwater Robots for a Better World! (high school program) there are lots of options that take advantage of the world-class resources we have at UW.
So is having your kid spend part of their summer where you work a good idea? Brit Exworthy, student affairs specialist for the School of Public Health, and Leslie Jones, HR administrator for UW-IT both think so! Read on to hear about their experiences:
Brit Exworthy: parent of Odessah (8 yrs old)
How many summers has Odessah attended the program?
This will be her third year. She attends all summer long and really likes the mix of science, art, drama, and motion, but her favorites are science and drama.
What does she like about attending camp where you work?
It is great. Last summer, she was in the same group as my co-worker's kid so she had a built-in friend. She and I both like that we get to see each other during the day. I would walk over and eat lunch with her, and every couple of weeks there is a play that combines what they learned over the past few weeks.
What do you like about her attending the program?
The staff is super nice, responsive, and accommodating. They do a great job communicating. And it is quite affordable compared to other programs.
Does she have a favorite memory from camp last summer?
She is very into theater. Last summer, there was a play about a space prince and space princess who were also warriors. She got to play a space robot, which she thought was very cool.
Leslie Jones: parent of Xelli (8 yrs old)
How many summers has Xelli attended the program?
Xelli has attended UW summer camp for two summers. The first summer she did the circus session, and last summer she did the whole summer – Space and Ancient Civilizations and Energy!
What does she like about attending camp where you work?
She has really enjoyed the programs because they offer her an opportunity to meet kids from all over the world. She has a friend that she exchanges letters with in Taiwan now. She also likes that there is a variety of activities so that she does not get bored. Her favorite is that there is a play that they practice and perform each session, which is just such a good opportunity to practice reading, concentration, etc. – and has such a huge pay off!
What do you like about her attending the program?
I like that she is right here on campus – I can go and see her at lunch – if I'm out for a walk during the day, I may run into her. It's very convenient. I also appreciate that she continues to learn throughout the summer; the program is fun and still challenging for them – I don't think she even knows she is learning!
Does she have a favorite memory from camp last summer?
Her favorite part of last summer was definitely the play during Ancient Civilizations – she had a part that she really liked, and it was so fun to see her really experience the character. She has also really enjoyed the art projects – I still have one of them hanging in my office!
You can learn more about Summer Youth Programs online or in-person. Register for the March 12 webinar or the March 19 in-person meeting.
Of course, Summer Youth Program is not the only summer enrichment opportunity on campus. In fact, there are lots of programs. Luckily, Summer Youth Programs provides a helpful list of links to other UW camp, enrichment, and learning opportunities for kids.  Explore now and get your summertime plans set.
Is your kid returning to Summer Youth Programs or another UW summertime program? Share your experience in the comments below.