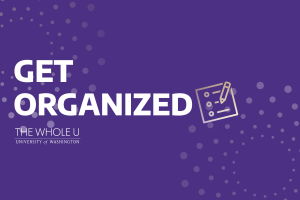 ---
Avoid feeling overwhelmed with guidance for breaking down time consuming tasks into daily practices, tips and tricks to make technology work for you and expert resources to walk you through facing tasks that many of us put off.
Streamline your life by decluttering your home, optimizing technology to save you time instead of suck your time and finally scratch lingering personal tasks off your to do list; such as talk to your elders about future planning, creating a will, or beginning a large goal.
---
Find all your resources for our getting organized group on this page!
Content will be added on an ongoing basis. Stay tuned for additional events, workshops, and recordings.
---
Recordings
Goal Setting: Creating what you already have webinar with Lee Davis
Click here to view the slides from Lee Davis' workshop. 

---
Make 2021 Count with Jennifer Cohen
---
Group Kick-Off
Click here to view the slides from our kick off!
---
Upcoming workshops and webinars
Think Smarter, Not Harder: 2 part series with Chuck Pratt
Part 1 – Thurs Jan 21, Noon – 1:30 p.m.
Part 2 – Wed Feb 10, Noon – 1:30 p.m.
Zoom link: https://washington.zoom.us/j/95393224270
Prepare for these workshops by reading Beware the Busy Manager, from the Harvard Business Review by Heike Bruch and Sumantra Ghoshal. This text is an important read-ahead to familiarize yourself with for Chuck's session, as well as for general understanding of productivity and organization!
February Group Check-in
Wed Feb 3, 2:00 – 2:30 p.m.
Zoom link: https://washington.zoom.us/j/97215423280
---
Connect
Microsoft Teams group. Join our group on Microsoft Teams in our own dedicated space to share resources, reflections, connect, and more. Joining our 'team' on Microsoft Teams is optional and will be a space to discuss what we learn throughout the 90 days in a more 'social-media-esque' format. Note: This space is only open to those in our group who are UW-affiliated (student, employee).
---
Handouts
Download a SMART Goal sheet. As you spend this first week thinking critically about what your goals are for the 90-day challenge and beyond, use this SMART goal handout to help you create goals that are structured for success. Click here to download the PDF.
---
Articles
Stay tuned for articles related to staying organized!