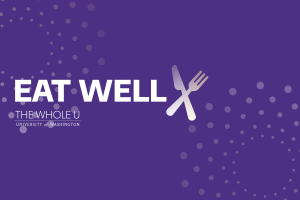 ---
For many of us, healthy eating has not been a top priority during the Stay at Home order—baked treats and favorite take-outs have brought us comfort and maybe a few unhealthy habits. Sign up for this goal to join colleagues who are committed to healthier eating in 2021.
---
The Whole U has created free and accessible online resources to help you achieve your goal! Content will be added as recorded. Check them out below!
---
Recordings
Goal Setting: Creating what you already have webinar with Lee Davis
Click here to view the slides from Lee Davis' workshop. 
---
The First 90: Make 2021 Count with UW Athletics Director Jen Cohen
---
Connect
Microsoft Teams group. Join our group on Microsoft Teams in our own dedicated space to share resources, reflections, connect, and more. Joining our 'team' on Microsoft Teams is optional and will be a space to discuss what we learn throughout the 90 days in a more 'social-media-esque' format. Note: This space is only open to those in our group who are UW-affiliated (student, employee).
---
Handouts
Download a Nutrition Tracker. As you spend this first week thinking critically about what your goals are for the 90-day challenge and beyond, use this Nutrition tracker to help you create goals that are structured for success. Click here to download the PDF.
---
Articles
Stay tuned for articles related to staying organized!