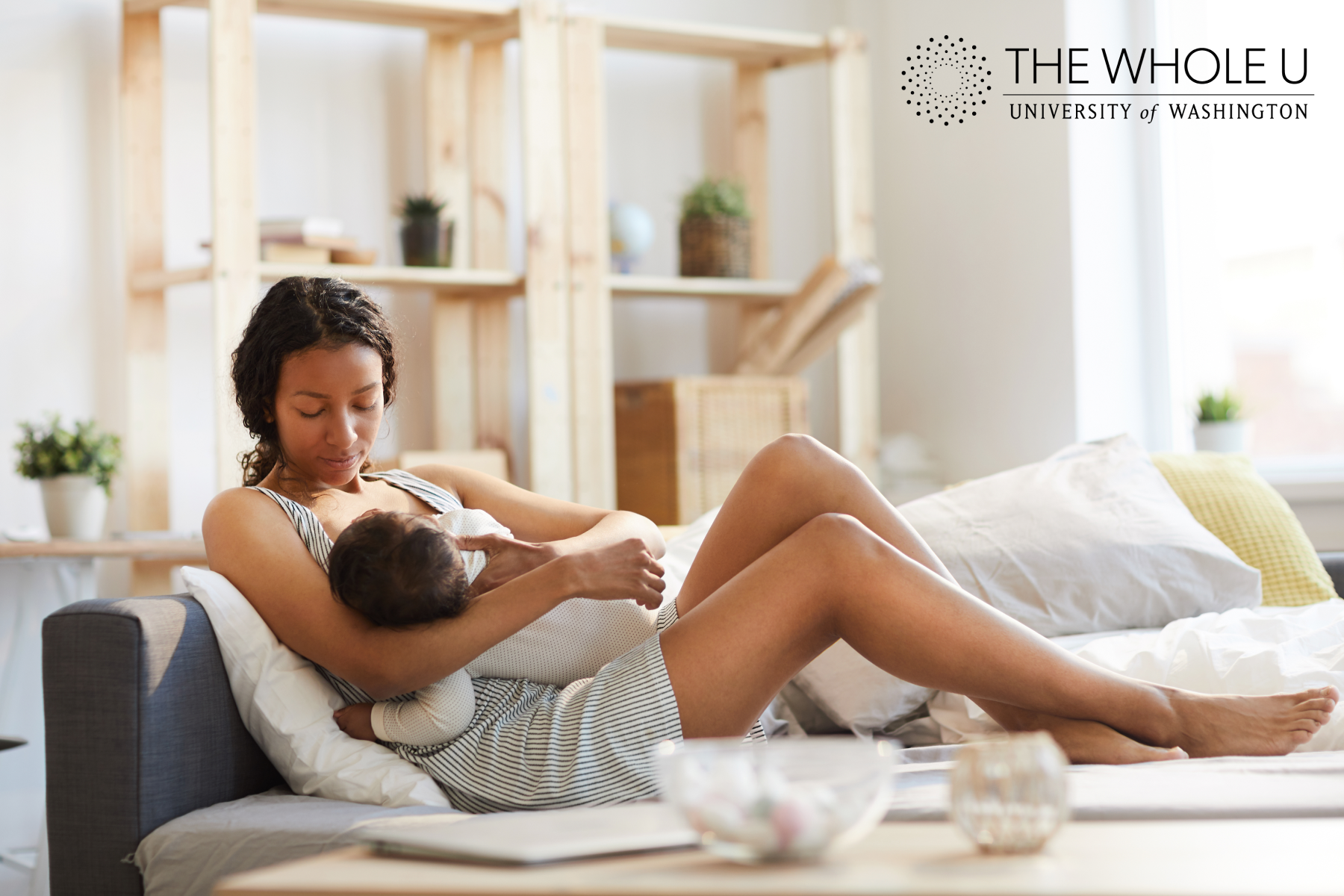 Discover the many benefits of breastfeeding
Since 2011, August has been observed as National Breastfeeding Month (NBM) in recognition of lactating parents and those who work to protect, promote and support human milk feeding in the United States.
The recognition month was first proclaimed by the U.S. Breastfeeding Committee, an independent nonprofit coalition of agencies driving policy in support of human milk feeding in the U.S. Since then, dozens of agencies, organizations and companies have embraced NBM as an opportunity to demonstrate support and advocate for babies and families.
National Breastfeeding Month is broken into several weekly observances as well:
Chestfeeding/bodyfeeding is the process of feeding an infant milk from the chest. The term chestfeeding is most often used by transgender and nonbinary parents but is gaining traction as a more inclusive and gender-neutral way to describe infant feeding from the chest or breast.
Why feed human milk
For most infants, including premature and sick newborns, human milk is the optimal source of nutrition for ensuring long-term health and immunity against several illnesses and diseases. Babies who are fed human milk have a lower risk of asthma, obesity, Type 1 diabetes, childhood leukemia and sudden infant death syndrome (SIDS).
Moreover, the nutritional qualities of human milk adapt over time to meet the changing needs of the growing infant–and the longer the baby receives human milk, the greater the protection.
"Human milk is the most complete nutrition for all babies," said Kelsey Stevens, a board-certified lactation consultant at the Childbirth Center at UW Medical Center – Northwest. "The immune support provided by human milk (thanks to antibodies and other live cells from mom's body) protects babies against many kinds of infections and some childhood cancers."
For parents, human milk feeding reduces the risk of breast cancer, ovarian cancer, Type 2 diabetes and high blood pressure—benefits that grow stronger commensurate to the number of months or years a person produces human milk.
Washington's human milk feeding rates are well above the national average, at nearly 94%
There are economic benefits to human milk feeding as well. Employers that provide workplace lactation support—which UW does—have a more productive workforce with less absenteeism and turnover rates, lower health care costs, and generally higher job satisfaction among employees.
Human milk feeding is better for the environment as well: formula cans and bottle supplies create an immense amount of trash and plastic waste, whereas human milk is a renewable resource that comes packaged and warmed.
The availability of human milk is especially critical during natural disasters and emergency situations, including war and violence, pandemics and supply chain interruptions, and can, in fact, save an infant's life by protecting the baby from an unclean water supply.
Infant feeding practices are profoundly important to population health outcomes, so much so that increasing human milk feeding rates and creating lactation-friendly environments has become a national (and international) public health priority.
Various national initiatives call on organizations both public and private to invest in and support human milk feeding advocacy, such as the Healthy People Initiative and The Surgeon General's Call to Action to Support Breastfeeding.
"Breastfeeding truly is health care," Stevens asserted. "Affordable and optimal health starts with breastfeeding and human milk feeding for all infants."
Barriers to human milk feeding
Research demonstrates that while four out of five babies born in the U.S. start out being fed human milk, fewer than half are still doing so at six months.
The difficulties of nursing—whether due to anatomy, inexperience, a support system or factors affecting milk production—are well-known. For some parents, the difficulty of establishing a good feeding relationship causes frustration that can lead to relying on other feeding options.
Stevens encourages all parents to see a lactation consultant early in their feeding journey. "We can help you get started and make sure nursing is comfortable," Stevens said. "It's important to be in a supportive environment with people who can support your journey."
The U.S. is one of a handful of countries that does not guarantee paid family leave following the birth or adoption of a new baby. As a result, as many as one in four women return to work within just two weeks of giving birth. Pumping at work or at school can be difficult and have a detrimental effect on milk supply if inconsistent.
In the U.S., many families are unable to initiate and sustain their human milk feeding goals due to barriers that cause significant and persistent disparities in access to lactation support and in lactation outcomes: lack of knowledge, social norms about bottle feeding, lack of family or social support, embarrassment, employment and childcare needs and lack of appropriate health services.
These systemic inequities impact all families but have a disproportionate impact on historically underserved and historically marginalized populations.
Luckily, a new federal law that went into effect this year, the Providing Urgent Maternal Protections (PUMP) for Nursing Mothers Act, expands workplace lactation accommodation protections to all human milk feeding employees upon their return to the workplace. These protections apply regardless of the employee's gender and apply to all workers, including off-site, remote, mobile or traveling workers.
The new law requires employers of all sizes to provide reasonable break time for an employee to express human milk for their nursing child for up to one year after the birth of the child. It also stipulates that workers have access to private, non-bathroom spaces in which to comfortably express.
The PUMP law brings American parents one step closer to the kind of comprehensive lactation support needed in policies, systems and environments where babies and parents interact to provide for safe and equitable access to human milk feeding opportunities.
Lactation resources at UW
UW WorkLife maintains a comprehensive list of private, clean and secure lactation spaces across the three campuses, at the medical centers and at other UW office locations, as well as a list of each station's amenities and guidelines for preparing to return to work as a lactating parent.
Contact UW WorkLife if you have questions about returning to work as a lactating parent or are unable to find a lactation room that suits your needs, or if you have questions about how to support lactating employees in your department.
UW policies on pregnancy and postpartum accommodation outlines policies to help employees perform the essential functions of their position during and after pregnancy.
To help families as they learn to breastfeed after discharge from the hospital, UW offers a free weekly virtual support group led by a board-certified lactation consultant (IBCLC). UW also has two clinics (Northgate and Roosevelt) where parents can meet in person with an IBCLC. The Roosevelt clinic also has a lactation line where phone calls are returned the same day by an IBCLC to answer any questions at 206-598-4710.
The Childbirth Center at UW Medical Center – Northwest has earned the Baby-Friendly designation for its work promoting and supporting breastfeeding.
Resources for deeper learning and engagement
Want to share your own feeding journey? A #Brelfie, or breastfeeding selfie, is a great way to show your solidarity with the human milk feeding community and is 90,000 posts strong on Instagram alone.
The Global Big Latch On human milk feeding support community aims to strengthen national and global support for breastfeeding and to improve the health of children and women around the world.
Read the 2022 White House Blueprint for Addressing the Maternal Health Crisis for a deeper dive into federal initiatives to support parental health around pregnancy and maternal health.
Read 6 things first-time moms should know about breastfeeding from the UW Medicine Right as Rain blog.
La Leche League of Washington offers current and evidence-based information on breast/chestfeeding, including resources specific to transgender and nonbinary nursing.
Call the National Breastfeeding Helpline at 1-800-994-9662. Helpline staff are trained peer counselors who answer questions about human milk feeding, returning to work or school, storing milk and more. Help is available Monday through Friday, 9 am to 6 pm Eastern Standard Time, in English and Spanish.
Support
Consider supporting a UW Combined Fund Drive nonprofit through a one-time gift or payroll deduction working to support human milk feeding families:
La Leche League of Washington (charity code 0315698) is a non-profit, non-governmental and non-sectarian organization committed to supporting breastfeeding, chestfeeding, and human milk feeding families. They envision a world without barriers to experiencing the love and wisdom found in the breastfeeding relationship.
Women, Infants and Children (WIC) Program (charity code 0319527) provides services for low-income, nutritionally at risk pregnant women, post partum mothers and children up to age 5 with nutritional supplements provided by monthly vouchers. Clients also receive nutritional education and monitoring.
Open Arms Perinatal Services (charity code 0519258) provides community-based, culturally competent doulas, breastfeeding support, and advocacy to low-income pregnant women and their families. We provide services to communities that are most impacted by poverty and lack access to quality perinatal health care and social support.