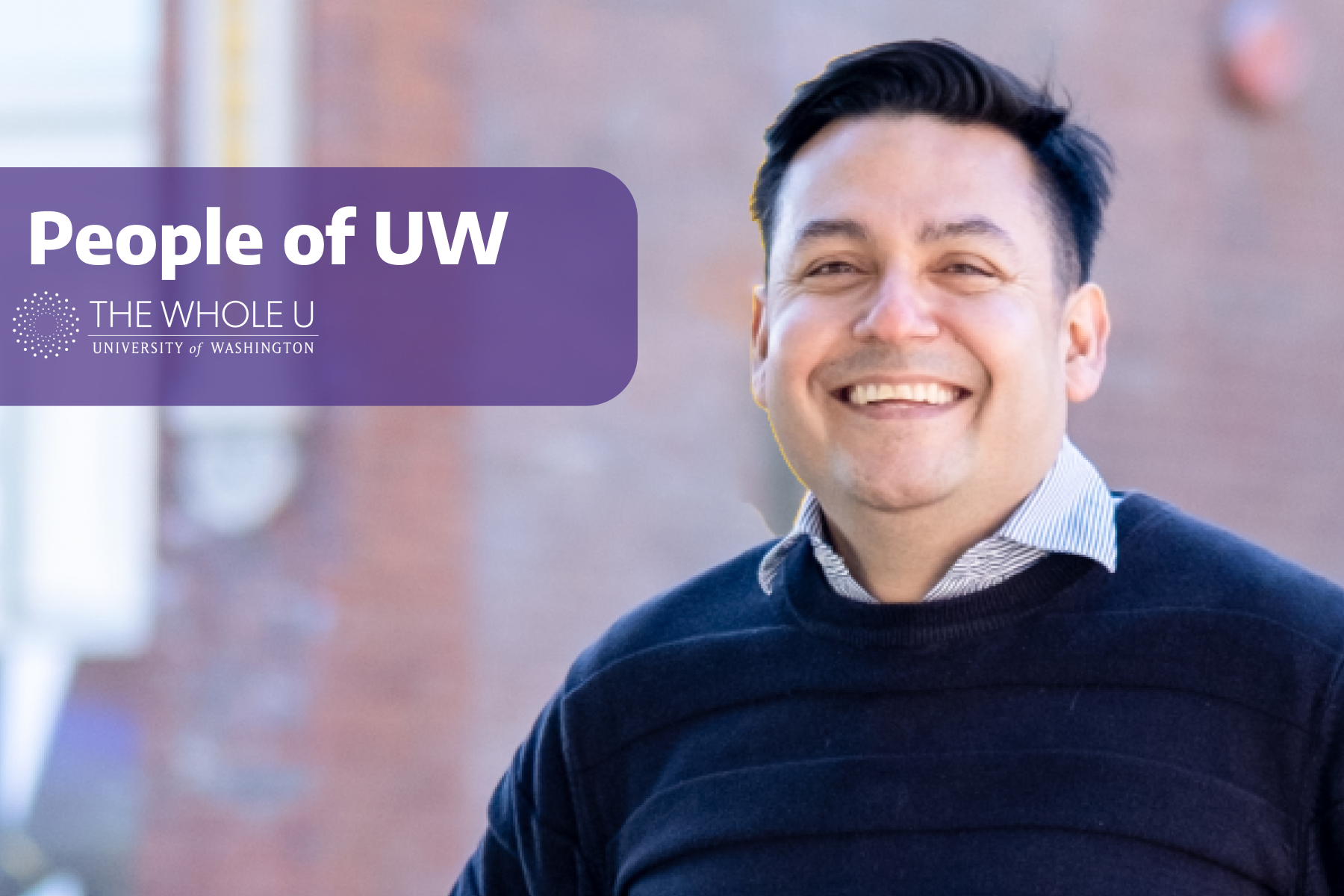 Exploring civic engagement in public spaces: Meet Rubén Casas
The shape and form of a city are like an essay–a composition that is constantly being rewritten and revised by the social and political activity of the people who live in and use it. And like an essay, a city expresses arguments about who deserves the amenities that urban life offers.
If that sounds like something a writing instructor would say, it is.
For writing studies professor Rubén Casas, a scholar of public space and civic engagement at UW Tacoma for the School of Interdisciplinary Arts and Sciences and the School of Urban Studies, exploring how the rhetoric around built urban environments influences community building and civic engagement is fundamental to his research and writing, his teaching, his advocacy work, his philanthropy and volunteerism, and his social media presence.
Even his down time is informed by urban environments—his video game of choice is Cities: Skylines, a city-building simulation where you play as the mayor and manage things like zoning laws, transportation challenges, public services and pollution mitigation.
"The game is so much fun," Rubén said. "It really engages my brain."
Of course, there are times when he really isn't thinking about, for example, the historical racialization of urban spaces—like when he's watching his favorite shows: Abbott Elementary, White Lotus and RuPaul's Drag Race.
Much of the time, though, and to the benefit of many, Rubén is deeply engaged in thinking about how built environments can be better designed to realize authentically connected, accessible and fully equitable neighborhoods for all who use them.
Walk more, drive less
Rubén is an avid urban walker, prioritizing an hour or more most days as exercise—he undoubtedly has calves of steel—as well as meditative practice for self-care, and as a means of understanding his surroundings.
"Walking is the way that I get to know spaces and places," he explained.
Living in Tacoma within (by some standards, long) walking distance to campus, Rubén has spent a great deal of time exploring the city on foot, and delights in its waterfront, beautiful parks and green spaces—he considers Point Defiance Park an urban oasis comparable to Manhattan's Central Park —and its substantial civic pride.
"We are in a moment of powerful civic responsiveness in Tacoma right now," he said, "with a variety of opportunities for collaborative civic engagement projects and community building."
The city has several ongoing projects in 2023 to make its communities more vibrant, accessible and healthy for residents while addressing the fast-paced growth the entire Puget Sound region is experiencing.
Rubén would like to see added to that list of projects the creation of fully car-free zones on city streets around the UW Tacoma campus.
"When I lived in Madison during grad school at the University of Wisconsin, one thing I loved was that the city is so pedestrian-friendly," Rubén said. "The emphasis on walkability really created a sense of place in an area already known for an amazing quality of life."
Indeed, Madison's eight-block State Street pedestrian mall near campus—lined with restaurants, college-town shops, a weekly farmer's market and free entertainment—is a great example of the kind of built environment designed intentionally to foster equitable community and catalyze efforts at urban renewal.
Rubén is, unsurprisingly, disapproving of America's car dependency: of both the environmental impact of millions of gas guzzling single-occupant vehicles on the roads and the increasing wealth disparities in this country that make it difficult for lower-income people to access a car, in turn cutting them off from economic and educational opportunities.
In fact, this disproportionate access to adequate transportation would become a pivotal factor in Rubén's transition from a cultural studies emphasis to focusing on rhetoric in urban contexts during his first year as an assistant professor.
North of Shaw/South of Shaw
Rubén's first academic position was teaching writing and rhetoric at Fresno State University, in the largely agricultural San Joaquin Valley of Central California.
Although Rubén grew up in Southern California, the central valley holds a personal connection for him: when his parents first immigrated to the U.S. from Mexico, they picked produce in the valley alongside thousands of other migrant workers.
With that family legacy in the back of his mind, Rubén's dissertation research focused on how non-citizens overcome obstacles to create a sense of place and community in their new homes. Fresno, with a large migrant and undocumented community, was an ideal place from which to continue that research.
Before Rubén even moved to Fresno, however, he became privy to discourse that perpetuated the long-time segregation of the poorest large city in California: "Don't move south of Shaw," his new colleagues—and even perfect strangers—advised him.
"Shaw" refers to Shaw Avenue, which runs east-west through Fresno and divides the city in half—racially and economically—with most of the city's industrial areas, undocumented people, and people of color south of Shaw.
North of Shaw one finds the majority of affluent white people, as well as second- and third-generation migrants in Fresno. North-of-Shaw is a place, like many such places in many U.S. cities, that came to be as result of the white flight that occurred in most urban regions in the 1970s and 80s. According to those who offered advice about where to live in Fresno, North of Shaw is where there are good schools, good parks, and the Fresno State campus.
It was not lost on Rubén that the campus was in the "good" part of town. Like other Cal State University campuses, it had been relocated in 1956 following the redlining of its original location in southwest Fresno. And it was also not lost on Rubén that many of the students he was teaching were living south of Shaw or in areas outside the city that were populated by agricultural workers.
Ever the walker, Rubén spent many hours on foot both north and south of Shaw, thinking about the spatial dimension of segregation and noticing the incredibly poor quality of transit service in Fresno, particularly—you guessed it—south of Shaw.
People he met on public buses would relate how they left home two hours before their shifts started to compensate for potential service disruptions or missed buses so they could clock in on time.
The stories gave Rubén pause.
"People who couldn't afford a car, or even ride-sharing services like Uber or Lyft, were literally having their time taken away from them by relying on public transportation," he said. "If they had a way to reclaim that wasted time, think how much more involved—in civic life, in their kids' lives, in self-care—they could be."
That realization prompted a reexamination of the legacy of racism in segregated American cities, during which he gave himself a masterclass on theories of space and place—which in turn inspired a new approach to his research and teaching, one that focuses on the built environment.
This shift ultimately led Rubén to UW Tacoma, an urban-serving university with a strong emphasis on social justice and community partnerships. The timing was opportune both for cultivating his study of urbanism. Joining the division of Culture, Arts & Communication to develop a new option in the Writing Studies major focused on community-engaged writing, Rubén has embraced the opportunity to engage with his passion for equitable urban development using his training in rhetoric and composition.
And Rubén's status as a multilingual, LGBTQ-identified first-generation college graduate whose parents were immigrants resonates deeply with UW Tacoma's diverse student population—more than half of whom are the first in their families to go to college.
"There is considerable overlap between my values as a scholar—and as a person—and the values of the greater UW Tacoma community," Rubén said. "It's a great fit for me."
Green thumb engagement
The glaring inequities in how communities are affected by their surrounding environments has become not only a focal point of Rubén's research and teaching but also an issue toward which he directs a great deal of his personal time and energy.
Rubén loves trees, especially the majestic coast redwoods native to his home state. "In elementary school, I remember writing a story about how California redwoods get their reddish color," he recalled. His reading list, always a mile long, has been known to include both fiction and nonfiction books about trees (yes, there is fiction with trees as central characters; see The Overstory for a fine example).
So it's no surprise that much of his community involvement revolves around urban environmental justice and sustainability.
He is the faculty lead for the Urban Environmental Justice Initiative at Urban@UW, a collaborative research consortium of UW faculty and students from across the three campuses, as well as civic and community leaders and corporate partners—all pursuing solutions to urban challenges.
He also serves on the Board of Directors for the Tacoma Tree Foundation, a community organization dedicated to building up the tree canopy in Western Washington's lowest tree-coverage city.
What trees Tacoma does have are concentrated in parks and affluent, predominantly white neighborhoods. What's more, this lack of canopy makes Tacoma a significant heat island, an urban space that is warmer than neighboring areas.
"Tacoma's lack of tree canopy is a legacy symptom of the effects of racism in this city," Rubén explained. "We are actively working toward tree equity, which is an important step toward environmental justice for our community."
Although his largest contribution to the organization is his advocacy writing, in which he examines and influences urban policies through venues such as The Urbanist—for which he is also a board member—and Crosscut, Rubén also "gets his shovel into the ground" by cultivating a garden in the little public right-of-way in front of his home and by connecting neighbors to resources that will get trees in front of and in their homes, too.
He is additionally working on a pilot project with Urban@UW to reclaim irregularly-shaped, unused land on the UW Tacoma campus to create microforests: tiny, highly biodiverse forests of native growth, anchored by an apex tree, that can help stall global warming by absorbing excess carbon.
"In just a decade, there is a measurable difference in the air quality around microforests," Rubén said.
A potential microforest site on campus already has a mature redwood to serve as the apex tree—an auspicious sign for Rubén. The idea is to have this space be an educational resource for the campus, an open public space for the community, and a pilot for a possible intervention that can be scaled across the city if not region.
At home in Tacoma
Rubén and his partner parent two rescue dogs, a terrier mix, Tali, and a corgi mix, Toby. Tali is named after Taliesin, architect Frank Lloyd Wright's working estate in Greenville, Wisconsin, and a UNESCO World Heritage site that Rubén greatly admires.
They also have two lovebirds, Cora and Nube, gifted to them during the height of the pandemic. The birds are very social: "They get sad when they go too long without human interaction," Rubén laughed.
He is looking forward to visiting some of our region's parks this summer for some day hiking, with Olympic National Park at the top of the list. Though lacking redwoods, Rubén appreciates the park's dense biodiversity, with its abundance of western red cedars, Doug firs, bigleaf maples and western hemlocks.
Closer to home, Rubén enjoys his exploration of urban South Sound culture. He recommends the historic E9 Firehouse in Tacoma's "brewery blocks" neighborhood for its exceptional wood-fired pizza (Rubén's love of pizza is unfettered by pretense: he is equally happy eating a slice from an elaborate haute cuisine establishment or a floppy slice—or two—from Costco.).
"Tacoma has quickly become home for me," he said. "Everything I wanted to do, I have been able to do at UW Tacoma, in ways that I didn't fully expect."