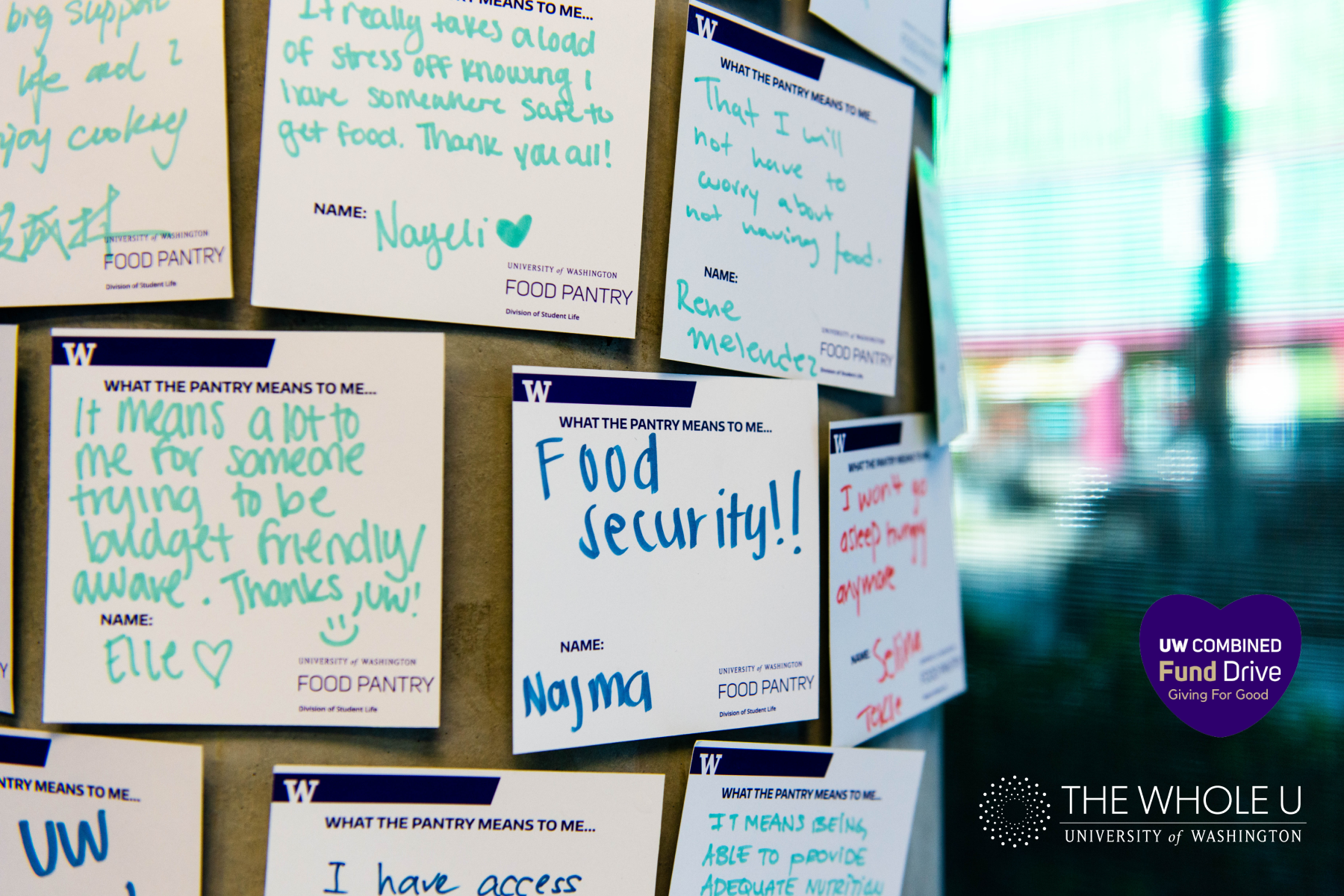 UW community comes together in support of campus food pantries
Each of the three UW campuses has a dedicated food pantry for students, staff and faculty experiencing food insecurity. In March, our UW community came together for a campus-wide food drive to raise $4,505 in monetary donations and 1,863 pounds of donated food and hygiene supplies.  
UW food pantries provide food to UW community members who are having a hard time putting food on their plates. This need could be the result of a short-term disruption in finances, a food desert in the local community, a lack of access to other financial assistance, or other issues.
"I want to thank the UW community for such a successful campus-wide food drive," said Felicidad Smith, food drive coordinator for the UW Seattle pantry. "Sorting the donations, we've seen so many great items that we've been missing at the pantry because we cannot afford to buy them ourselves. Visitors have also been very excited to see these new items on the shelves."
A nationwide shift in college student demographics is seeing greater numbers of low-income students enrolling at UW's three campuses in recent years. Coupled with systemic economic issues like the lack of affordable housing and the high costs of living in the region, as well as the ongoing strain on the national food supply chain, the result has been increased food insecurity among UW community members.
The USDA defines food insecurity as the reduced quality, variety and desirability in a person's diet, sometimes alongside lower food intake.
"It was so exciting to see all of the donations come in the past few weeks from so many campus departments," Felicidad continued. "This is such an incredible accomplishment and will help keep our shelves full and diverse for weeks to come."
"I just had the grandest experience: I dropped off [my unit's] donated food at the UW pantry at Poplar Hall. It was a steady stream of happy people dropping off bags of goodies, people were weaving in and out of the load and unload zones. The pantry staff were elated!" – Sandra K Johnston, PhD, RN
The drive was hosted jointly by The Whole U and the UW Combined Fund Drive in recognition of National Nutrition Month, an annual opportunity to learn about making informed food choices and developing healthful eating habits.
Support the UW pantries
You can continue to support the success of our campus pantries year-round through volunteering, financial contributions, donations of food and hygiene items, and helping to spread the word in your networks.
Donate funds: Help support our campus food pantries with a payroll donation through the UWCFD. You can set up a one-time gift or a recurring monthly gift of any amount.
Donate food: Each pantry accepts non-perishable and perishable foods and hygiene items as donations, which can be dropped off during open business hours. Please do NOT donate: items that are damaged, expired, or open, home-cooked or home-grown items such as bread, eggs, or dairy products.
Related: Support local food pantries with essential non-food items
Greatest needs: pasta (including wheat alternatives), canned or dried fruit, canned soup and vegetable broth, peanut butter and nut butters, nuts, tortillas, rice and other grains, chips, granola bars or protein bars, shelf stable milk and milk alternatives, breakfast cereal.
Volunteer: all three UW pantries need volunteers! Click on the pantry links below to learn more.
About the UW pantries
UW Seattle Food Pantry: The student-run UW Food Pantry provides food to students, staff and faculty experiencing food insecurity. The UW Food Pantry values providing hunger relief in a stigma-free environment that emphasizes sustainability and cultural diversity. Watch the UW Food Pantry introduction video. 
UW Tacoma Food Pantry: Housed in the Office of Equity and Inclusion, the pantry exists to provide free supplemental, nutritious, and culturally relevant food as well as hygiene items to any UW Tacoma student who needs it. We serve a diverse student population, which calls for services that can fit their needs. We provide culturally relevant food items to foster a sense of belonging.
Check out UW Tacoma's Pantry Wish List and Amazon Wishlist! If you purchase items from this list, you can have them delivered directly to campus.
UW Bothell Food Pantry: Housed in the Health and Wellness Resource Center, the Husky Food Pantry may be accessed by any UW Bothell student who is facing food insecurity. Husky Pantry is a resource for all UW Bothell students who might be between paychecks or just need some extra resources to get through the week or month. During open hours, students can shop for grocery staple items, as well as seasonal products, hygiene and toiletry items (all items are non-perishable). Learn more about food access programs in Snohomish County.