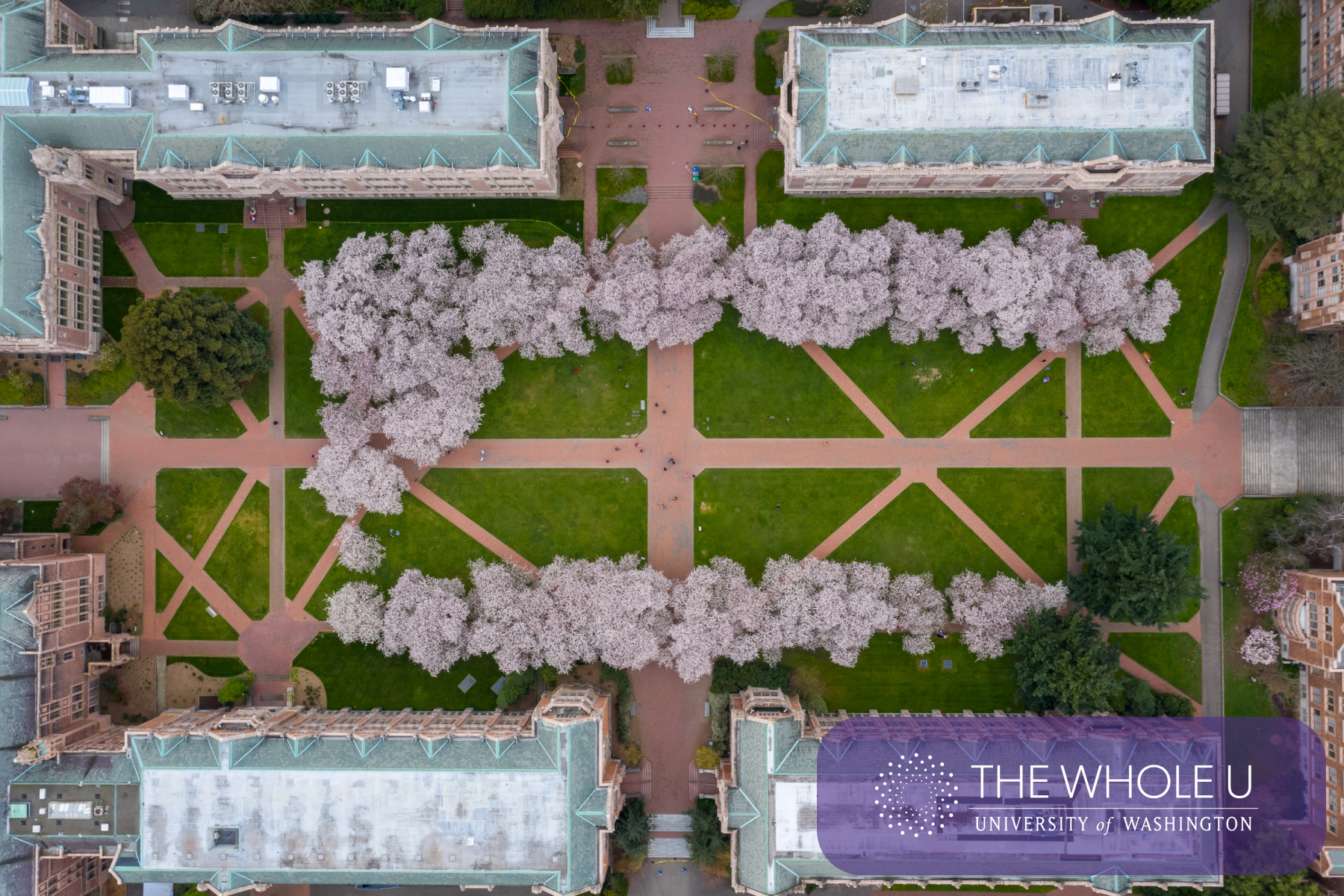 Bloom into Spring with April Events
This month's events will encourage you to improve your physical, mental, and financial well-being as we shift into the new season. Join The Whole U for a variety of self-paced challenges, information sessions on improving your financial skills, a two-day series focused on creating a community of belonging and more. Make sure to mark your calendars and sign up for these exciting events!
---
Throughout April
Virtual
Take the first steps in reducing your ecological footprint and making a positive impact on the environment with this 30-Day Sustainability Challenge. Each day, challenge yourself to follow a sustainable tip and expand your knowledge on how to be more environmentally conscious.
---
Throughout April
Virtual
Simplify your life and stress less about your personal finances with the 30 Ways to Improve Your Financial Wellness Checklist. Thanks to our partnership with BECU, this handy checklist provides simple reminders of everyday ways to improve your financial wellness.
---
Tuesday, April 11
11:00 a.m. – Noon
Virtual on Zoom
This webinar will cover how to identify scams and reduce risky behaviors that could compromise security. Learn to identify common scams, how to avoid them and what to do if you are a victim of fraud.
---
Wednesday, April 12
Noon – 1:00 p.m.
Virtual on Webex
Learn how to move beyond investing basics to help fine-tune saving and investing strategies for retirement and build a more secure future.
---
Thursday, April 13
8:00 a.m. – 9:00 a.m.
Virtual on Webex
Join this webinar to improve day-to-day financial skills, including learning how to manage money and balance priorities to help enjoy life and save for the future.
---
Thursday, April 13
Noon – 1:00 p.m.
Virtual on Zoom
Join The Whole U as we explore the ancient art of Japanese floral arrangement in this exciting virtual workshop. You will learn about the history and philosophy of Ikebana, as well as ikebana techniques and basic strategies for creating beautiful arrangements.
---
Tuesday, April 18
11:00 a.m. – 11:30 a.m.
Virtual on Zoom
Join us for Ask Fidelity, a virtual series that includes a short presentation, followed by 10-15 minutes of Q&A. During this session, learn about Roth IRAs and how to incorporate them in your retirement.
---
Wednesday, April 19 and Thursday, April 20
Times vary
Virtual on Zoom
Join this year's DEI Forum to share ideas, network and build coalitions to advance anti-racism and social justice efforts across UW and beyond.
---
Wednesday, April 19
Noon – 1:00 p.m.
Virtual on Webex
When women are starting their careers, there's a lot to consider—career goals, job satisfaction, achieving a work/life balance. But it's important to also consider retirement. Discover how establishing a plan now can help build your financial future.
---
Wednesday, April 26
Noon – 1:00 p.m.
Virtual on Zoom
Whether you're buying your first home or just need a refresher, this seminar is for anyone interested in purchasing a home in the near or distant future. This 60-minute webinar will cover a variety of topics to help you understand the home buying process and start to think about what your next steps may be.
---
Wednesday, April 26
Noon – 12:30 p.m.
Virtual on Zoom
During this session of Ask Fidelity, learn more about your new employer's retirement plan and the important next steps to take advantage of your benefits.
---
Friday, April 28
Noon – 1:30 p.m.
Mary Gates Hall, North Entrance
Join us for a walking tour! We'll marvel at the charm and complexities of the Suzzallo library façade and reading room, then compare these to French medieval cathedrals and Cambridge University.