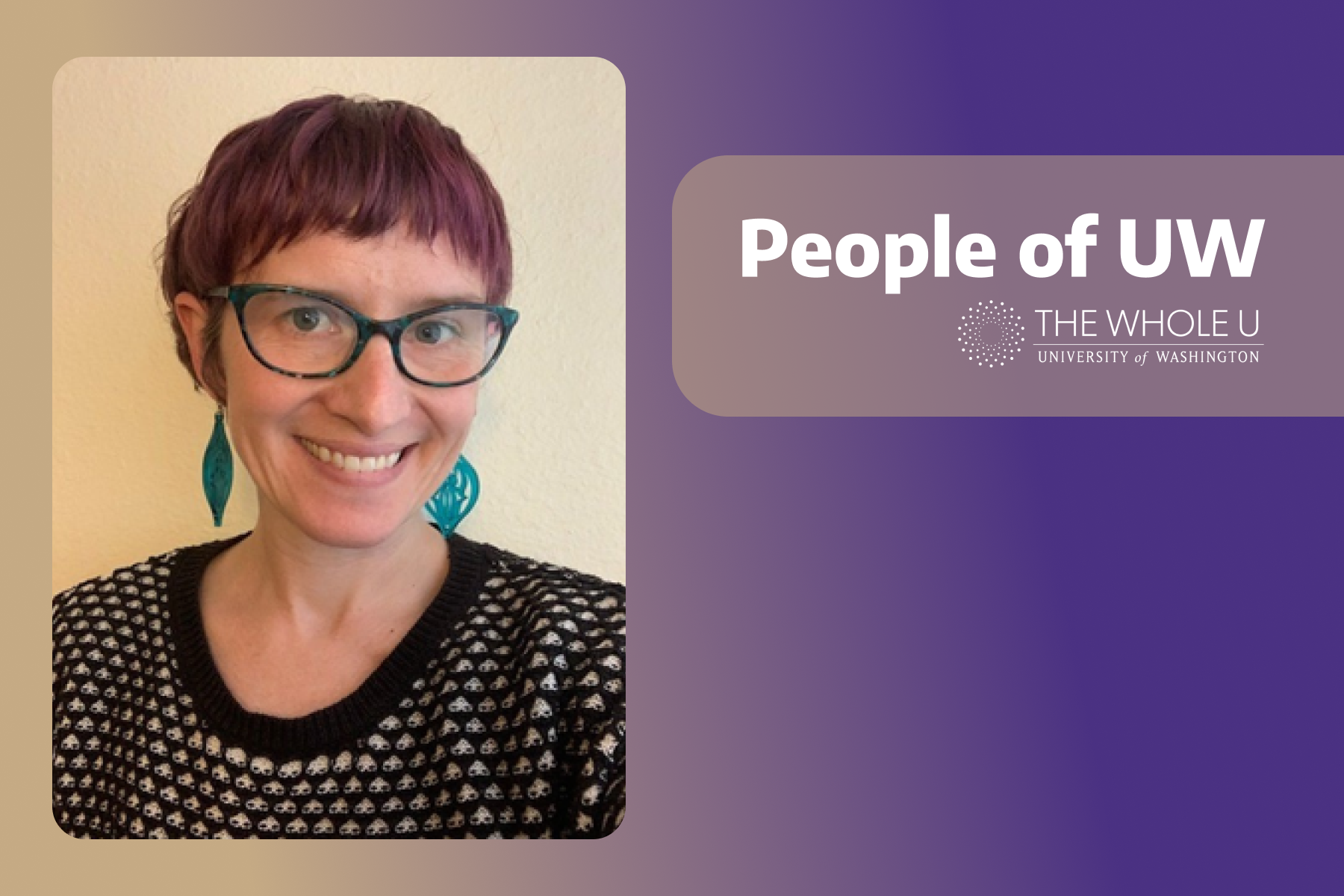 Fierce compassion: Meet gender equity and justice advocate Lauren Lichty
Content warning: This article discusses sexual and domestic violence.
Preventing problems before they occur.
That's a core value of community psychology, an interdisciplinary field that works to foster collective change, community wellness and the empowerment of marginalized and oppressed people.
The field has a strong social justice bent, and practitioners are often passionate activists for positive structural change within macrosystems like economic development, health equity, public education and gender-based violence.
For community psychologist Lauren Lichty (they/them), Associate Professor in the School of Interdisciplinary Arts and Sciences (IAS) at UW Bothell, passionate activist is an apt description: Lauren works tirelessly to prevent sexual and relationship violence, advocate for survivors of violence, and train the next generation of activists to end sex- and gender-based violence.
They're also committed to building settings that are more compassionate and just.
Centering prevention and culture change
Lauren's interest in power-conscious, trauma-informed and culturally-responsive violence prevention and response crystallized during their time as a graduate student at Michigan State University, where they trained in methodology and community response to gender-based violence in the ecological-community psychology program.
During that time, a great opportunity to dig into prevention research emerged when Lauren partnered with their faculty advisor, Rebecca Campbell, and a large multi-stakeholder task force to conduct an institutional analysis of prevention and response practices.
The research would inform efforts to create a safer campus environment, including an institution-wide strategic plan to address sexual assault, sexual harassment, relationship violence and stalking, cementing Lauren's passion for institution building.
However, that passion wasn't enough to outweigh the impact of vicarious trauma from doing sexual and relationship violence research.
"I spent a lot of time interviewing prosecutors and coding medical records from child sexual abuse survivors," they said. "It was draining."
Lauren shifted gears to focus more on the process of teaching, research, and evaluation, including serving as the first post-doc at the University of Illinois Center for Culturally Responsive Evaluation and Assessment. They joined multiple projects focused on increasing youth empowerment and youth leadership opportunities and published on social-justice teaching techniques.
Upon arriving at UW Bothell, Lauren was not planning to re-engage their work on gender-based violence. However, in 2016 that all changed when 19-year-old UW Bothell student Anna Bui and two others were murdered at a house party by Bui's ex-boyfriend, also a UW Bothell student.
Investigators said the gunman targeted Bui at the party because he was upset that she "seemed to be moving on after their breakup."
The 2007 murder of UW employee Rebecca Griego in her Gould Hall office by her stalker ex-boyfriend was another case of domestic violence. Griego had shared fears about her attacker with colleagues and petitioned for a protection order in King County Superior Court.
In the Bui case, the dominant narrative in the media quickly turned to out-of-control gun culture: institutional, state and civic leaders called for state gun law reforms, including a law banning the sale of assault weapons like the AR-15 used in the shooting.
But despite the grabby headlines—"High School Choir Loses a Unifying Voice to a Jealous Ex-Boyfriend with a Gun" reads one—the toxic masculinity aspect of the tragedy, the fact that gender-based domestic violence led to the deaths of three promising young people, was quickly buried.
"I remember thinking at the time that UW, as an institution, needed to address the fact of relationship violence," Lauren said. "But the response, when it came, focused on gun control."
As a survivor of relationship violence themself, Lauren was determined to preserve visibility of the issue for Anna—and for the nearly half of American women who have experienced sexual violence, physical violence, and/or stalking victimization by an intimate partner at some point in their lifetime.
Those numbers are even higher for women of color, trans women, and queer women.
"Anna was a young woman of color who was the victim of gender-based violence, and I didn't want to see that fact erased from the narrative," Lauren explained.
Catalyzed by Anna's murder, Lauren partnered with UW Bothell students, staff, and other faculty to mobilize for change: among other things, collaborating with campus safety staff to remove victim-blaming content on campus safety websites; spearheaded efforts to establish and fund a confidential advocate position at the Bothell campus; and served as faculty advisor to the student group S.A.V.E. (sexual assault and violence education).
The UW Bothell Violence Prevention and Advocacy Program website includes a statement to survivors written by the first cohort of students who joined the course, a reflection of the unit's commitment to staff-faculty-student collaboration.
And perhaps most meaningfully to Lauren, they implemented a new participatory action research class, protecting space for students to be collaborative change agents in their lives and communities.
"The students in that class have done incredible work that has changed prevention and support for survivors at Bothell. Along with some extraordinary staff hires, Bothell's prevention and response work is unrecognizable from 2016."
Thinking like changemakers
Lauren was initially intimidated about applying for a faculty position at UW Bothell: "I wasn't sure I had the extensive, dynamic pedagogical skills that define Bothell faculty," they said.
While working as a visiting scholar at Portland State University, Lauren had the opportunity to meet several IAS faculty and students at a community psychology conference. They were particularly impressed by the talent and dynamism of the student presenters—confident, engaged undergraduates giving polished presentations while their faculty mentors stood by.
Separately, Lauren met UW Bothell Professor of Education Wayne Au, who was giving a talk on hip-hop culture at Portland State. That conversation encouraged Lauren to apply for their current position. They are immensely glad they did.
"Chatting after his talk, Wayne was so gracious and kind, he helped melt away any question marks about my potential fit at Bothell," Lauren said. "Now, every time I have a conversation about teaching with another UW Bothell faculty member, I come away with some new inspiration."
Inspired classes have become Lauren's calling card. Like other faculty in IAS, they focus on collaborative, community-engaged learning opportunities centering social justice to foster the development of civically minded community members.
Lauren begins every class with a grounded meditation.
"When I teach, or when I'm designing a new class, I ask myself how I can create space in the classroom to encourage students to think like changemakers," they said. "One way is to pull back the curtain, so to speak, and give students the opportunity to critique and propose changes to the institutions that impact them."
Students use a participatory action research method called PhotoVoice to share and understand the experiences and perspectives of others. For many students, the tool has been profoundly empowering, particularly for those whose experiences may be considered non-traditional, as described in this article co-authored by two UW Bothell undergraduate students.
"I encourage students to bring their whole selves, particularly their multiple identities, prior education, personal and professional lives, and communities, into the classroom," Lauren emphasizes.
In collaboration with staff in the Violence Prevention and Advocacy unit, Lauren is developing a new course for first-year students that is deeply influenced by their work in violence prevention. Among other things, the course will train students in relationship skills and they hope to eventually build out a peer education and mentorship model.
Currently, a cohort of students in Lauren's 400-level Prevention and Promotion course are serving as consultants on the course development, interviewing and surveying stakeholders across UW Bothell to make sure the new course is responsive to community needs while promoting culture change.
"I can't wait to teach this class," they said. "The students here are so amazing, so willing to make the campus the best possible place for themselves and others. There is so much good work happening here."
'The bravest I've ever felt'
It was sometime in 2017 that Lauren began experimenting with professionally identifying as non-binary and genderqueer, eventually transitioning to they/them pronouns. Visibility of other people at UWB using exclusively they/them pronouns was crucial in Lauren's shift.
A co-authored article during that time pushed the envelope by combining their voices as they wrote about ethics in community psychology classrooms, including an introduction of joint "I am…" identity statements from the authors.
Their choice received some pushback from the reviewers, but Lauren and their co-author were firm. It was the only way either author felt safe writing about some of their identities.
Lauren also boldly acknowledged their non-binary identity to the UW community when they collaborated on an article for The Whole U about communicating respectfully with people of all gender orientations.
"Publishing that first article in which I even alluded to my gender identity was a big deal. The recent advocacy at UW and speaking out professionally about gender identity—it is scarier than other advocacy I do. For me, it is harder to be genderqueer in public than it is to be a survivor of gender-based violence," they said.
"That said, as a white, tenured faculty member I feel a responsibility to use my privilege to create change."
Lauren is also quick to note their privilege in being able to hide their identity in situations that feel unsafe, and admits their unease with the ethics of doing so—particularly when so many others who are targeted by systemic oppression like racism do not have that option.
"Being non-binary for me means experiencing chronic misgendering in my professional and personal life," they explained. "When it happens, a series of questions pop up in my mind: Did they do that on purpose or by accident? Do I correct them? How will they treat me if I correct them? Will they respect my identity? Will they harass me?"
"I want to present myself and teach with my authentic identity," Lauren continued, "but I can easily be 'read' in the world as female. And sometimes, it feels safer not to correct people, even if it hurts me."
The ethics of such a choice are far from obvious, and Lauren uses this and other complicated ethical situations as catalysts for discussion in their classroom—a place where they feel confident in bringing their authentic identity. "At Bothell, in IAS, you can take risks," Lauren explained.
"Faculty, students and staff at Bothell are encouraged to experiment with ways of being, thinking, knowing and sharing."
Lauren feels supported at UW Bothell in their various projects to cultivate spaces of authentic exploration. In one project, they are conducting collaborative research with a student into intersex representations in textbooks; another student collaborative project is evaluating the inclusion of aromantic and asexual communities in LGBTQIA+ organizations; and an emerging book project with a sexuality colleague explores relationship anarchy, an approach to relationships and love that dismantles traditional social scaffolding.
The combination of institutional support and personal intrepidness has been empowering for Lauren: "I'm in a space now where I can foster more queer radical fabulousness."
Leading for equitable change
That institutional support has also emboldened Lauren in their leadership as an advocate for gender justice. As co-chair of the UW Faculty Council on Gender Equity and Justice, they are dedicated to critically examining policy and practice across the institution to promote a culture of inclusion and justness.
A sub-committee of the council is examining the distinctive experiences and rights of transgender, non-binary and gender expansive members of the UW community.
"The goal of achieving gender equity is for all people to feel valued, seen and part of a community," Lauren said. "To create inclusive environments, what we need is for people to undertake the careful, intentional work of unlearning some bad practices we've been socialized into."
The council recently took on instances of gendered language in UW Faculty Code documents. Although many occurrences have been removed, some 80 instances of gender-exclusionary language remain. With full support from campus leadership, Lauren is confident that those will be remediated.
"The process is going swimmingly," they said.
Serving as a member of the UW Title IX committee of training and education, however, is the space where Lauren has been able to combine their passion for gender justice with their training in violence prevention.
Charged with developing a university-wide course on the prevention of and response to sex- and gender-based misconduct, the committee created the Husky Prevention & Response online course. With versions tailored specifically for students and employees, the course offers strategies for recognizing and interrupting sex- and gender-based violence and harassment.
The course brings an explicitly intersectional, power-conscious and trauma-informed approach, unique compared to most online prevention trainings.
In recognition of their efforts, the committee was nominated for a 2023 Distinguished Staff Award in the Diversity, Equity and Inclusion category.
Stunned by mountains
Amid such difficult work, Lauren prioritizes self-care and recreation. Professionally, they have participated in the Well-being for Life and Learning Initiative run through the Resilience Lab at UW, a group that co-sponsored a well-being and justice focused 'Fierce Compassion' event at UWB in 2019.
They have participated in a weekly meditative sit every Friday with other community psychologists for about four years now.
They're also a casual runner, sunset chaser, and pinball fanatic. "Everyone should download the Pinball Map app."
Raised in the Chicago area, Lauren learned to snowboard at 15, trekking on a three-hour drive with their brother nearly every Saturday for years to a slope in Wisconsin. But the hobby had gone dormant until Lauren arrived in the Pacific Northwest.
"I was stunned by mountains," they said. About seven years ago, Lauren hit the slopes again, and now their 13-year-old son loves boarding, too.
The pair also love the outdoorsy vibe in the region, taking annual camping trips to Lake Crescent, where they hike, skip rocks and generally disappear from daily life.
"I didn't know how to camp until I moved here," Lauren laughed.
They seem to have figured it out, finding deals on equipment at yard sales and exploring sites at Mount Rainier National Park. Indeed, Lauren is delighted by the astonishing beauty of the area, and grateful to work at an institution that offers breathing room to enjoy it.
"I live and work on a beautiful campus and among an extraordinary community," they said. "No place is perfect, but it's such a privilege to work at UW Bothell."
---
If you have experienced sexual assault, relationship violence, domestic violence, stalking, sexual harassment, related retaliation or other forms of sexual misconduct, you can learn more about your rights and the resources available to you at the University's Sexual Assault Resources webpage. An important resource is the UW's confidential advocates. If you want to talk to someone immediately, you can always call SafeCampus.