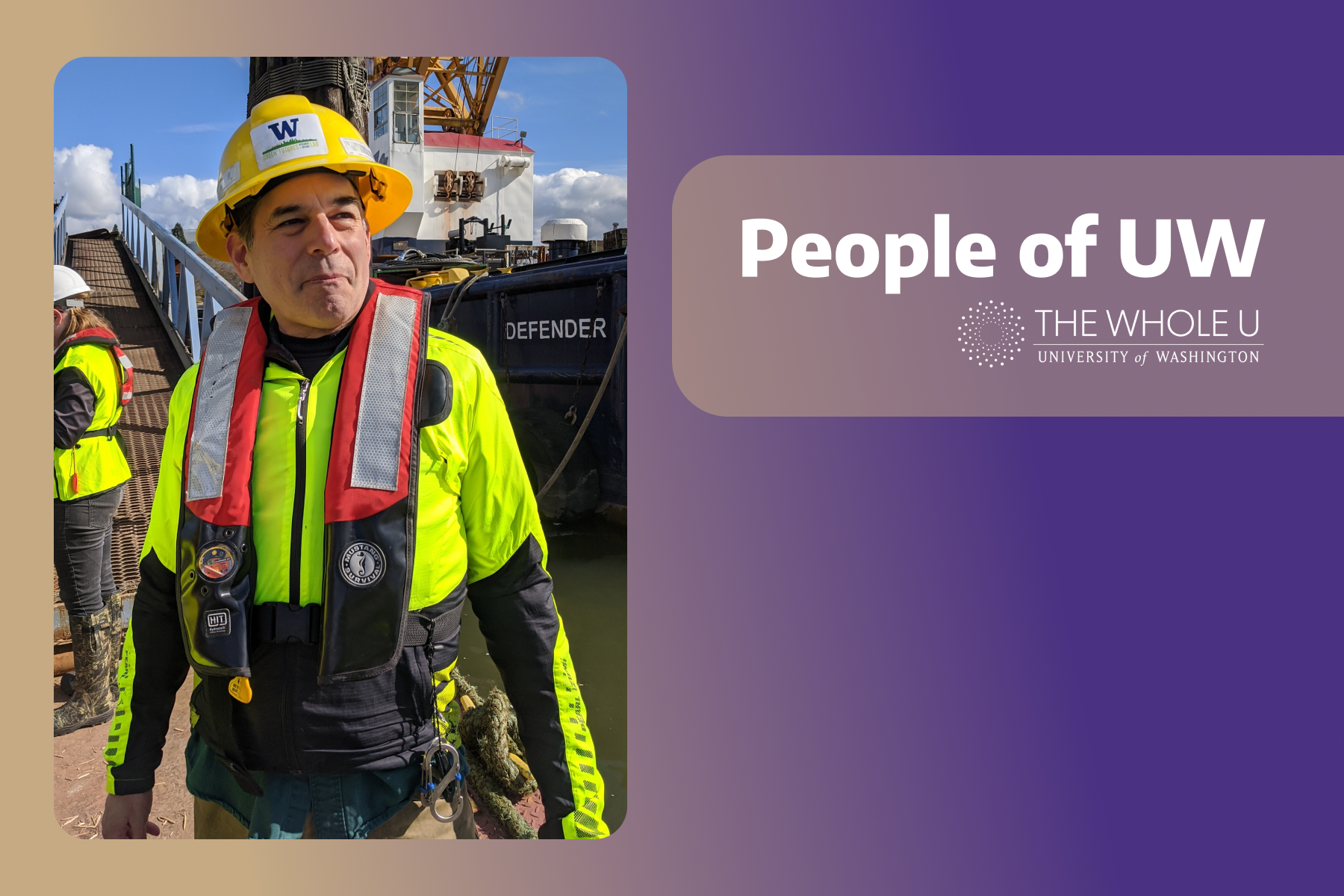 Imagining a greener future: Meet George Thomas Jr.
George Thomas Jr. first became interested in salmon when, as a student at Indiana University at Bloomington, he was recruited from an introductory stream ecology course to spend the summer on the Olympic Peninsula assisting a team of researchers studying coho salmon habitat.
Working among tributaries feeding the Queets River the summer before his sophomore year, deep in a glacially carved rainforest valley populated by Sitka spruce and bigleaf maples, George developed an enduring appreciation for and interest in the ecology of the Pacific Northwest—particularly the effect of human industry on native salmon species.
"It was my first exposure to the Pacific Northwest, free-flowing mountain streams and rivers, and salmon," he wrote.
But the Pittsburgh native wouldn't return to the Pacific Northwest for many years, when he left a career as a journalist in New York to take a position in consumer marketing at Microsoft, later moving on to another area giant, Amazon. He loved the area, but the work—not so much.
"I was at a point where I didn't feel like I needed to help Microsoft sell more software or Amazon sell more stuff," he said. "I figured being in an academic environment would be more fulfilling, even if I wasn't necessarily in an academic role."
George joined the UW as web manager for UW Human Resources in 2017, where he quickly rekindled his interest in environmental affairs through the tuition exemption program, which allowed him to take classes in oceanography, atmospheric sciences and fisheries.
"I probably wasn't even working here a week when I asked my manager if she cared if I logged in from south campus so I could sit in on an oceanography seminar," he recalled. "Of course, she didn't mind. That's what's great about the working environment at UW—it's about personal growth."
He would eventually earn a Master's in marine affairs degree from the UW School of Marine and Environmental Affairs (SMEA), participating in a capstone project that focused on salmon habitat restoration on the Duwamish River—more than two decades after that first momentous salmon encounter as an undergraduate.
A two-decade detour
Although he greatly enjoyed the stream ecology course and other environmental science classes as an undergraduate, George ultimately majored in political science and communications with a minor in English. He was idealistically drawn to journalism and wanted to make his voice heard.
Fresh out of college, George accepted a position as a newspaper reporter for the Jasper Herald, a family-owned newspaper in Southern Indiana. There he covered everything from state and local government matters to 4H fairs to high school basketball.
He went on to write for the Ithaca Journal in upstate New York before transitioning to digital marketing, working in the ad industry in Chicago until he landed in Seattle, where he has been ever since.
Having lived in several U.S. cities, George appreciates life in the Pacific Northwest—the access to mountains, forests, Puget Sound and the ocean beaches—all the more.
"I'm a West Seattle resident and enjoy all the region has to offer, such as hiking, cycling and skiing," he said. "I work remotely most of the time but enjoy cycling as part of my commute, especially as bike infrastructure continues to improve."
George enjoys whale watching as well: "It's a treat to live near enough to the water that when the orcas are in the area, I can quickly join the other whale watchers to enjoy the show," he explained. "From a safe distance, of course."
Making up for lost time
Even before he started working at the University, George was sitting in on UW courses in various environmental sciences—many of which are open to the public—making up for what he saw as a deficit in his scientific training as an undergraduate.
"I had actually been applying to work at UW for a while, figuring it would be a good environment for me to tap back into my marine science interest," he said. This was before he knew about the tuition exemption program for UW employees.
George's role as web manager for UW Human Resources keeps him plenty busy—he partners with a dozen subject matter experts to keep web content up-to-date, accessible and secure from hackers and bot attacks—but he still managed to average two classes per quarter year-round in various environmental science fields.
"I spent a lot of evenings and weekends reading and writing during that time," he explained. "I had taken so few undergraduate science classes and I really wanted to deepen my knowledge."
In 2019, George was accepted into the Master of Marine Affairs (MMA) program. He was elated: "Researchers at SMEA are at the forefront of environmental science," he said. "These are professors with hundreds of academic citations, hugely influential lead authors for institutions like the Intergovernmental Program on Climate Change at the UN."
"Taking these classes, earning this degree—it's been a pleasure and a privilege."
Widely regarded for its interdisciplinary approach to preparing students for impactful careers in marine and environmental affairs, the MMA degree situates graduates at the intersection of field experience and policy analysis.
"Real change in environmental policy needs both," George said. "The climate emergency is a complex issue, and that makes it easy to fuel ignorance and give politicians excuses to avoid the transformative policy choices needed."
He was also selected for the Program on Climate Change graduate steering committee, an interdisciplinary group of students housed in the College of the Environment. George helped organized events to educate the public about climate science, giving talks to high school students and the public.
"One of my favorite Zoom presentations was to the Roosevelt High School Choir, which teamed up with the Seattle Theatre Group to compose and perform songs about climate change," he said.
To better understand how human activity affects the earth's climate, George launched his personal website About Climate Change, where he translates climate science research for a general audience to educate people about the many ways in which climate change is impacting human, animal and plant health.
George's early training in journalistic integrity means that the site is intentional and transparent about the legitimacy of its primary source material. And of course, the writing is excellent.
The website also serves as George's small but mighty antidote to the rampant misinformation about climate change that undermines policy change and misleads the public—for example, the epidemic of underreporting greenhouse emissions by the same oil and gas companies that are producing those emissions.
"The politicization of the climate emergency is wholly depressing," George said. "There was a time when Republicans and Democrats came together to pass key legislation like the Clean Air Act and the Clean Water Act."
Nevertheless, he remains optimistic: "Occasionally I'll get contacted by elementary school teachers whose students have discovered my site, and that gives me hope for the future," he said.
"Climate is a major concern for today's youth—our future leaders."
Back to the salmon
As part of his MMA coursework, George completed a capstone project focused on salmon habitat restoration on the Duwamish River. Studies have shown that contamination of the Duwamish has contributed to the decline of salmon populations in areas critical to their survival.
He was, of course, delighted to be working in the field gathering data to benefit the five species of Pacific salmon in Washington—Chinook, coho, chum, pink and sockeye—along with other native fish and plant species.
Historically, salmon have held a crucial role in the ecology, economy and culture of the Pacific Northwest, providing a source of food for humans and wildlife alike.
George's team built a floating wetland—an artificial 10×20 foot floating raft full of native ecosystem plants that capture and remove contaminants to improve water quality—to investigate whether floating wetlands facilitate juvenile salmon survival in the critical early life stages.
"Being out on the raft was precarious," George recalled. "We bounced around a lot. But no one ever dunked." And none of the participants contracted COVID-19, a concern for the researchers working in near proximity during the uncertain early days of the pandemic.
The team also assessed use of the wetlands by other fish and animals and monitored water quality along more industrialized sections of the Duwamish, such as near the First Avenue South bridge.
Partnering with community scientists—residents of the South Seattle and Tukwila communities where the wetlands were deployed—the team facilitated urban environmental justice through collaborative restoration efforts.
"The Duwamish once was a thriving river and estuary until settler-colonial industrialization reshaped it and polluted it, which so negatively impacted the indigenous communities dependent upon the salmon," George said.
"The river is still polluted, and the cleanup process has been slow. More needs to be done."
For those interested in learning more about or getting involved in urban environmental justice, he suggests the Duwamish River Cleanup Coalition (DRCC), a group advocating for climate justice and health equity for communities along the river. And he highly recommends reading The River that Made Seattle by DRCC founder BJ Cummings.
Building a greener future
Now that he is done with his degree, George plans to devote more time to maintaining his website, volunteering as a researcher with the College of Built Environment Green Futures Lab team gathering water quality data and continuing to learn about and engage with policy change efforts in Washington state.
He doesn't rule out taking a few more classes, maybe even pursuing a doctorate someday.
Between the astonishing breadth of expertise among UW environmental science faculty and the accessibility of learning opportunities through open courses and the tuition exemption program, he can hardly resist the lure of the classroom.
"I don't think people outside of UW realize the world's top minds in these fields are right here in our back yard contributing to key environmental research," George enthused.
He urges anyone considering taking advantage of the staff tuition exemption program to do so—whether seeking a degree or just taking classes for the sake of learning, and whether the institution is UW or another state college.
"We have some extraordinary learning opportunities here."