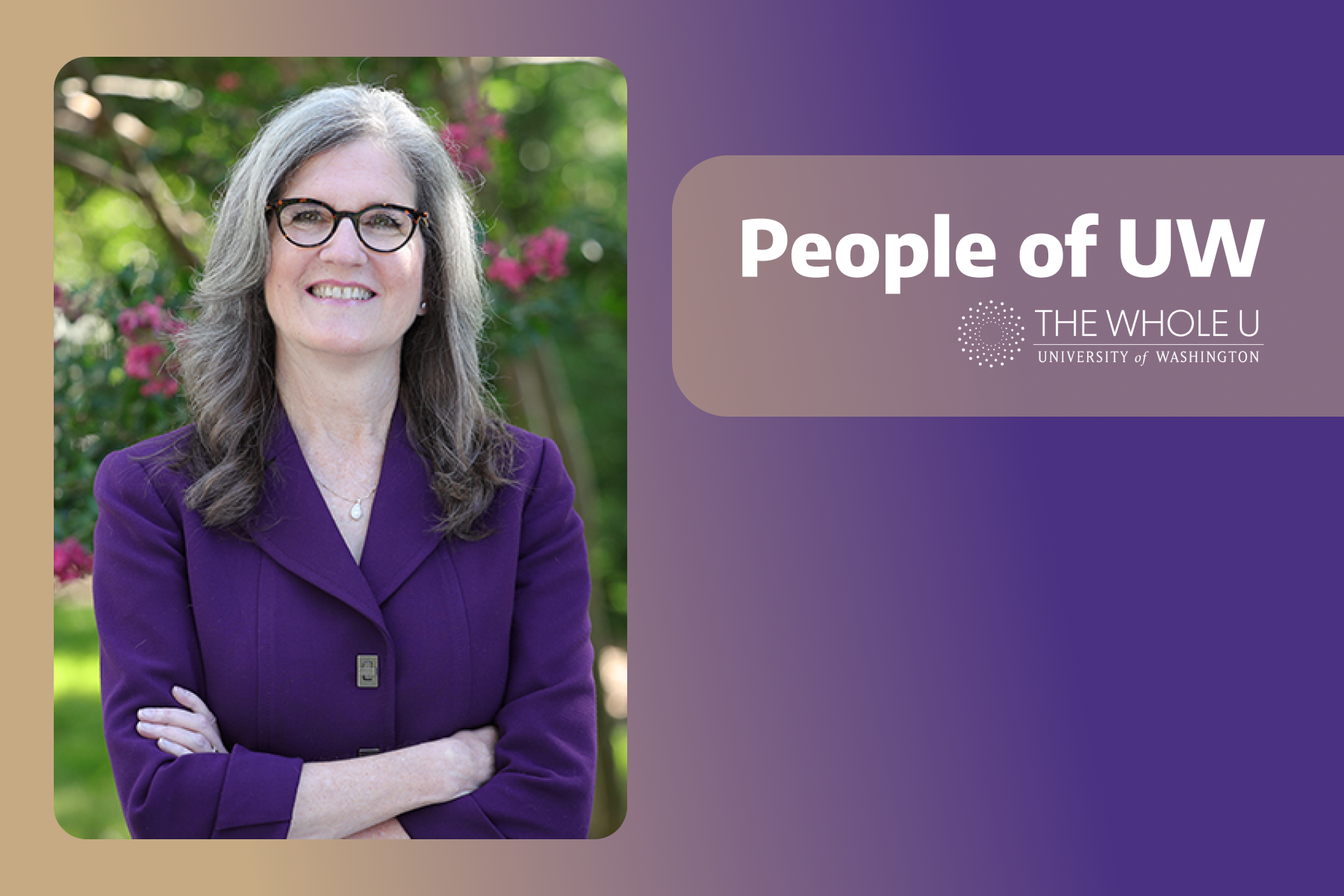 A grand vision for higher education's future: Meet Dianne Harris
Colleges and universities around the world are experiencing a range of new and historically unmatched pressures for change. The structures, systems, built environments and resources that have served as the fundamental frameworks for higher education are no longer consistently meeting the needs of the diverse citizenry these institutions aim to serve.
This is perhaps especially true in public colleges and universities where the struggle for resources has become ever-more pronounced in recent decades.
Significant social change, too, is transforming higher education, as leaders everywhere endeavor to create educational experiences that are more inclusive, accessible and equitable.
But the question of just how to reimagine higher education to meet the complex economic, social, cultural, and technological demands of our time is up for debate.
Dean of the UW College of Arts & Sciences Dianne Harris, a historian of the built environment, has given this question a great deal of thought.
Not long after beginning her tenure as Dean in September 2021, Dean Harris launched the "Rethinking the Academy" initiative, inviting the College of Arts & Sciences community to collaboratively imagine the future of higher education and of a liberal arts education in preparation for the global challenges of the future.
"This started from my own restlessness about where higher education is today and the challenges we see across institutions of all kinds," she said in a kickoff event for the initiative.
"We're in a transformative moment in higher education that's ours to seize or ours to miss out on."
Design matters
As someone who briefly practiced as a designer of the built environment—before discovering her passion for understanding the histories behind it—Dean Harris' early training informs her approach to envisioning a path forward for higher education.
"I was first trained as a designer, so rethinking and reimagining based on the understanding that new and better futures can be created is something I've studied, learned, and now apply in my leadership roles," she said.
Since her undergraduate years studying landscape architecture at UC Berkeley, where she also completed her master's degree in architecture and her Ph.D. in architectural history, Dean Harris has been interested in the intersection of the built world and the construction of identities, particularly racial and class identities.
Her interdisciplinary research examining the social and political dimensions of built environments and their representation in drawings, prints, photographs, and media has spanned three centuries and two continents, from 18th century Italy to 20th century post-war America.
She raises complicated and challenging questions about race and space, belonging and inclusion: who and what were the spaces built for? For whom were the spaces—landscape, cities, suburbs, and buildings—intended and which groups were meant to be excluded? Why do they look the way they do and how does their form and function shape expectations and experiences?
Much of Dean Harris' work requires her to see beyond what is visible to discover who is not represented, who is not included, and who has been rendered invisible through exclusion and segregation.
"Designed spaces matter both now and in the past far more than we think they do," she explained. "They are highly consequential in everyday life, even if we haven't always understood them to be so."
"The fact that buildings and landscapes are experientially ubiquitous can make them fade from the foreground of our consciousness and make us forget how important they are to daily life, but that makes them more powerful because they shape our experiences even when we are not aware they are doing so," she continued.
"Part of my work as a scholar is to bring those aspects to the foreground again and to help students and members of the public better understand the historical impact of the built environment in a range of contexts."
In her book Little White Houses: How the Postwar Home Constructed Race in America, for example, Dean Harris explores the racial dimensions of ordinary residential architecture in the post-war United States, specifically the influence of white suburban domesticity on segregation and the construction of ideas about middle-class, American culture and the construction of white identities.
Her conclusions about the legacy of racism's impact on unequal housing opportunities in America continue to resonate today.
And her expertise is not limited to academic publications: You can find Dean Harris included as a podcast and radio interviewee, featured in a documentary about homeownership and segregation called "Owned" that aired most recently on PBS, and cited in newspapers and even in a recent Dwell article about the popularity of the Netflix show "Selling Sunset", which lays bare the desire of the mega-wealthy to isolate themselves from the masses in a mid-century minimalist aesthetic that recalls the era of post-war white flight.
"The housing crisis that currently plagues most US cities is one based in a long history. My work tells part of that story," she said. "In my view, understanding the past is the only way for us to understand the present and the future. Teaching our students to be highly informed and critical thinkers about the past—something at which our UW History faculty excel—an essential way forward towards creating positive change for a flourishing society."
Last year, Dean Harris was named a Fellow of the Society of Architectural Historians. The honor recognizes significant lifetime contributions to the field and a sustained commitment to interdisciplinary research and practice advancing social and environmental equity.
That commitment includes a responsibility to center the University of Washington's Diversity Blueprint as a catalyst for discussions around race, inequality and segregation, and thinking about what the landscape and built environment of our own campus can teach us about these topics.
"I see a great opportunity for the College of Arts and Sciences in the Diversity Blueprint and I'm thrilled to be in a university that has generated such a clear and compelling plan," she said.
Collective dreaming
As an architectural historian, Dean Harris knows better than most that societies change more quickly than do their social institutions (and, of course, their physical spaces).
Even before the COVID-19 pandemic profoundly changed the ways in which we work, learn and live, the institution of higher education was under pressure to better meet the changing needs of our modern society.
Dean Harris is confident that the Rethinking the Academy initiative, although still in its early stages, will provide a framework within which meaningful, creative and exciting change can be fostered within the College of Arts & Sciences. She believes that identifying and precisely articulating the values that drive our work forward is an essential starting point for transforming higher education—perhaps THE key element—if transformation is to be achieved.
To that end, she invited the HuMetricsHSS group to campus to lead a series of workshops with College of Arts and Sciences faculty and staff with the goal of generating a precisely articulated values framework that can guide future decision-making and action.
She also invited leading educational thinker Cathy Davidson to give a talk last quarter about how campus communities can breathe new life into aging structures and systems: greater interdisciplinarity, student-designed learning outcomes, and better incentives for faculty to invest their time in improving their teaching, among other things.
Such a significant set of shifts will require persistence and the creative energy of the college community—but on behalf of current and future UW students, Dean Harris is up for the challenge.
"Launching this initiative offers opportunities for us to collectively consider what higher education can be when we design it for today and for the near future, rather than accepting what is and has been," she wrote recently.
"It requires some collective dreaming."
Arboreal friends
A longtime outdoor enthusiast with a deep curiosity about the natural world, Dean Harris began college as a forestry major. From her geologist father, she learned to appreciate the earth's history and its wonders as well as its complexities. As a 17-year-old at Berkeley, she wanted to explore forest ecosystems and learn more about conservation and natural resource protection.
"I like trees," she laughed.
She recommends the 2018 novel The Overstory by Richard Powers to fellow tree lovers: "The writing is exquisite and the focus on climate change couldn't be more timely or important."
In her Dean's blog post The collective power of trees, she wrote about the famous UW Yoshino cherry trees on the quad—her "29 new arboreal friends"—and their metaphorical significance as interdependent agents for the greater good.
The cherry trees, she suggests, are symbolic of the organization of the College of Arts & Sciences: dozens of discrete units, each with their own purpose, but working in tandem with each other to create a collective and hopeful future. She believes the College of Arts and Sciences is a community, its power greatly amplified when its works together towards the common good, and that vision drives her work forward.
As an undergraduate, an introduction to landscape architecture course during her sophomore year piqued her interest and appealed to her creative, artistic abilities—the designer side—and prompted the change in major.
The move to the Pacific Northwest in late 2021 proved the perfect place to re-engage with her appreciation for and interest in nature.
Road-tripping
Prior to joining UW, Dean Harris was a senior program officer with The Andrew W. Mellon Foundation in the Higher Learning program, where her broad and varied grantmaking portfolio included social justice-focused initiatives benefitting incarcerated students, community college transfer students, and Indigenous faculty and students, among others.
During her years with the Mellon Foundation, her daily commute took her through Manhattan's Grand Central Terminal—that vibrant crossroads of the city's transportation that also happens to be a stunning example of beaux-arts architecture.
"Every day I felt so fortunate to move through that beautiful, amazing space, to see the changes in light through different times of day and the year and to witness the great multitudinous wonders in the crowds of people who pass daily through one of the world's great cities" she said. "Grand Central will always be one of my favorite spaces."
But the city of Venice is her "favorite city in the world"—a place she describes as both architecturally and culturally invaluable, an engineering marvel. Built on a submerged forest of oak, larch and pine, the city's existence speaks to human ingenuity and resilience but also, perhaps, to the human tendency to overreach in the natural world.
"To me, Venice is symbolic of the best of who we are as humans but also of our hubris," she said. "To build Venice humans made something absolutely magical and magnificent, but they also caused significant harm to the forests and ecosystems around the city. It's a lesson we should remember in a city from which we continue to learn as it struggles against the forces of over-tourism and climate change."
Rome, too, holds a special spot in Dean Harris' heart—as does the Italian peninsula since her first books focused on early modern Italy. This summer, she will participate in celebrating the reopening of the UW Rome Center, which has been under renovation for several years.
Along with her husband, a fine art printmaker and adjunct faculty in the UW School of Art, Dean Harris has crisscrossed the country many times on road trips, a favorite activity for both of them.
"Road trips are one of the best ways I can think of to understand the complexities of this vast country," she explained.
The move from Manhattan to Seattle in late 2021 took them along the northerly route on Interstate 90.
"Traveling across the U.S. is for me, always an epic experience, and this trip was no different," she said. "We saw migrating birds—pelicans, bald eagles—so many beautiful landscapes and fascinating cities and small towns. I'd never driven across Washington state before, and it was remarkably dramatic the way the terrain changed heading west across the Palouse."
Their dog Bailey, along for that drive, is a seasoned traveler too. A twelve-year-old rescue, she has settled right into her new life in Seattle, which Dean Harris notes is the most dog-friendly place she's ever lived.
About her new city, Dean Harris is enthusiastic. She loves taking long walks—to explore, but also for exercise and as a meditative practice—and is eager to discover what lies further afield as the weather improves: Olympic National Park and the coast, Mt. Rainier, and other places where majestic trees have grown freely for centuries and have stood witness to countless changes in the region.
And about her initiative, Rethinking the Academy, Dean Harris is enthusiastic as well. With the engagement of the Arts & Sciences community in creating positive change, she believes, UW is exactly the right place to imagine and create the future of higher education.