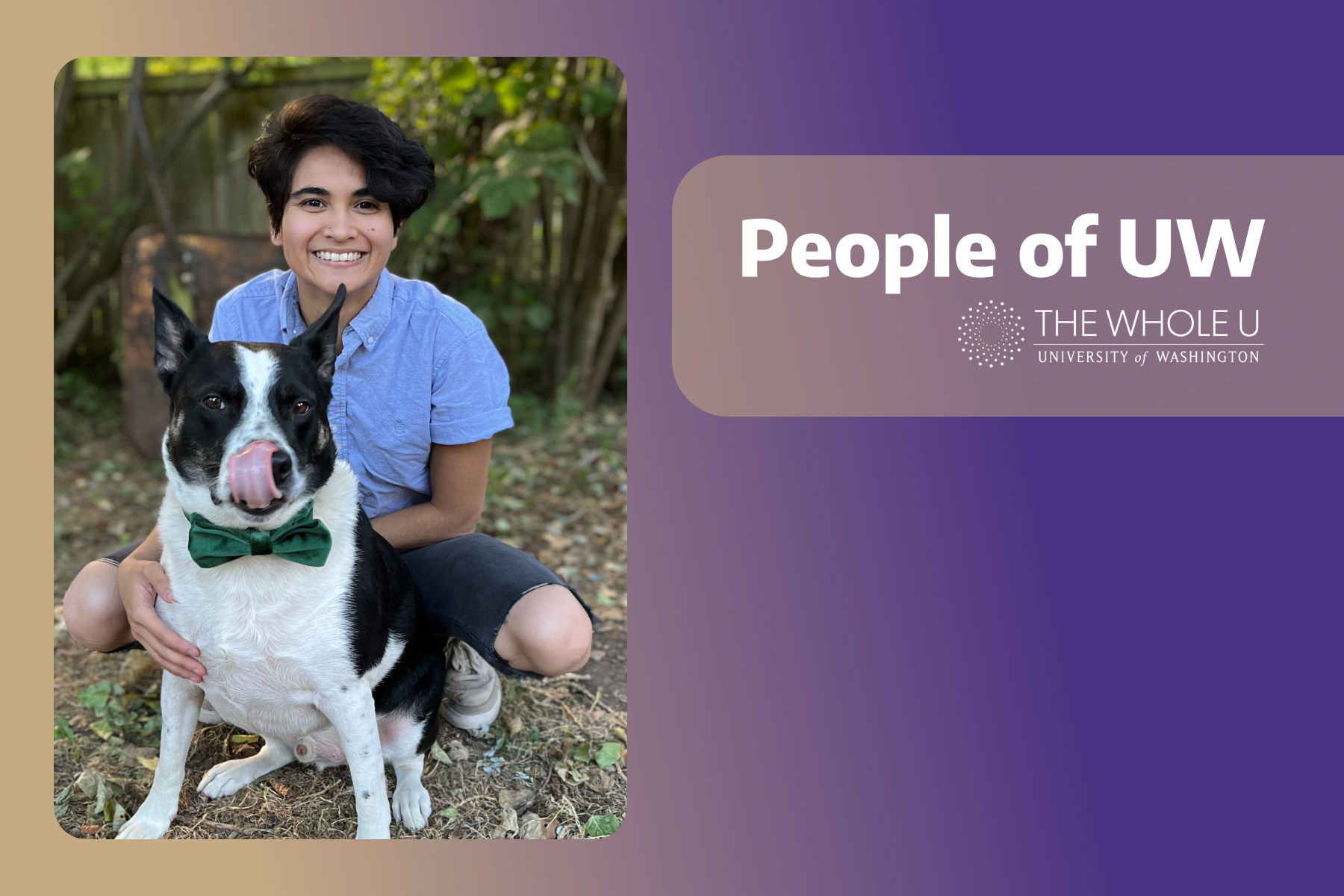 Serving her community: Meet Val Schweigert
When Val Schweigert meets with a student in a one-to-one advising session, they* seldom lead with their status as a veteran of the U.S. Army Reserve.
*Val uses the pronouns she/her and they/them interchangeably. This profile will emphasize this conscious choice by using them interchangeably as well. 
Proudly genderqueer and fiercely progressive, Val does not initially present as someone with a military background. It can come as a surprise to students seeking her guidance on issues around gender expression or sexual orientation.
But for the interim director and associate director of the UW Q Center, those two years in the Army Reserve cemented in them a commitment to and pride in providing service to her community.
And the Q Center, which offers a safe and affirming space for people of all identities and expressions to learn, explore and connect, has proved to be the perfect place for Val to serve as an educator, mentor, ally and advocate.
A safe haven
Already a regular at the Q Center while they completed a master's program in multicultural education at UW, Val joined the staff as the education and training coordinator in 2018, transitioning to the role of graduate staff assistant in 2019 while she pursued doctoral studies in educational leadership at the UW College of Education.
Val focused her energy at the Q Center on developing diversity and equity training for LGBTQ+ allies across campus and fostering professional development among the student staff.
The community made space for Val to both explore their own identity development and center their academic work in educational justice. At the Q Center, they felt safe, heard and empowered.
"The Q Center has provided a safe haven for me, a place where I fit in the best," she said in a UW Advancement article about the Center.
In her academic work, under the mentorship of faculty like Professor James A. Banks—hailed as the "father of multicultural education" and the first Black professor hired by the UW College of Education—Val discovered her passion and calling: centering the voices of the marginalized through service work and community building.
Constructing identity
As a mixed Filipinx American (her mother grew up in Manila, Philippines before immigrating to the Pacific Northwest, where she met Val's dad), Val is intentional about centering underrepresented identities in the pursuit of racial justice.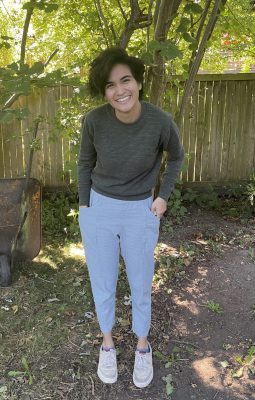 Growing up in Corpus Christi, Texas, Val was racialized as a person of color. As a mixed person, Val learned a lot about how society reads race and has navigated assumptions about her heritage from an early age.
Her citizenship status was called into question more than once. And in the increasingly anti-queer, anti-trans landscape of south Texas, Val wasn't too keen about being openly out.
They felt a powerful sense of connection to their fellow people of color but were nonetheless eager to find a community that validated their identity rather than calling it into question. After high school, they packed up and headed north.
As an undergrad at Wells College, a liberal arts school in upstate New York, Val thrived. Although she'd considered UW, even visiting the campus during high school, she "wanted to be a bigger fish in a smaller pond."
With its student body of about 500, Wells was just the place.
Studying sociology and cultural anthropology under the mentorship of UW alumnus Daniel Renfrow (Sociology PhD '05), Val explored how identity cultivates community among mixed students of color like herself. The research culminated in an autoethnographic thesis, "Becoming A Good Filipino."
Having had the big fish experience, coming to UW for grad school was a no-brainer, if a bit overwhelming at first: she already knew the area, her mom's extended family is here, and the flight to visit family in the Philippines would be a little shorter.
And, of course, the faculty at the College of Education are at the vanguard of educating for equity and justice.
Carrying the load
Val's promotion to associate director of the Center coincided with the onset of the COVID-19 pandemic and the resulting switch to fully remote work and school.
It was a challenging time for the Q Center, where, like many other student service programs, the staff had to pivot to digital engagement and student support programming.
Juggling the responsibility of a professional staff role with doctoral studies in the uncertain early months of the pandemic proved unsustainable, and Val left their studies to concentrate more fully on the work of engaging with and advocating for the Q Center community through a lens of intersectionality.
Intersectionality describes the ways in which systems of inequality based on gender, race, ethnicity, sexual orientation, gender identity, disability, class and other forms of discrimination "intersect" to create unique dynamics.
And since last September, when the Center's director departed, Val has filled the role of interim director as well, overseeing a team of three professional staff and nine student employees and adding various fiscal and administrative responsibilities to their workload.
The Center staff is wrapping up a search for their next executive director. Val considered applying but abandoned the idea once she realized how much student services time she'd have to give up.
She doesn't rule out the possibility of rematriculating in her doctoral program down the road, but right now she is very much focused on opportunities in her role to provide collective care for her community.
"I love providing direct services to our community," they explained. "In my role I get to initiate and steward pilot programs, work with students one-to-one and make an impact on people's lives—right now, today."
Not just lip service
At UW, Val began prioritizing the practice of decolonization as a means of centering Indigenous sovereignty. Their Q Center bio documents the original inhabitants of the various places they have lived and worked:
"Val currently finds themself on Duwamish lands by way of south Texas (Karankawa and Coahuiltecan territory); Val has lived on the East Coast, specifically the finger lakes of New York (Cayuga Nation, Haudenosaunee) and spent summers working on pre-college programs at the Penn campus in Philadelphia (Lenni-Lenape)."
Val is an advocate for paying Real Rent Duwamish, acknowledging the original inhabitants of metropolitan Seattle and their continued stewardship of the lands we all share.
"As an activist and social justice educator, it's important for me to acknowledge that I am a guest—perhaps an unwanted settler—on the lands I inhabit," they said.
At the Q Center, every event is preceded by an expanded land acknowledgement, and she seeks out opportunities to learn from and engage with Indigenous communities and individuals.
"I believe we should be engaging in meaningful reparations to Indigenous communities, not just giving them lip service," they said.
"A land acknowledgement on my email signature is not enough."
She, they or siya
Although she was socialized as a girl and presents primarily as femme (feminine), Val is embracing her social transition toward genderfluid—a term describing people whose identity shifts among genders—by experimenting with a more masc (masculine) presentation.
Accordingly, she shortened her name from Valerie, adopted a more gender-affirming haircut and style and uses the personal pronouns she/her, they/them and siya interchangeably.
Siya (pronounced like shah) is a gender-neutral third-person pronoun in Tagalog (Filipino) translating to "that person." Using siya as one of her pronouns allows Val to both give a nod to her cultural heritage as Filipinx and foster gender expansiveness in her identity.
For native Tagalog speakers, however, the language's gender neutrality can cause unintentional misgendering: "When my mom, a teacher, code-switches, she often accidentally misgenders people by translating siya into English pronouns, using he/she interchangeably without knowing the difference," Val explained.
Luckily, use of they/them is becoming increasingly common as a gender-neutral third-person pronoun, even receiving official recognition from the Associated Press. Perhaps in time Val's mom will be able to refer to her students as they or even siya without any raised eyebrows, giggles or embarrassment.
A dedication to service
At 17, Val joined the U.S. Army Reserve, spending their summer vacation between junior and senior year at basic training and continuing their service as a transportation logistics specialist until their sophomore year of college.
Having grown up in a large military family—their dad was a career Navy man—it made sense to Val to join the Reserve. Service to your country and to your community was a given in their family.
Val joined up at about the same time as the initial dismantling of the problematic "Don't Ask, Don't Tell" policy of the U.S. military, which barred openly LGBTQ+ people from joining.
Understandably, she chose not to 'out' herself at the time.
Her military experience as a queer person, however, taught her some valuable life skills—risk assessment, risk management, conflict resolution—and has given her a unique inroad with other LGBTQ+ veterans, many of whom face substantial barriers to their health, emotional wellbeing, safety and economic stability.
Their emphasis on service to others informs Val's work at the Q Center: whether they're empowering people to menstruate with dignity, explaining the legal process for name changes, facilitating an undergraduate discussion group around identity, coordinating the acquisition of donated gender-affirming supplies, or consulting on policy with an academic unit, Val is serving their community.
The Q Center operates a free clothing swap and is piloting a gender-affirming closet program. Donations of fashionable new or gently worn professional and casual wear and shoes are greatly appreciated. Drop off donations at HUB 315 or email qcenter@uw.edu.
Val is mindful of making time for self-care and fun, too. She and her partner recently bought a house in Edmonds, where they love the community, the small-town feel and the endless natural beauty of the area—as well as the proximity to the beach.
"When I'm stressed, I go to the beach to restore my balance," Val explained. "I especially love Carkeek Park. Being at the beach reminds me that I'm part of a larger ecosystem."
They have two dogs: Lumpia, an Australian Shepard mix, and Luna, a standard poodle and trained service dog who supports Val's partner. Lumpia, whom Val adopted from a military family facing deployment, is named after the popular crispy Filipino spring roll.
The doggos love the beach, too.
Val is excited about her role moving the Q Center into its next iteration, with a new director on the horizon and the pandemic in the rearview.
"The Q Center community is strong and empowered, and has the support of the larger UW community," they said.
"I have so many opportunities to make a difference for people here."
Val will be participating as a panelist on the upcoming UW WorkLife panel discussion, Connecting across identities: Communicating respectfully with people of all gender expressions on Jan. 25 at noon.