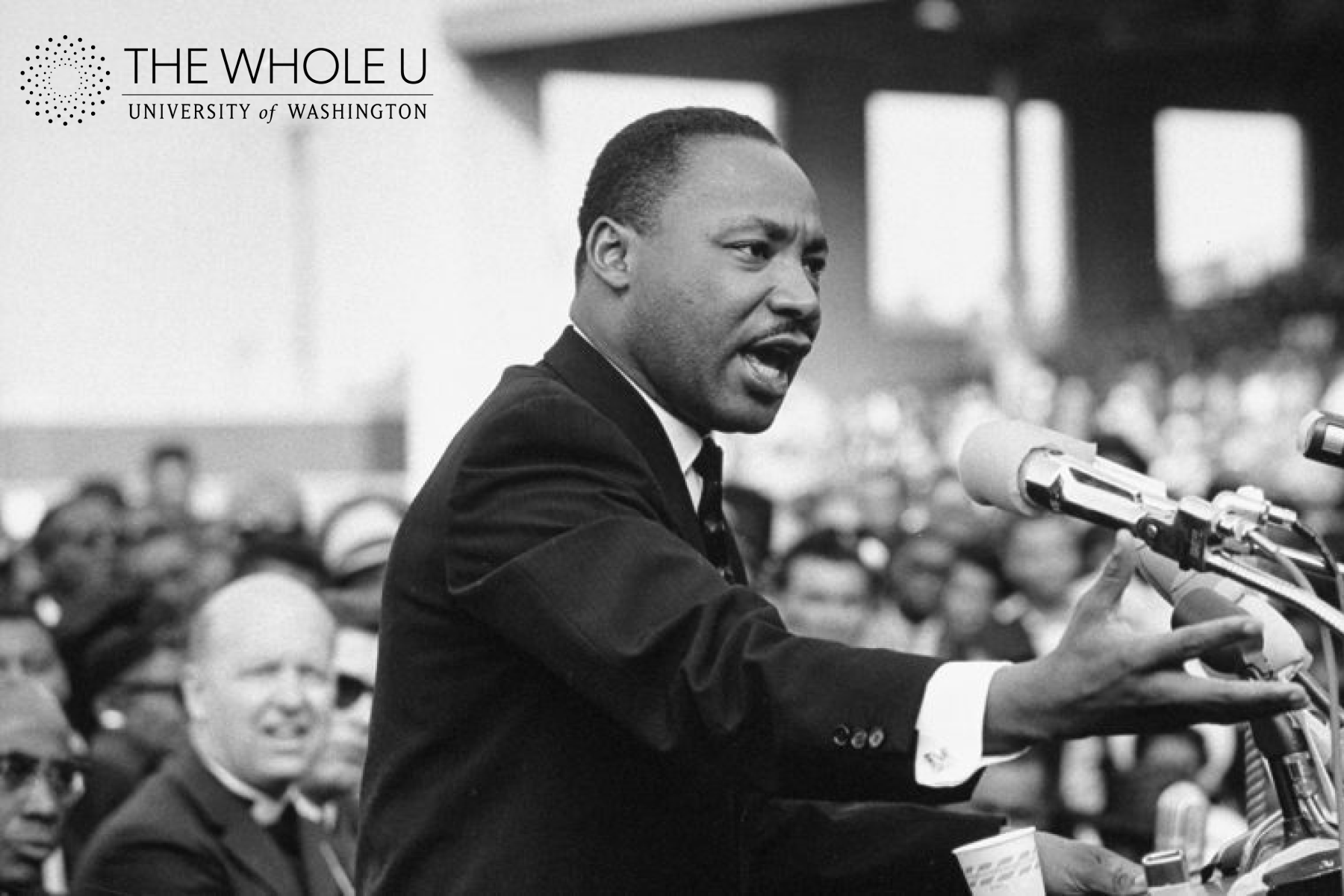 MLK Day: Remembering the Roots and Continuing the Work
"The ultimate measure of a man is not where he stands in moments of comfort and convenience, but where he stands at times of challenge and controversy." – Strength to Love, 1963.
This year will mark the 40th anniversary of the Dr. Martin Luther King Jr. holiday being signed into federal law. As we celebrate and honor Dr. King's legacy, we may also find ourselves reflecting on the work ahead.
While the road to progress may seem long and winding, remembering why we started can help energize our journey. Whether you activate in the streets, advocate in the classroom or workplace, engage online or somewhere in between – there are many ways to work towards the peaceful, just world that he envisioned.
Beginning next week, the University of Washington community will join together in action to honor Dr. King's legacy. Join us as we celebrate MLK week through events, continued readings and reflections. These and more can be found on the UW MLK week link here.
---
Attend community events
---
Watch and reflect
MLK visit to Seattle – Seattle Labor History Project At the invitation of his friend, Reverend Samuel B McKinney, Dr. Martin Luther King Jr. came to Seattle in November 1961. The visit proved to be much more controversial than expected. Rev. McKinney tells the story in a dramatic video interview.
Dr. Martin Luther King, Jr. Day – Streaming Video Display from UW Bothell Library's Social Justice Team:  a virtual display highlighting streaming videos in our collections that touch on themes related to fights for racial and social justice in the United States since the mid-20th century. More specifically, we have grouped the videos by their specific themes to enable "browsing" across this display.
In January 2021, the UW MLK Week work group asked Black students, staff, instructors, and faculty to reflect on the question: "What does MLK Day mean to you in 2021?" Watch and listen to their reflections.
---
Learn more