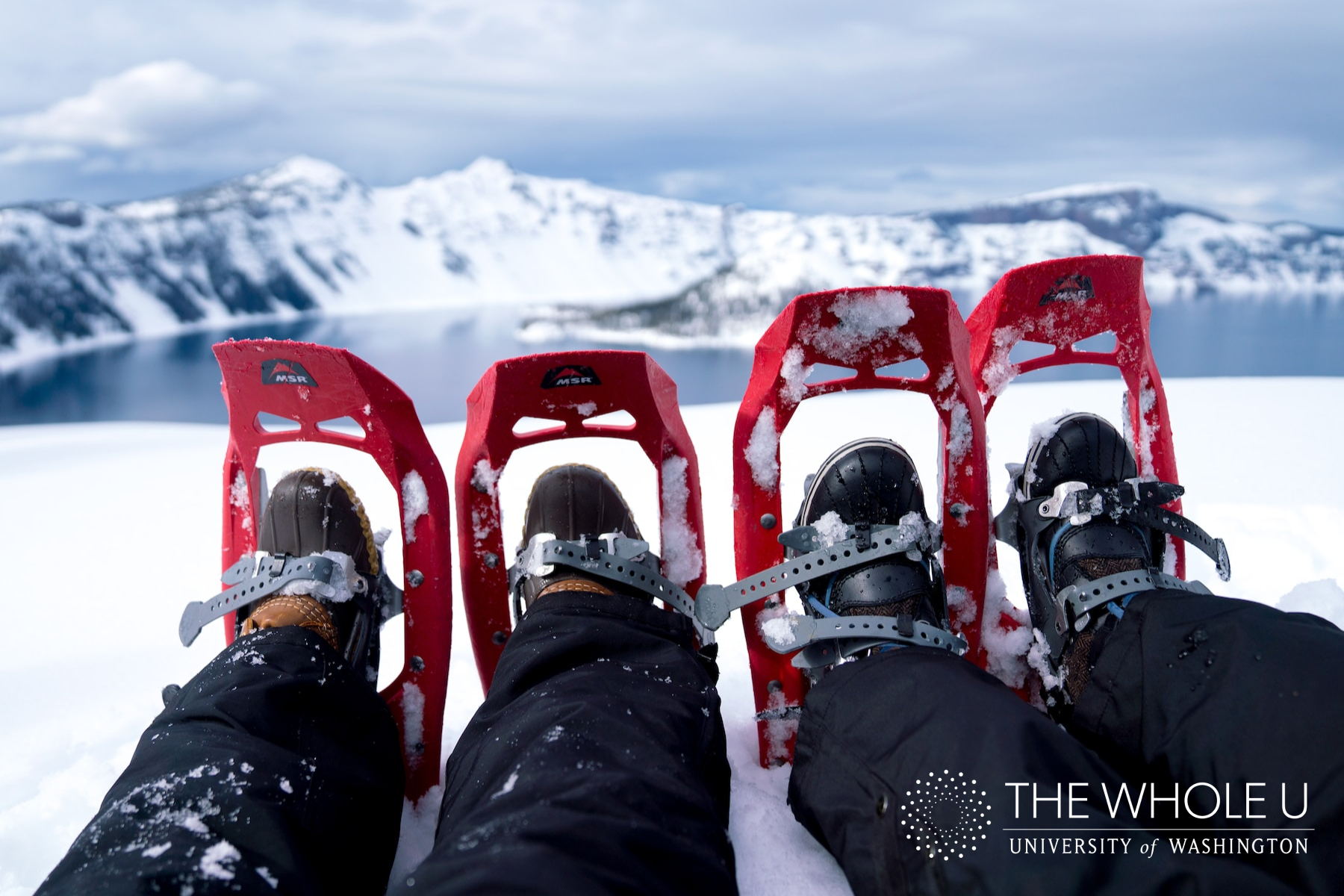 Responsible winter recreation in the Pacific Northwest
The Pacific Northwest is well known for its outdoor recreation enthusiasts, from seasoned adventurers to habitual couch potatoes and everyone in between. We are lucky enough to live in a region where there are many opportunities–from snowshoeing and skiing to snow play and skijoring–to bundle up, get outside and recreate in a way that respects the environment and each other.
Among the many benefits of a strong nature connection through outdoor time: improved mental acuity and creativity; better health through physical activity that reduces the risk of obesity, heart disease, depression, and other lifestyle diseases; and an understanding of the urgent need for environmental protection and preservation of our planet.
Scientific research supports the conclusion many of us have already reached: being in nature is good for you.
All of this is just as true for kids, too–outdoor time provides powerful boosts to their mental, physical, and emotional development. Getting outside helps combat "nature-deficit disorder", a term coined by nature advocate Richard Louv to describe the human cost of alienation from the outdoors.
---
So many winter activities
So, being in nature is good for our health, good for our well-being, and fun. How best to do it as responsible stewards of our environment? Try these:
Snowshoeing: The Washington Trails Association hiking guide is an indispensable resource for finding hiking trails in any season, including snowshoe routes. Want to join a guided group or take a lesson? Check out The Mountaineers' upcoming snowshoeing trips.
Check out Top Ten Hikes in Washington State – many of these hikes can be done year-round, with or without snowshoes.
Snowboarding and Skiing: The Olympic, Cascade, Blue, and Selkirk mountains provide amazing opportunities for skiing and snowboarding, along with dog sledding and skijoring, a kind of dog (or horse) racing/cross-country skiing mashup that involves being towed on skis by your dog or horse (check out canicross and bikejoring for summertime versions of this highly athletic and competitive sport).
Want to help kids from traditionally marginalized communities get on the slopes? Local nonprofit the Service Board's programming facilitates equitable access for youth to traditionally inaccessible outdoor activities with a focus on snowboarding to increase diversity in the outdoors and build confidence in youth.
Tubing, sledding and snowball fights: Have you tried Washington State Parks' designated Snow-play Sno-Parks yet? These areas offer gentle tubing and sledding hills among groomed, non-motorized trails and open spaces.
Looking for a volunteer gig? Outdoors for All, a Northwest nonprofit delivering adaptive and therapeutic recreation for children and adults with disabilities, is always looking for enthusiastic mentors for skiing, snowboarding, snowshoeing and cross-country skiing.
Ice Skating: Many would argue that ice skating is more fun outdoors. In the winter, the Northwest hosts several outdoor rinks benefiting local nonprofit organizations, including Bellevue's MAGIC rink, Seattle Center Winterfest, Enchant Christmas and Redmond Towne Center winter magic rink. Note: due to the mild Washington climate, lakes do not freeze hard enough to permit safe skating.
The Mountaineers offers dozens of titles on snow touring skills, avalanche safety, and locations. You can also find in-person and virtual skills courses on cross-country skiing, snowshoeing, avalanche safety, and many other outdoor activities.
---
Recreate Responsibly
Responsible recreation is essential in the interest of public health and to ensure that our state parks, trails, forests and beaches stay open.
The following guidelines, provided by the Washington Recreate Responsibly Coalition, will help us protect ourselves, others, and places we love when we adventure outside:
Know before you go: Check the status of the place you want to visit. If it is closed, do not go. If it is crowded, have a backup plan.
Plan ahead: Prepare for facilities to be closed, pack lunch, and bring essentials like hand sanitizer and a face covering.
Explore locally: Limit long-distance travel and make use of local parks, trails, and public spaces. Be mindful of your impact on the communities you visit.
Practice physical distancing: Keep your group size small. Be prepared to cover your nose and mouth and give others space. If you are sick, stay home.
Play it safe: Slow down and choose lower-risk activities to reduce your risk of injury. Search and rescue operations and health care resources are both strained.
Leave no trace: Respect public lands and waters, as well as Native and local communities. Take all your garbage with you.
Build an inclusive outdoors: Be an active part of making the outdoors safe and welcoming for all identities and abilities.
---
Support through the UWCFD
The constraints of pandemic life reminded many of us how important outdoor time is to our health, well-being, and happiness – particularly for people impacted by systems of inequality.
Everyone deserves to experience Pacific Northwest winter recreation (and summer, spring and fall, too). Supporting these nonprofit organizations helps them make the outdoors safe, accessible, and welcoming for all identities and abilities.
Consider making a one-time contribution or setting up payroll deduction to one of our UWCFD member organizations working to make outdoor recreation accessible and equitable for all:
Washington Trails Association (charity code 0315053): Washington Trails Association's mission is to preserve, enhance, and promote hiking opportunities in Washington state through collaboration.
The Mountaineers (charity code 1481321) is a nonprofit outdoor education, recreation and conservation organization whose mission is to enrich the community by helping people explore, conserve, learn about and enjoy the lands and waters of the Pacific Northwest and beyond.
Washington Wild (charity code 315056): Washington Wild protects and restores wild lands and waters in Washington state through advocacy, education, and civic engagement.
Washington State Parks (charity code 0315070): The Washington State Parks and Recreation Commission cares for Washington's most treasured lands, waters, and historic places. State parks connect all Washingtonians to their diverse natural and cultural heritage and provide memorable recreational and educational experiences that enhance their lives.
Outdoors for All (charity code 0320849): enriches the quality of life for more than 2,000 children and adults with disabilities per year through year-round outdoor recreational activities. Outdoors for All is transforming the lives of more than 2,000 individuals with disabilities each year.
the Service Board (charity code 1478661): empowers youth to overcome obstacles and build strong community through snowboarding, public service, and a curriculum of social justice.
Have a suggestion for great outdoor recreation not listed here? Drop it in the comments!