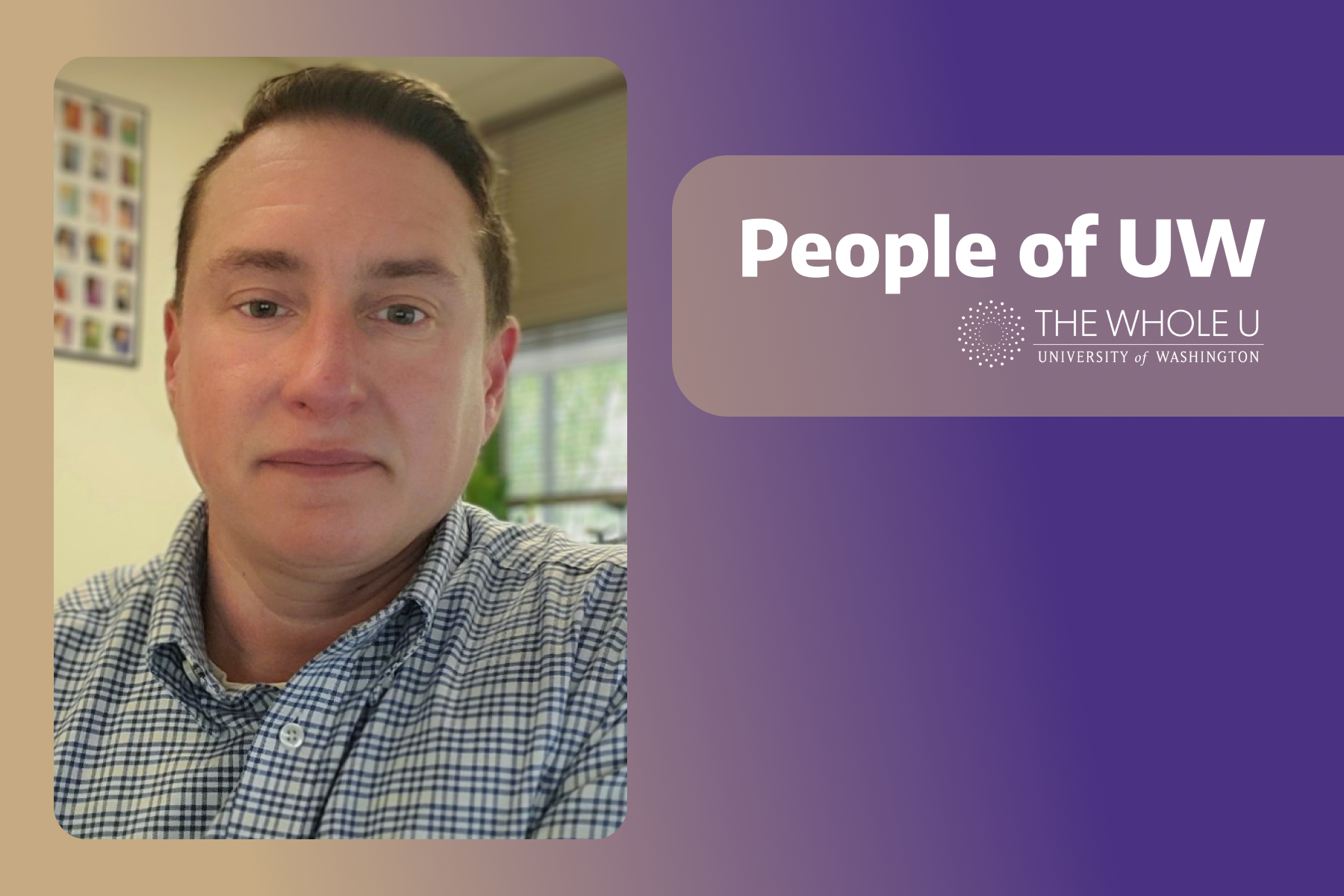 Advocating for acceptance: Meet gender-diversity trailblazer Sean Johnson
Sean Johnson moved to Seattle in 2010 with two goals in mind: he wanted to go to medical school at the UW School of Medicine, and he wanted to publicly come out as transgender and begin transitioning.
He didn't get into the UW School of Medicine.
But he did pursue—and excel in—Master's degree programs in both public health and social work at UW, which led to a prominent UW Medicine position comprising health policy, data science, social work and equity and inclusion efforts—all of which are right in Sean's wheelhouse.
And not only did Sean successfully transition in Seattle, but he was also one of the first people at UW to openly transition on the job and "in-house", so to speak, working with UW Medicine clinicians.
This combination of professional and personal experience uniquely positioned Sean for his role as program director for the UW Medicine Transgender and Gender Non-Binary Health Program (TGNB), which since 2018 has been providing comprehensive gender-affirming care.
Certainly, launching these services is a huge improvement in the pursuit of health equity for all. But demand for the program's services far exceeds current staff and surgical resources.
Moreover, the UW Office of Healthcare Equity has mandated that all 35,000 UW Medicine employees receive training in gender and sexual diversity as part of a systemwide health equity initiative toward becoming an anti-racist organization.
With the help of peer educators, Sean helps manage and deploy these trainings—but it's not a one-size-fits-all approach. Rather, each training is tailored to the audience and might be offered in multiple learning formats. Some 9,000 have received training so far—26,000 or so to go.
"Accomplishing these trainings—it's a huge lift," Sean acknowledged.
There is much work to be done. Sean is ready for it.
Second generation trailblazer
Sean's personal journey began in San Francisco, where he worked as a researcher in labs at the University of California San Francisco (UCSF) Medical Center while taking pre-med courses at San Francisco State University.
At the time, Sean was out as queer and on the transmasculine spectrum (Sean defined his as a "butch lesbian" identity) but was hesitant to come out as transgender.
Need to brush up on definitions and inclusive language? Check out Definitions of Common LGBTQ Concepts and Terms from the Annie E. Casey Foundation.
He had worked previously for the UCSF Cancer Center, serving low-income, high-risk, HIV-positive and LGBTQ+ patient populations—demographic groups that considerable research has demonstrated are consistently overlooked, ridiculed, and discriminated against by healthcare providers and insurers.
Consequently, many LGBTQ+ people are deterred from obtaining preventative care. And the pervasive lack of cultural competency displayed by many providers in caring for this population—particularly in more conservative and rural areas—has exacerbated the barriers to care that they already encounter.
For transgender people in particular, there is the infuriating tendency of some providers to attribute all medical concerns to the trans identity or hormone treatment—called trans broken arm syndrome. A quick search of the #TransHealthFail hashtag reveals the extent of the discrimination transgender individuals face when seeking healthcare.
Sean was discouraged—about embracing his authentic self as transgender, especially since he was preparing to apply to med school—and about the possibility of the LGBTQ+ community ever having true healthcare equity.
"There was this message in the queer community about transitioning: don't do it," Sean said. "It was risky even to talk about in some circles."
He made the decision to move to Seattle, where gender-affirming care was somewhat more accessible.
Two auspicious things coincided with his move north: the Obama administration passed the Affordable Care Act (ACA) in 2010, establishing legal protections against discrimination in health care for transgender people; and Sean co-founded Gendercast, a podcast and forum for exploration of transmasculine identity.
Noticing a lack of resources for Seattle's non-binary community, particularly for those assigned female at birth and on the transmasculine spectrum, Sean and collaborator Jesse Lee were determined to make space for authentic conversations around trans identity, gender expression and the systemic marginalization of LGBTQ+ people.
His interactions with the Gendercast community catalyzed Sean's decision to fully come out and begin transitioning.
"Having these conversations with people, I no longer felt the need to keep my identity on the downlow," Sean said. "I was ready to embrace it."
Sean also acknowledges the courage of transgender-rights pioneers like Jamison Green, author of a ground-breaking memoir about becoming a trans man, and Leslie Feinburg, author of the influential transgender novel Stone Butch Blues, for bolstering his own resolution.
Though his identity is central to his professional and personal lives—leaving him vulnerable to vilification and threat from those who don't agree with or approve of him, even while he serves as a resource and inspiration in the trans community —Sean doesn't particularly see himself as a trailblazer.
"Certainly, the visibility of my identity is essential to my professional role, because I symbolize for our patients and their families this lived experience," he said.
"Maybe you could call me a second-generation trailblazer."
The kids are alright
After the ACA was established in 2010, many more transgender people had access to care since insurance plans, including Medicare, were required to provide coverage for individuals interested in pursuing hormone therapy and gender-affirming surgery.
Gender-affirming care helps transgender and non-binary people achieve physical characteristics that align with their gender identity, rather than the sex they were assigned at birth.
But for many, finding providers trained in these specialties—particularly the complex vulvovaginoplasty, phalloplasty and metoidioplasty genital reconstruction procedures, sometimes called top and bottom surgery—has proven to be a challenge.
Many U.S. providers specializing in gender-affirming surgery have wait lists of a year or more.
With the recent recruitment of specialized surgeons—talented doctors who are "fierce advocates for gender-affirming care and health equity," Sean said—UW Medicine will be the only health center in the state offering certain surgical treatments and post-operative care.
In fact, for some of these specialized surgeries, UW Medicine is the only place in the WAMI (Washington, Alaska, Montana and Idaho) region offering services.
There is significant evidence that gender-affirming surgery results in improved mental health outcomes for transgender and gender-diverse people—and particularly for trans youth—with a substantial drop in suicidal ideation following the procedures.
"Launching these surgical services at UW has been a five-year endeavor and something desperately needed, because research indicates these surgeries are lifesaving for many," Sean explained.
While there is a need to better educate health care providers at all levels and among all specialties—caring for transgender patients is not a specialized field in and of itself—it is in medical school and residency programs that Sean sees the greatest potential for training the next generation of providers.
As recently as 2018, a survey of medical students in New England demonstrated that nearly 77% of respondents rated themselves as not sufficiently competent at providing medical care for gender-diverse individuals.
Meanwhile, in a recent Gallup poll, some 50% of Americans under the age of 30 report knowing someone transgender—considerably more than older generations—and around 20% of this same group identifies as LGBTQ+.
Indeed, the prevalence of young out transgender folks is increasing rapidly as national awareness—and acceptance—of the identity increases. A recent New York Times article reported that people ages 13 to 25 accounted for a disproportionately large share of the transgender population – nearly 44%.
Sean is delighted by this confidence among the younger generations to be authentic in their gender expression and sees himself as a resource for them. He has nieces and nephews—he loves being an uncle—who come to him with questions about queer culture, correct terminology and relationships.
"Younger people are really leaning into LGBTQ+ equality and accepting the trans identity—for themselves and for others," Sean said.
"It's really cool watching them grow up with this open-minded perspective."
Striving for equity
While the number of young out-and-proud transgender people increases, many older adults continue to struggle with exploring their gender identities and outing themselves.
Social media may play a role, with younger people using sites like TikTok, Tumblr and Instagram to explore, learn and connect with non-binary communities—but older adults are much less likely to engage with these forums.
"When I first began transitioning, I turned to YouTube to see what the eventual changes might look like," Sean said. "There wasn't much information out there for folks like me."
Another likely reason for the smaller number of older transgender and non-binary people is the lack of quality healthcare available to them because of historic inadequacies and both explicit and implicit bias in gender-affirming care.
This lack of access to care, coupled with higher rates of HIV, anxiety, depression, suicide and other comorbidities like substance abuse and obesity, means transgender people are more likely to die younger.
Sean hopes the work of UW's Transgender and Gender Non-Binary Health Program, and others like it around the country, will help change this trend.
"We have been slowly but surely trying to guide our entire medical system toward LGBTQ+ inclusive care and practice for some time, in our policy development efforts and committee work," Sean explained.
To improve the overall health and well-being of transgender individuals, the TGNB program is partnering with primary care providers, surgical and post-op providers at Harborview Medical Center, the gender clinic at Seattle Children's and community nonprofits.
Together, these organizations are building comprehensive trainings and protocols that will produce substantial changes in how transgender people are treated: holistically, equitably and with compassion.
Sean is also working on some initiatives that, while not monumental in the greater arc of healthcare equity, are nonetheless important: adding people's preferred pronouns to their UW Medicine ID badges and acquiring all-gender bathroom signs for UW Medicine buildings.
"My hope is to get UW Medicine staff to rethink what is at the root of identity discrimination," he said.
Staying connected
Although Sean is deeply committed to his work, as someone with a self-described "bit of a nomadic nature," he is starting to think about relocating one of these days.
As a lifelong West Coaster, he'd love to give somewhere in the east a try: Baltimore, maybe, or Philadelphia, both known for their ethnic and social diversity.
In his free time, and in the pursuit of self-care, Sean enjoys birdwatching, gardening, watching sports and staying connected to friends, particularly those who can empathize with the mental and emotional toll being transgender can take.
He is also a committed community activist, participating in events like Seattle Pride and marches—but with a role in the public eye, he has had to "turn down the activist" more recently.
"My activism has gone from criticizing 'the man' to pointing out opportunities for growth, equity and inclusion," he said.
This maturation is in line with his role as—if not yet quite an elder statesperson of the gender non-binary community—a second-gen trailblazer. Or the cool queer uncle. Sean is ok with that.
"I have learned so much about myself and the world around me through my transition."