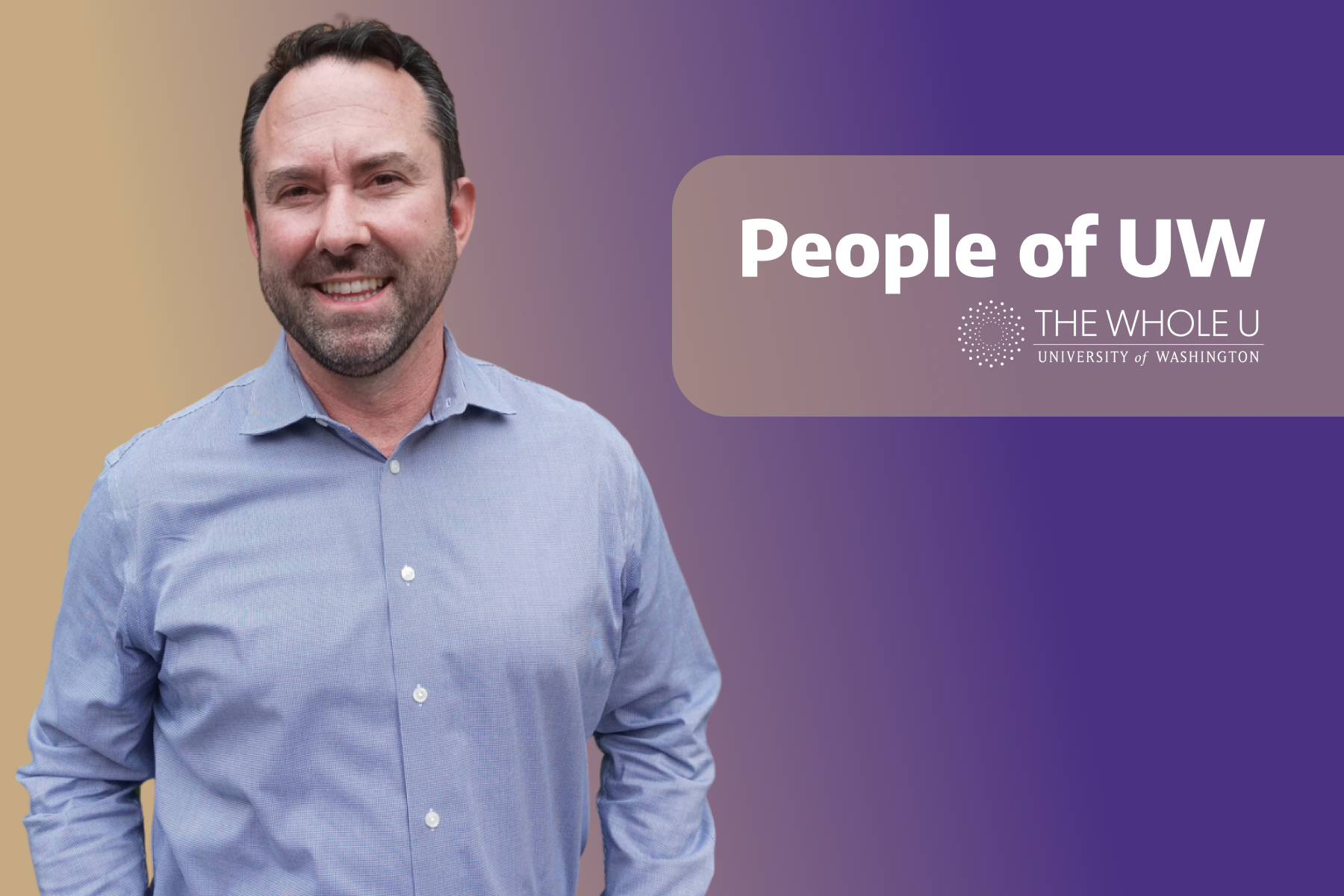 Fostering inclusivity through accessibility: Meet Ian Campbell
Like many higher education professionals in disability services, Ian Campbell was driven to the vocation because of his personal experience with disability.
Ian struggled with academics for years before finally being diagnosed in high school with learning disabilities. He characterizes the struggles before his diagnosis as "aptitude without performance"—the frustrating inability to fully demonstrate his intellectual capacity.
The diagnosis, after which his approach to his education and interactions with teachers changed dramatically, was "the missing piece" to becoming a strong student. Looking into prospective colleges, Ian wanted to find an institution with robust disability support systems to ensure his success.
Known as a premier institution for developing accessible and inclusive teaching and learning environments for people with disabilities, Central Washington University, in Ellensburg, seemed just the place.
A California native, Ian has family in eastern Washington with whom he spent many summers. Working on his uncle's ranch in the apple, peach, cherry and pear orchards—picking, pruning, shoveling, planting trees—he was familiar with and liked the region.
And Central would indeed set Ian up for success—both during his student years and, after graduation, in an employee role that grew out of his student job making educational resources accessible to students with disabilities.
Now the manager of UW's Disability Services Office (DSO), a role he has held for ten years, Ian applies his many years of experience in the field to removing barriers and fostering an inclusive environment for all members of our campus community.
Paving the way
As a student at Central, Ian had trouble finding a major that fit with his interests—so he applied his experience working for disability services there to help create his own.
In that role he oversaw a team of fellow students who duplicated cassette tapes of primarily educational materials—though they did have the exclusive contract for the Washington state voters' pamphlet—for students with print access disabilities.
Ian liked the work, liked the people he interacted with and was excited about the rapid advancements in assistive technology that were happening at the time.
In fact, as part of an internship during his studies, Ian helped build a program to train other members of the campus community on the use of early assistive technologies.
So as a result, for his own education, he assembled a team of faculty advisors and commenced an individualized interdisciplinary bachelor's degree program in disability studies, mixing traditional classes with independent research projects.
He benefited from the expertise of faculty in disciplines including anthropology, sociology, psychology and computer science. Several of his advisors have gone on to distinguished careers at top universities.
As part of his coursework, Ian guest-lectured in his advisors' traditional classes on major principles that guide universal design and advances in accessible content creation.
Universal design is the design of buildings, products or environments to make them accessible to people, regardless of age, disability or other factors.
This practice in synthesizing information for general understanding and in public speaking would prove invaluable later.
After finishing his degree in disability studies, Ian was offered a staff position—basically, a promotion of his student role—in Central's disability services office. Demand for their services was growing exponentially as Ian and his colleagues proactively sought out the newest adaptive strategies.
By then, he had amassed a great deal of knowledge around accommodations for the major types of disabilities—visual, hearing, motor and cognitive—and their corresponding assistive technology.
A passion project
Unsurprisingly, Ian started presenting at disability conferences locally and nationally, even travelling to Austria to give a talk.
But the biggest stage was right in his backyard, at the 2011 Association on Higher Education and Disability national conference in Seattle—where he was asked to testify before a congressional committee about the need to increase the accessibility of instructional materials.
The National Commission on Accessible Instructional Materials for Students with Disabilities in Higher Education was charged with making recommendations about the current and future availability of instructional tools for students, with the goal of effecting a paradigm shift in thinking about inclusive design.
Ian was an obvious choice to give testimony at the hearings with his experience supporting assistive tech, including a recent project producing Nemeth Code Braille for visually impaired students to access math and computer science. Of course, his years of work in providing service to the disability community and public speaking experience was helpful.
"Speaking out about the need for assistive technology for people with disabilities is a passion project for me," Ian said. "At the time of the congressional hearings, I was telling the story of this tech as it was becoming mainstream."
The report that followed from the hearings emphasized the need for specifically designed instructional tools to meet the needs of a wide range of students, including those with disabilities.
Not long after the hearings and national conference, Ian was offered the DSO manager role at UW. Having worked at Central for a decade and lived in Ellensburg for nearly fifteen years, he was ready for a change of scenery.
For an outdoorsy guy who loves fly fishing, camping, snowboarding in the winter and boating in the summer—he has a boat that he takes regularly to Lake Union, Lake Washington, and the Columbia River—Seattle was the perfect next spot.
And while not a Husky himself, Ian's dad and wife are alumni, he's been a Husky football fan for as long as he can remember—he's held season tickets for years—and he already had many connections among UW staff in disability services.
The transition from Wildcat to Husky was easy: "Oh yeah, I bleed purple and gold—always have," he said.
So much expertise at UW
Ian and his team partner with a variety of UW programs and offices in the provision of services to people with disabilities.
A major collaborator in their campuswide accessibility efforts is the Access Technology Center (ATC), a division of UW Information Technology that advocates for the procurement, development and use of accessible tech-based applications, as well as training and consultation on universal design.
The ATC provides numerous resources for people with disabilities, such as hardware and software that produces braille on a display or embossed paper, alternative keyboards and magnification for blind and low-vision users.
A UW-led initiative to improve the accessibility of Workday—the third-party platform used to manage human resources, payroll, and benefits processes for UW employees—brought Ian together with consultant Dan Comden and accessibility specialist Hadi Rangin in a multi-year campaign that resulted in meaningful changes to the platform.
Ian is quick to praise his colleagues' indefatigable efforts to make Workday's design more inclusive for users with disabilities: "I'm the replaceable member of this team," he said. "Hadi and Dan—they're subject matter experts, totally irreplaceable."
The importance of assistive tech in facilitating workplace equity for people with disabilities cannot be stressed enough.
"Our goal is to provide an environment in which all the IT solutions at UW are accessible and usable to the entire UW community right from beginning," Hadi said. "If people with disabilities can't use an application effectively, it will impact their performance in doing their job."
Watch Hadi, who is blind, read from a braille keyboard in this video about the ATC
For his part, Ian is proud to work at an institution known for its leadership in implementing assistive technology to maximize the potential of individuals with disabilities.
"There is so much expertise in accessibility at UW," he said. "People genuinely contribute to the employment accommodations process and work hard to create a fully inclusive environment."
Providing cutting-edge services
Recent advances with screen readers, braille displays, auto-captioning functionality and screen magnifiers—coupled with the normalization of remote work following the COVID-19 pandemic—have allowed many more disabled people to enter the workforce and participate equally.
A firm supporter of the disability rights movement, Ian celebrates this move toward greater workplace equity that respects and affirms the inherent dignity, value, and uniqueness of all individuals.
As the institutional leader for the employment accommodations process, the DSO is essential to providing a working and learning environment free from discrimination that is inclusive and accessible for everyone.
DSO team members John Tran, Gretchen Bennett, Nancy Grega and Dimitri Azadi work alongside Ian in facilitating equal access to resources so that all UW community members can reach their full potential.
Ian is especially proud of DSO's cutting-edge D/deaf and hard of hearing services, which includes a cadre of more than 130 American Sign Language (ASL) interpreters and real-time captioners.
According to the National Association of the Deaf, it is standard to use the lowercase deaf when referring to the audiological condition of not hearing, and the uppercase Deaf when referring to a particular group of deaf people who share a language—ASL—and a culture.
In the months following the initial COVID-19 stay-at-home order and move to virtual formats, Ian and his team rallied to meet the accessibility needs of the UW community while minimizing disruptions to working, teaching and learning.
Rocking out
It has been an intense couple of years for Ian, but he prioritizes family time and self-care. He and his wife recently returned from a restorative three-week trip to France, touring Paris, Bordeaux, the Mediterranean coast and Monaco.
A huge Mariners fan, Ian lives mere blocks from T-Mobile Park, where he takes his 17-year-old son and 13-year-old daughter to games every season. The family also enjoys boating, playing Pokémon Go and the occasional Roblox or Minecraft binge.
And going to concerts—lots of concerts.
Ian has some cred when it comes to concert-going. When his mom was pregnant with him, she attended a Jethro Tull concert and was so taken with the prog-rock band's founder, composer and front man Ian Anderson that she named her son after him.
Going to shows is, you might say, something Ian was born to do.
A few that stick out in his mind include Neil Young with Stone Temple Pilots and Blind Melon in 1992 at The Forum in LA; Chris Stapleton at the Gorge Amphitheater; and Bob Dylan, Paul McCartney, Roger Waters and The Who at the epic 2016 Desert Trip Festival in the Coachella valley.
He recently caught Zac Brown Band at Climate Pledge Arena. And he has yet to miss a Dave Matthews Band show over Labor Day weekend at the Gorge, having gone every year since 2003 (except the 2020 shows, which were cancelled, like everything else, due to the pandemic).
Ian loves living in the Pacific Northwest—loves its outdoorsy-ness, established community of practice in disability resources and concert opportunities, among other things—and has no plans to move on from his role at UW anytime soon.
In fact, he has recently partnered with UW WorkLife on a series of panel discussions addressing neurodiversity in the workplace, a new initiative for both programs.
"I feel immensely fortunate that I can be so passionate about my work," he said.