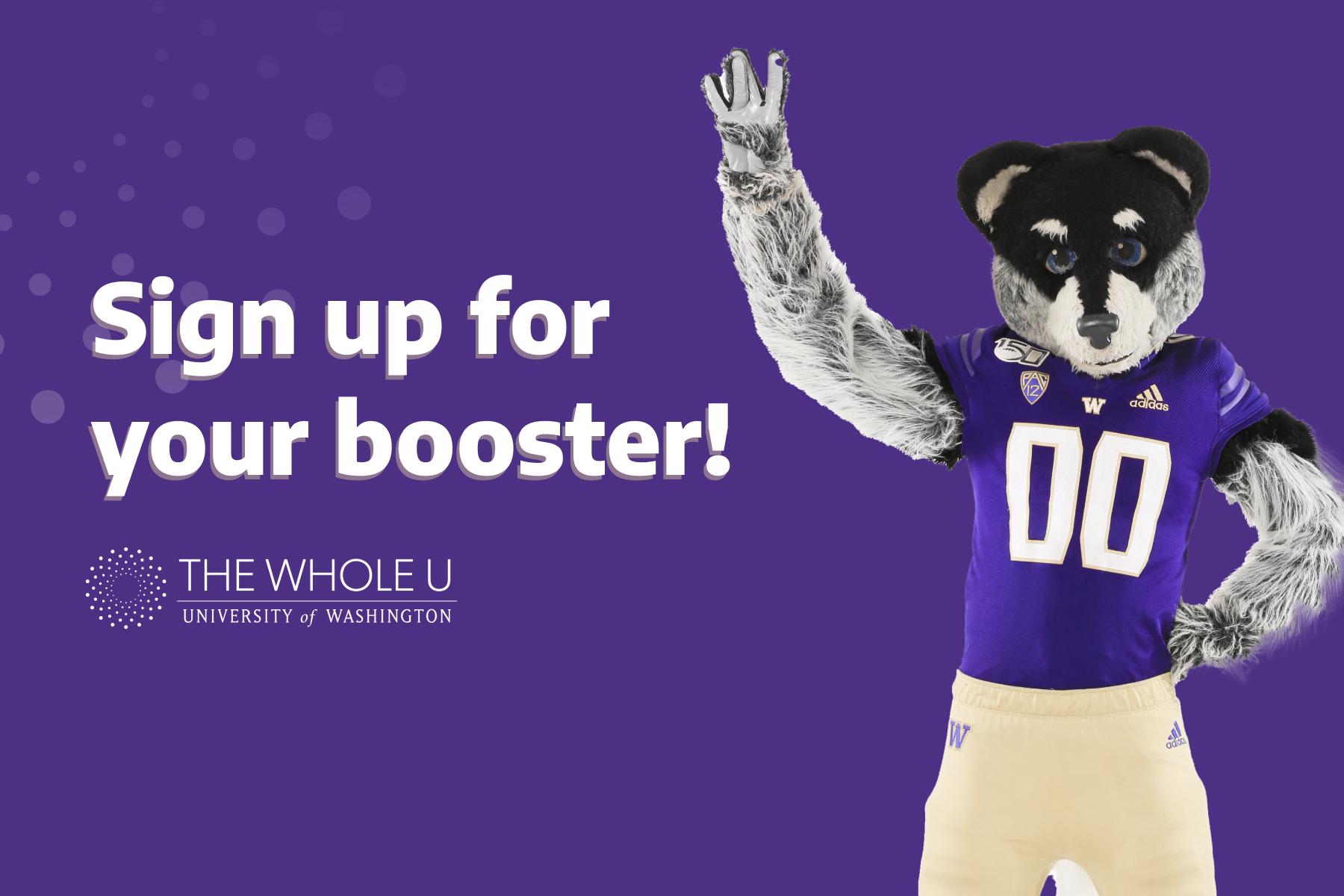 COVID-19 Pfizer bivalent booster clinics
The Whole U is partnering with the Seattle Visiting Nurse Association to offer limited COVID-19 Pfizer bivalent booster clinics.
Register for a clinic below:
Nov 3 from 9:00 a.m. – 4:00 p.m. – Husky Union Building Rm 337
Nov 4 from 9:00 a.m. – 4:00 p.m. Health Sciences 3rd Floor Lobby
The current requirements for eligibility for the Pfizer Bivalent (Omicron BA.4/5) booster are:
Patient is at least 12 years of age.
It has been at least 60 days since the patient's most recent COVID-19 dose (primary or booster).
The patient must have completed a primary series of Moderna, Pfizer, or J&J vaccine.
How to Make An Appointment
The online registration will ask you for insurance information. Have your insurance card ready. On the date of your clinic, arrive to the clinic at your appointment time and check-in. You will receive a confirmation email from SVNA to confirm your appointment. You can view a full list of clinics below.
---
COVID-19 Safety Measures
Clinic vendor protocols
Clinic staff are fully vaccinated for COVID-19.
Clinics will have hand sanitizer and gloves.
Clinic staff are required to wear face coverings at all times.
Surface areas will be frequently disinfected by clinic staff including in between each patient.
Clinic staff will maintain patient distancing, modify furniture layout, and install transparent shields/tabletop privacy screens or other physical barriers as needed.
Clinics will follow all safety guidelines provided by UW Environmental Health & Safety.
Patient protocols
Masking: All clinics follow the UW COVID-19 Face Covering Policy.
All patients must wait in line, and be respectful of allowing others personal space.
Patients who are experiencing any coronavirus symptoms will stay home and reschedule as available.
All patients are required to register for an appointment.
More Frequently Asked Questions
What do I need to bring with me?
1. Photo ID
2. Appointment confirmation email and/or confirmation code.
All health insurance plans are accepted for COVID-19 immunizations. If you have health insurance, you must provide that information during registration. We will bill your insurance plan for your immunization, and you will not be charged or pay anything out of pocket.
What if I don't have insurance?
You do not need to have insurance to receive a COVID-19 immunization.
Are there any age restrictions?
The Pfizer Bivalent Booster vaccination has been approved for patients ages 12 and up.
Can I bring a family member to my appointment?
Family members and friends are welcome to accompany you to your appointment, but they will not receive an immunization unless they are registered themselves. All patients receiving an immunization must meet eligibility requirements and have their own separate registration in their name, with their information.
Can you provide verification of the vaccination given?
For official proof of vaccination, please view your records at waverify.doh.wa.gov.
Where else can I get my booster if I can't make the clinics?
Visit https://www.uwmedicine.org/coronavirus/vaccine to schedule your appointment with UW Medicine.