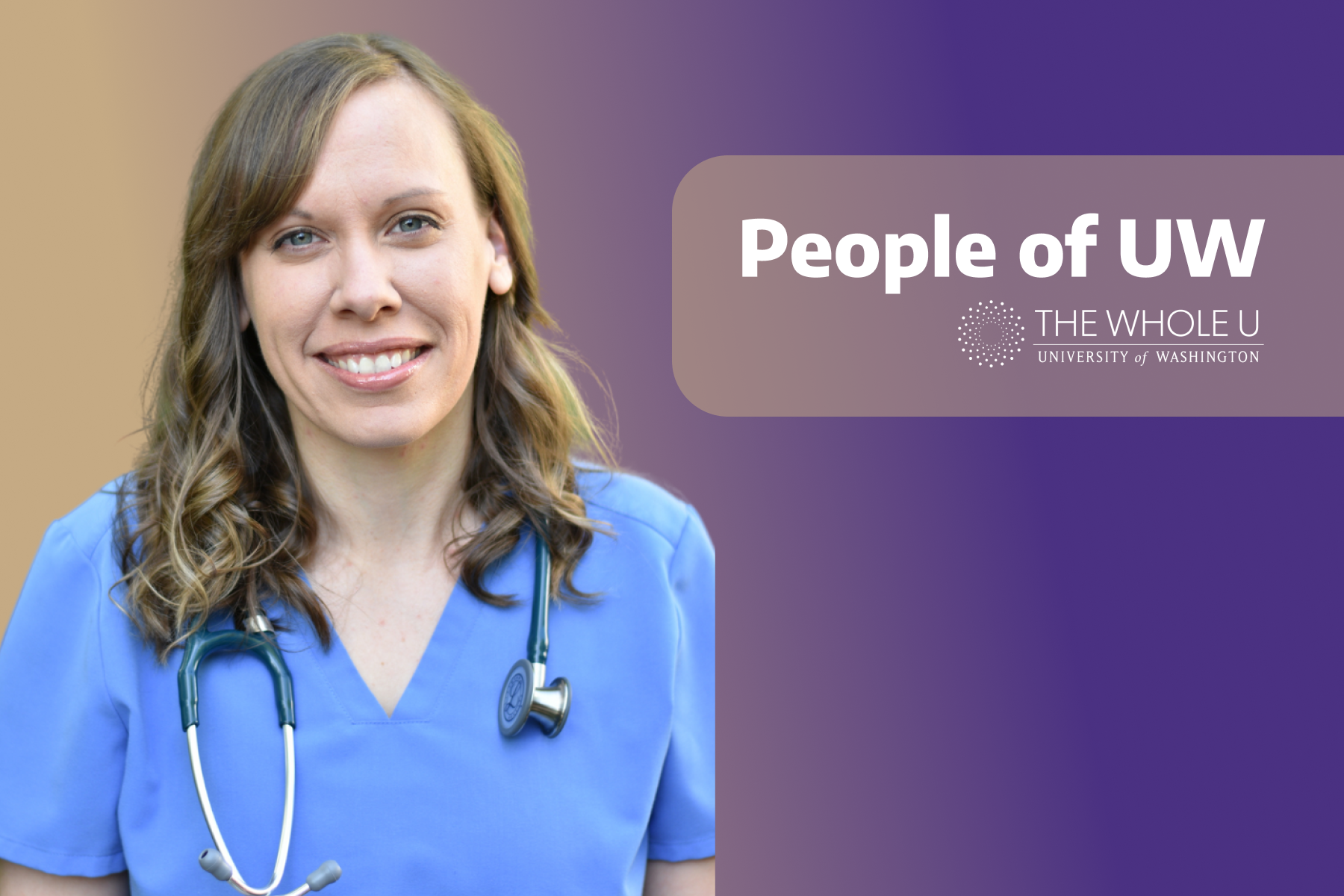 Fulfilling a dream: Meet Harborview pediatric nurse Kristin Jones
Kristin Jones's childhood dream of working in the field of pediatrics took a couple of hard right turns on its way to fruition, courtesy of an unplanned teenage pregnancy and an 18-year stint in the telecommunications industry.
"I always wanted to be a pediatrician and work with kids—well, until I took a good look at the kind of math and science required for med school," she laughed. She had an aunt who was a nurse, and thought pediatric nursing looked interesting.
At her high school in Lecanto, Florida, Kristin was a good student who played varsity sports, was involved in various extracurriculars, and had a busy social life. Her prospects for playing collegiate-level soccer looked good. Indeed, Kristin's path toward college and a nursing degree seemed assured.
That is, until she discovered she was pregnant.
Then, as now, Kristin strongly believed in a person's right to make their own decisions about their body and life: "No one should be able to tell anyone else what they should do with their body," she said.
Kristin was lucky enough to have three aunts with whom she was close, and who all had had teenage pregnancies, to help her think through her options: one aunt gave the baby up for adoption, another had an abortion and the third decided to keep the baby. She talked to all of them about their decisions.
And she decided, at 17 years old and still in high school, to have and raise the baby.
"I had to grow up fast," she said.
Though she had support from her parents, who looked after the baby so she could finish school, Kristin needed a way to provide for her child and herself. At 18, she took a job selling cell phones.
The money was good, and although the work tended to be unfulfilling, Kristin successfully climbed the career ladder, moving from the retail side of telecom to corporate policy and procedure.
Her dream of becoming a pediatric nurse took a backseat—but she never fully abandoned it.
Kristin would move across the country, get a college degree, remarry, have another child and earn another degree before the dream finally became reality.
Pure chaos
Kristin moved to Washington in the mid-2000s to pursue her telecom career. In 2013, she earned her bachelor's degree in social sciences, magna cum laude, at Washington State University.
As a busy nontraditional adult learner, working full-time and parenting a middle-school child while expecting another, it was a very different college experience than she had once imagined she would have.
Two weeks after graduation, Kristin had her second child, son Jackson. The family moved to Maple Valley, from where Kristin commuted daily to Redmond for her job with AT&T, working 50-hour weeks. It was a grind, and she knew, by this point, that her days in telecom were numbered.
"I wanted to be doing something to care for others," she said. Something like nursing.
Over the next couple years, Kristin started knocking out her nursing prerequisites at Bellevue College, where she met a fellow Eastside pre-nursing mom who would go on to become one of her best friends.
"Most of the other students were a lot younger than us, and had not had entire careers already," she laughed. "We bonded over our shared experiences."
She was also working toward her certified nursing assistant (CNA) credential, earning the certification in late 2015.
Many nursing programs, including UW's, require 100 or more hours of healthcare experience—paid or volunteer—prior to admission. Missing out on the Seattle Children's volunteer program—they had enough volunteers at the time—turned out to be auspicious when Kristin was accepted as a volunteer with Harborview Medical Center in the Burns, Plastics, and Pediatric Trauma unit, known as 8E.
"I knew I was in the right spot the moment I walked in the door," at Harborview, Kristin said. Six and a half years later, she's still there—only now, as charge nurse on the floor.
In 2018, Kristin was accepted into the UW School of Nursing's accelerated bachelor of science in nursing (ABSN) program, one of the leading nursing programs in the nation. She was nervous—and thrilled: "UW nursing is known for being focused on diversity, and for emphasizing health equity for all," Kristin said. "That was really important to me."
The ABSN program is a four-quarter fast-track professional degree for people who have already earned a bachelor's degree and want to transition to a career in nursing. Courses and clinical training hours are completed in four consecutive—and intense—quarters.
As in many parts of the U.S., there is a critical nurse shortage in our region that was only made worse by the COVID-19 pandemic. The ABSN program focuses on recruiting applicants from historically underrepresented backgrounds and investing in a diverse faculty with a goal of making high-quality healthcare more accessible to everyone in our state.
Safe to say Kristin excelled under pressure: she received a nursing achievement award, was a member of the Sigma Theta Tau International Honor Society of Nursing, led the curriculum committee for the professional organization of nursing students and was a founding member of unicoRN, an LGBTQIA+ student organization.
"Nursing school was 15 months of pure chaos," she said, "but I wouldn't change a moment of it."
Feels like home
Upon graduation, Kristin was offered the position of registered nurse (RN) on 8E. She accepted without hesitation, although she notes that starting a nursing career at the outset of a global pandemic was not easy.
"I wouldn't have picked the first half of 2020 to start my nursing residency, but it was a crash course in seeing the system under intense pressure."
The experience drove home her observation that medicine is personal, and the work is accomplished through the efforts of people who need ongoing support and opportunities for deeper learning to avoid burnout.
A triple-specialty unit, the medical staff on 8E treat adults and children from 30 days old and up for a variety of acute and chronic traumas and conditions, including skin diseases, lacerations, and tendon and nerve injuries.
As the only Level 1 verified burn care center in Washington, Alaska, Montana and Idaho, they see hundreds of burn victims each year.
Harborview's mission includes providing priority care to patients who are marginalized or otherwise vulnerable: people who are poor, or who do not speak English, are uninsured or incarcerated, those with mental illness or substance abuse issues, or those who are victims of sexual assault or domestic violence.
"It's challenging," Kristin says. "You know if you're a Harborview nurse or not within a few weeks of being there. If you're not, the hospital is going to chew you up and spit you out."
Kristin's commitment to this mission, her leadership potential and skill as a nurse did not go unnoticed. She was recruited as an inaugural fellow of Harborview's one-year nursing leadership development program, working on process and policy improvements with a health equity lens.
Indeed, fostering health equity is essential to Kristin—both for her patients and for her fellow nurses and other healthcare providers, toward whom racist, sexist or nativist abuse is all-too-frequently directed.
"It's traumatic for nurses to see inequity or to be on the receiving end of microaggressions," she said.
Small institutional changes can make a big difference. Kristin cites an example in the burn unit, where for years implicit bias determined the type of personal care products available to burn survivors: those designed for white hair and skin.
"Our Black patients were telling us that these products didn't work for them, and some of the nurses didn't know how to care for Black skin and hair," Kristin said.
Particularly for burn survivors who have lost significant hair and want to preserve what is left, the inclusion of Black haircare products can make a meaningful difference to their wellbeing and recovery.
Addressing such systemic biases, coupled with initiatives in bringing anti-racist training to the Harborview community, go a long way toward eliminating the kinds of inequities in health that prevent people and communities from thriving.
"Harborview's mission brought me here in the first place," Kristin said. "I want to serve marginalized communities and be challenged to step beyond my own experiences and comfort zone."
She continued, "Harborview feels like home."
Affirming identity
As well as caring for patients with trauma and burns, the medical team on Kristin's floor also performs plastic reconstructive surgery—including gender-affirmation surgeries.
Sometimes called chest (top) and genital reconstruction (bottom) surgery, these procedures help transgender and non-binary people achieve physical characteristics that align with their gender identity, rather than the sex they were assigned at birth.
According to Sean Johnson, director of UW Medicine's Transgender and Gender Non-Binary Health Program, Washington state has the 11th largest transgender and gender non-binary population in the U.S. UW Medicine is the only health center in Washington currently offering this care.
"Launching these surgical services has been a five-year endeavor and something severely needed as research indicates these surgeries can be lifesaving," said Sean.
"Because they are so specialized and so few training programs exist nationally, UW Medicine has been lucky to recruit dedicated surgeons who continue to be fierce advocates for gender-affirming care and health equity," he continued.
Kristin was charge nurse a couple weeks ago when the first full (top and bottom) gender-affirmation surgery was conducted at Harborview by Dr. Shane Morrison. She feels privileged to have been involved.
For one thing, it's personal: the child Kristin had at 17, assigned male at birth, is a transgender woman, Sera.
Though she does not yet know whether she wants to undergo gender-affirmation surgery, it is reassuring for Sera to know that she could have it done by UW Medicine specialists – on her mom's floor, no less.
Secondly, the procedure is new enough that Harborview is working to develop policies and safety precautions for caring for post-operative transgender and non-binary patients—and Kristin has been fortunate to be involved in the development of those policies.
One issue desperately in need of a policy is how to ensure the safety, both physical and emotional, of transgender patients when they are sharing a recovery room with someone whose values don't align.
Another issue is the misgendering—whether intentionally due to beliefs or unintentionally due to a lack of understanding—of transgender or non-binary patients by hospital staff or other patients by disrespecting a patient's identity presentation, preferred name or pronouns.
To address systemic inadequacies in gender-affirming surgical and post-op care, Kristin has leaned on the expertise of Sean and his team at the transgender and gender non-binary program for continuing education and training opportunities, which they continue to build out in response to overwhelming need.
"Clearly, these encounters are potentially damaging for the patient," she said, "and our goal is to educate and advocate for these patients to prevent further trauma and help develop inclusive healthcare environments for everyone."
Give me an obstacle
Kristin is certain she made the right choice, leaving her former career behind to become a nurse leader. The work fuels her, inspiring her to keep moving forward and meeting challenges both personally and professionally.
"When you give me an obstacle," she said, "I want to overcome it."
She hasn't ruled out the possibility of more nursing education, but for now is fully committed to the many initiatives at Harborview to which she lends her previous experience and current expertise.
"Most of the other new-ish nurses at Harborview are much younger than me," Kristin laughed, remembering a recent encounter with a fellow nurse wearing a "1998" necklace—the younger nurse's birth year. "I was in high school in 1998! But being more experienced in life has afforded me the ability to be a mentor and support system for many of our newer nurses."
Living in Maple Valley, the commute to downtown Seattle can be rough, but worth it to work in a special place like Harborview.
"There is nothing more rewarding than to be a nurse for those who need an advocate and to serve the patients of our mission."
She loves the Pacific Northwest and has no plans to return to the other coast. In fact, she's trying to convince her parents to make the move from Florida to Washington.
Kristin also loves spending time with her friends and family on her days off. "I am an extroverted extrovert who loves being around other people, experiencing this crazy thing called life together," she said.
Harborview is well known for having staff who exemplify the pursuit of health equity through public service. Kristin is no exception, and she feels immensely lucky to have landed there.
"I love what I do."