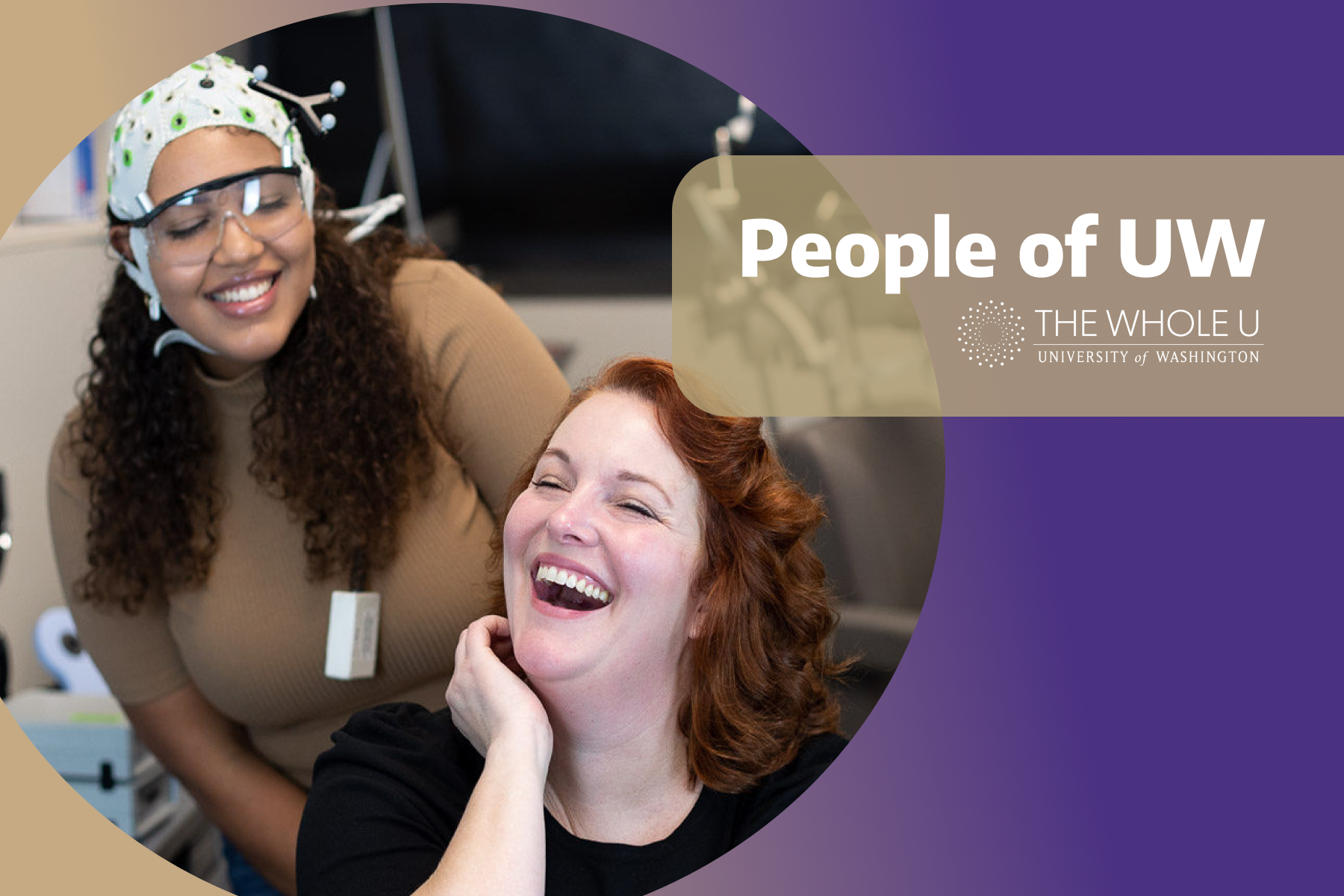 Feed your brains well: Meet neuroscientist Chantel Prat
Most people are at least nominally interested in neuroscience.
It's cool to be able to talk to someone at a party about your recent dendrite growth, or the impact of a boost of serotonin on your personal cocktail of neurotransmitters, or the latest causal approaches to changing cognitive function.
Actually, that would be a party full of graduate students in psychology—or maybe med students.
For the rest of us, what's great about knowing a little neuroscience is having a better understanding of how our brains work, how they are both like and unlike others' brains, and how our individual quirks might demonstrate why we think and act the way we do.
This is where Professor Chantel Prat comes in. Chantel is an expert in elucidating how differences in brain functioning shape the way we see and experience the world.
Released last month, "The Neuroscience of You: How Every Brain is Different and How to Understand Yours," is Chantel's first book, and it arrived with a splash. A small tsunami, really; the highly anticipated text has been described by reviewers as "marvelous," "hilarious," "highly accessible," "charming," and "the smartest, clearest, and funniest book I've ever read about the brain."
Chantel is indeed a gregarious and terrifically funny woman. She would make an excellent party guest.
And she also really knows her stuff.
A cognitive neuroscientist with faculty appointments in the UW departments of psychology, neuroscience, and linguistics and affiliated with several research centers on campus, Chantel has been investigating the brain for decades.
"The reason I have so many affiliations," Chantel laughed in a recent Google chat, "is that I don't fit anywhere very well… like my interests and individual differences."
The great unfriending
One of the motivations for Chantel to undertake the monumental task of writing a book was what she calls the great unfriending—the fallout of the political climate during and after the Trump presidency that resulted in so many people disengaging, on social media and sometimes in real life, with those whose political views differed from their own.
The highly adaptable artificial intelligence algorithms on social media constantly feeding our brains ever more of what we already believe tends to fuel our existing biases.
In fact, everything we feed our brains—from social media to TV and movies to what we read and who we talk to—becomes a neural experience from which our brains very quickly learn, adapt and respond to the world around us.
The pandemic and resulting stay-at-home directive exacerbated the situation further, with many people spending considerably more time than they ever had before at home, among the same people… and on social media.
The combination had the effect on many people of creating a false sense of belonging in a virtual bubble of like-mindedness.
"Brains of a feather flock together," Chantel laughed.
The book project, she hoped, would serve as an antidote of sorts to the deep and pervasive political and cultural divide in this country. If we can better understand how and why brains function differently, we can ostensibly better understand—and get along with—people whose brains have been fed different neural experiences.
A well-known quote from tennis champion and civil rights advocate Arthur Ashe served as inspiration and motivation during the writing process: Start where you are. Use what you have. Do what you can.
"The book is my love song to my readers," Chantel said. "I want to help people understand some of the different ways brains work and, hopefully, provide some tools for broadening our perspectives about the subjective nature of reality."
In practice, the subjective nature of reality is a difficult concept to, shall we say, wrap our brains around.
The differences in our brains' genetic blueprint coalesce with our various lived experiences to influence just about everything we do, think and feel. And our brains automatically assume that our own constructed version of what is real—manifested in those thoughts, actions and feelings—is the correct and only version.
"You are neither an actor in nor the passive observer of your reality," Chantel wrote. "You are the creator of it. And our brains are really, really convincing when they construct our personal version of reality."
The best friend I gave birth to
The other major motivator for Chantel's book is her daughter, Jasmine (pictured above with her mom in Chantel's lab at the Institute for Learning and Brain Sciences).
"Jasmine is my leftie/bestie/reverse-brained motivation to be the best I can be and catalyze change," said Chantel. Her face lights up and the pride and delight she takes in her daughter is unmistakable as she talks about "the BFF I gave birth to."
Chantel was an undergrad at UC San Diego, a psychology major enjoying the break between her sophomore and junior year and doing what college students do—hanging out at the beach, having fun and being independent, getting imprudent purple dolphin tattoos on their backsides—when she found out she was pregnant.
"When I was 19 years old, I made two choices that changed my life forever," Chantel wrote on Twitter. "The first was to become a neuroscientist. The second, much more difficult decision, was to do so while raising the child that would result from my unplanned pregnancy that summer."
Jasmine is now a foreign affairs specialist with the National Oceanic and Atmospheric Administration (NOAA), monitoring seafood imports—she has been "saving the fish since the second grade" according to Chantel—and was by her mom's side, literally, when Chantel decided to share her story.
Prompted by the Supreme Court's overturning of Roe v. Wade in late June, Chantel took to Twitter. Initially deciding to get an abortion, Chantel ultimately decided to keep the baby, changing her mind the night before the appointment—a decision she made for herself, and one that made all the difference in how she felt about becoming a mother.
"I feel like the power to make these critical, life-altering choices has been put into the hands of many that will never have to make that decision," she wrote about the Supreme Court decision. "What if I didn't have the opportunity to make that choice?"
"The answer is clear to me," she continued. "I would not feel the same about my wonderful, ASS-KICKING, world-enhancing child."
Friends who share half of our genes
Chantel has stayed friends with Jasmine's dad, and they keep in touch, but they didn't stay together. Chantel was a single mom for the first twelve years of Jasmine's life.
So, the summer before she started grad school at UC Davis studying cognitive psychology, Chantel became an ovum donor. She did it to help a couple who were having difficulty conceiving on their own—and to earn some money to support she and Jasmine, who was four at the time.
The result of that donation is Maia, who reached out to Chantel in 2020 via email. The subject line: "49.5% Match! (You might want to sit down)."
Until the arrival of that email, Chantel knew virtually nothing about Maia except that she existed. But the details that Maia chose to share about herself were so familiar, suggesting such a "freakishly similar temperament" to her own, that it gave Chantel pause.
"Here she was, this 20-year-old human, who somehow—despite having never spent a day of her life with me—grew up brilliant, hysterical, and insanely into animals!" Chantel wrote. "How much of that is the "fault" of my genes? How much might it relate to her apparently super-freaking-awesome upbringing?"
These questions—outlined, with Maia's permission, in the introduction to Chantel's book within the context of the "nature versus nurture" argument—provide the catalyst for robust discussion about the complex interaction of biology with environment in making our brains uniquely our own.
Chantel introduced her family and friends to Maia via social media before the book was published, to ensure that no one was caught off guard. They coined their relationship "friends who share half of our genes" and continue to connect over their many shared interests and their enjoyment of Taco Bell.
LA ink
Chantel met her husband, fellow UW neuroscientist Andrea Stocco (who tweets from @TheRealDrDre2 on, among other things, his research in brain-to-brain communication), twice—but it was the second time, in a hotel lobby during a conference in New York City, "where the magic began."
Ironically, at the time they lived a mere mile from each other in Pittsburgh, both working at Carnegie Mellon University with offices in the same building. They even frequented the same coffee kiosk in a neighboring building.
"Once he introduced himself to me, I saw him everywhere," Chantel said.
Married now for 13 years, they make a point of going to that same hotel lobby whenever they find themselves in New York.
A native of Palmanova, Italy, who studied psychology at the University of Trieste, Andrea is an excellent gift-giver: one Christmas, he gifted Chantel a drum kit and lessons.
Her enthusiasm for drumming along to the video game Guitar Hero had not gone unnoticed—or unheard.
Then there was her 40th birthday, when Andrea surprised her with a tattoo appointment at the SoCal shop of celebrity tattoo artist Corey Miller, of reality TV show "LA Ink" fame.
Chantel's back tattoo of a tigress with tiger lilies took 12 hours—and she got it done in one sitting. Anyone with significant ink can appreciate the mental and physical fortitude—the legitimate badassery—that both Chantel and Corey demonstrated that day.
The idea for a tigress came about from a discussion Chantel, her mom and Jasmine had one day about their imagined big cat alter-egos. To Chantel, the tigress symbolizes strength and beauty.
Indeed, when Chantel returned to the shop for some touch-up work with Jasmine in tow, Corey told Jasmine, "Your mom is not f**king around."
No doubt Jasmine already knew.
The unicorn
Among her many accomplishments, one of Chantel's proudest was being recognized by the Department of Psychology with the 2022 Davida Teller Distinguished Graduate Mentor Award.
Mentoring students, particularly at the graduate level, "is like parenting," Chantel said. "You develop such a deep relationship with your students. It's all about mutual trust and mutual respect."
Coming from all over the world, including Columbia, Ethiopia, Korea, Russia and the U.S., Chantel's graduate students are a source of joy and resilience for her. Students seek her out for advice on how to juggle career and family—a role she is happy to fill, but that she notes is rooted in implicit bias against women with careers, particularly for women in science.
"Students would come to me for advice on work/life balance," she said. "Then go to Andrea to talk hard science."
She recalls an "a-ha" moment on a flight to a conference while watching the movie Mona Lisa Smile. Loosely based on a true story, the movie explores themes of feminism, self-actualization and women's roles in society. Watching it prompted Chantel to take inventory of—and reject—the messaging she had received about choosing work over family.
"I'm not the unicorn, not the exception," to the rule that you can't be both an excellent scientist and an outstanding parent, Chantel said. "Having a career IS good parenting."
"Yes, my daughter ate a lot of fast food as a kid," she continued. "But she also had a role model who taught her that science can solve problems, that women should follow their purpose and make a difference in the world."
The menagerie
Chantel and Andrea recently bought property in Maple Valley, south of Seattle, where they can see mountains and trees and eagles and have a barn for Chantel's menagerie.
Maybe not a menagerie, exactly, since the animals are neither exotic nor publicly exhibited.
But there are horses—including Chiara, the Spanish cross that won Chantel over when she was recovering from the loss of her first horse, and the one-year-old colt, Eclipse, her current animal 'guru'—dogs Dixie and Ringo (the nine-pound super-mutt), bunnies she plans to name Peanut and Butter and who have their own stall in the barn, future barn cats, and probably others she failed to mention.
"I think I'm an outlier in how much I love animals," she wrote in the introduction to her book. "Like, I still go to petting zoos, even though my child is twenty-six—and I stay too long."
She finds proximity to and time with animals to be a form of self-care, a balm for those rough, gritty moments in life. In the company of animals, who can be remarkably sensitive to human moods, she feels like her most authentic self.
2021 was a particularly difficult year for Chantel: the pandemic was raging, a painful slipped disc was making her constantly uncomfortable, she was devastated by the death of both her dog Coccolina (to whom the book is dedicated, along with Jasmine and Andrea) and Gypsy, the off-the-track racehorse Chantel bought for herself for her thirtieth birthday. And she was five months behind on her writing.
"Last year was the hardest year of a life that has had some hard years," she said.
Her animals helped her pull through, along with support from her family and some much-needed big picture perspective. She refers to 2022 as her year of the phoenix, the immortal bird of Greek mythology that rises from the ashes to be reborn.
She and Andrea love the Pacific Northwest and the West coast vibe, enjoy the academic UW community to which they belong, and have no plans to leave—though admittedly, the gelato options are considerably better in Mortegliano, Italy, where Andrea's sister and brother-in-law operate a gelateria.
"Seattle stands out to me as a city that not only accepts but embraces—even celebrates—individuality," Chantel said.
Hiking is another activity that she enjoys, finding that it strikes the perfect self-care balance between pleasurable activity and good-for-you activity.
"Seattle has this remarkable feature of being a big city with tons of opportunities for food, music and entertainment—but you can also get into the middle of nowhere pretty quickly," she said.
When she's not with her animals, writing, hiking or teaching, Chantel loves watching Netflix, traveling, facilitating her book club, enjoying social media and just generally getting the most out of life.
And if you're planning a party anytime soon, you might want to consider giving her a call.