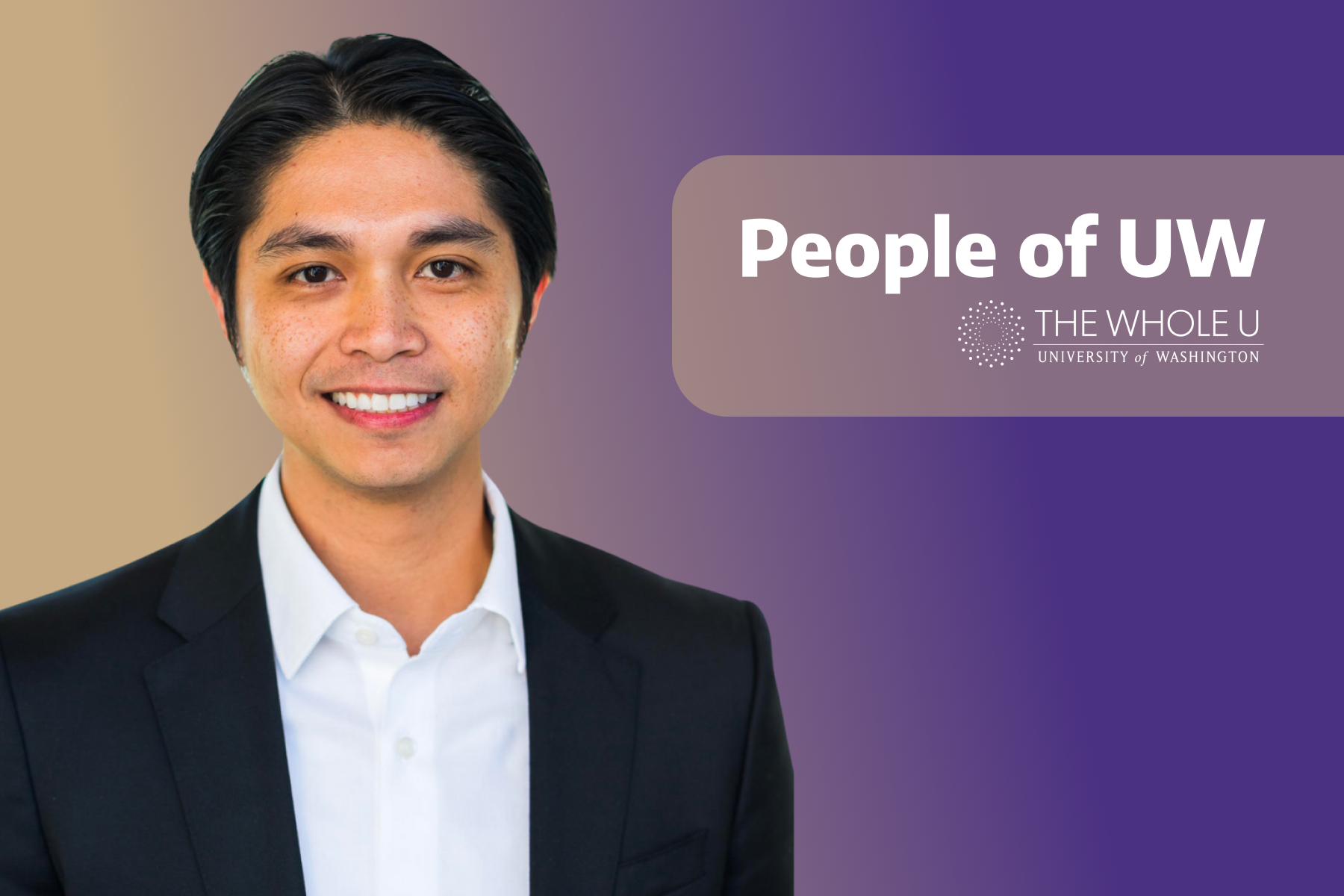 Meet Nurse, Immigrant and Lifelong Learner Joseph de Veyra
You could say that Joseph de Veyra did not find nursing – nursing found him.
Arriving in the U.S. as a 21-year-old immigrant from the Philippines with just $100 in his pocket, Joseph took advantage of the first opportunity that presented itself: caregiving. This early position quickly morphed into a certified nursing assistant (CNA) role.
It was a natural fit for two reasons: Joseph has several family members who are registered nurses – and role models – in the Philippines and abroad in Australia and the United Kingdom. And nursing has historically been and continues to be a frequent point of entry into the U.S workforce for Filipino immigrants.
With his powerful drive to succeed and an intense desire to serve his community, it is not at all surprising that Joseph worked his way up through the ranks and is now Associate Chief Nursing Officer at Harborview Medical Center.
The immigrant experience
In 2007, Joseph departed his hometown of Makati, in Manila, for Southern California – leaving behind everyone he knew and everything that was familiar. America then became Joseph's beacon of hope to financially support his mom, who had raised her children as a single parent.
Southern California has historically had the largest concentration of Filipinos and Filipino-Americans in the U.S. – with a storied and complicated history of marginalization in the state's economic, political and cultural realms.
"Despite of these barriers, I was fortunate to find a community who supported and provided guidance as I navigated the complex system in America," Joseph said.
"More importantly, I was grateful to find Filipinos with whom to connect in my native language, or to share a meal of traditional Filipino foods: pancit, lumpia, adobo, sinigang and sisig."
Joseph came to the U.S. with a bachelor's degree in management from De La Salle University in Manila, and some professional work experience as a journalist. He had been voted best features writer of the year at his college newspaper, and the transition into journalism was easy.
However, while the journalistic skill of breaking down concepts into easily digestible bits would prove useful throughout his academic and professional career, Joseph knew he did not want to continue a career in journalism in the U.S.
"I was passionate about making a positive change in society," he said. "I realized that I could maximize my scale of impact through the nursing profession."
Becoming a servant leader
In California, Joseph had the good fortune to be offered a scholarship through the Los Angeles County Unified School District to pursue training as a Licensed Vocational Nurse.
Over the next few years, while working full-time in hospice medical case management, Joseph continued his nursing education, completing an accelerated master's degree in nursing and then a Doctor of Nursing Practice (DNP), both at California State University.
He is the first in his family to go to graduate school, and the first to earn a doctorate.
"All of these accomplishments are built upon the relationships I began creating when I was a CNA. I would not be here without my mentors and community," he said.
Recognizing the need for additional frontline nursing experience, Joseph applied to and was accepted into a residency program at the Department of Veteran's Affairs (VA) hospital in Long Beach, first on the cardiac floor and later as clinical nurse leader for the geriatric psychiatry unit.
It was an eye-opening time, during which Joseph saw the disproportionate rates at which veterans experience mental health disorders, substance use disorders, post-traumatic stress, and traumatic brain injury – all of which exponentially increase their likelihood of suicide.
Veterans are also more likely to have multiple medical conditions and poor health status compared to the general population.
His time at the VA solidified Joseph's desire to embody servant leadership, helping underserved communities and acting as an agent of change both for the people and the organizations he serves.
One example of this kind of servant leadership was the implementation of a multisensory stimulation project, which won a VA National Strong Practice Project Award in 2014.
"You will seldom find a career more rewarding than caring for marginalized populations," he said.
Not all populations get the same level of support
Joseph joined the staff at Harborview Medical Center in March 2021, leaving family and a cultivated community in Los Angeles behind to work alongside nurses at the height of the pandemic.
"It was fulfilling," he said of his transition to Harborview Medical Center from the California Centers for Medicare & Medicaid Services Quality Improvement Organization, where he served as executive director.
He added, "Joining a level one trauma center covering the WAMI (Washington, Alaska, Montana and Idaho) region really scaled up the potential impact I can make in the community."
Joseph's focus areas at Harborview Medical Center include nurses' professional development, accreditation, operationalizing evidence-based interventions for patient care outcomes and providing meaningful recognition for nurses.
In addition, Seattle was ground zero for COVID-19. When Joseph first arrived, relatively few were yet vaccinated, and hospitals, including Harborview, were overwhelmed with those sick from the virus.
During the pandemic, Joseph was instrumental in creating a pipeline of qualified nurse leaders for various hospital roles through a leadership development program he piloted in collaboration with the MIT Sloan School of Management.
In fact, one of the fellows from the pilot became the interim manager of the Covid Care Unit during the program, which contributed to her success in the role and later as a Trauma/General Surgery Unit interim manager.
With hospitals already short-staffed, many healthcare workers were falling sick themselves from proximity to the virus. Joseph is quick to note that while health equity has come a long way in the U.S., even in the time that he has been in the field, achieving true equity continues to be a challenge – especially for the many marginalized people who work the hazardous frontlines of healthcare services.
"Not all populations get the same level of support," he said. "As healthcare leaders, we must render a cultural competency of support for nurses of color and other marginalized identities."
"We need nurses more than ever," he continued. "The field is changing and becoming more diverse."
No stranger to microaggressions – particularly in the years after he first arrived in the U.S. – Joseph advocates for his fellow immigrants by sharing his own story of the challenges he has faced as a first-generation immigrant, and understanding structural barriers in the U.S. such as language, lack of mentorship, and difficult pathways to higher education.
Joseph's advice to nurses of color? "Find your community. Find mentors. Don't be afraid to ask questions." He encourages nurses to use him as a resource and hopes to leverage his role at Harborview Medical Center in support of diversity, equity, and inclusion.
Lifelong learner
Joseph is an expert in leveraging evidence-based practice to create change in the health care system and improve patient outcomes – indeed, it was this expertise that brought him to his role at Harborview.
Mere months after completing his doctorate, Joseph enrolled in an MBA program at MIT. Focusing his studies on management, he learned a key mantra: "a strategy without data is just poetry."
"Always maximizing my learning is a source of resilience for me," he said.
Joseph was recognized for the best capstone project among his cohort of 120, for his work on interventions in decreasing response time in stroke patients in Northern California hospitals.
And the accolades have continued: Joseph was honored with a Young Professional Voices Award for exemplary leadership from the American Organization of Nurse Leaders (AONL) in 2022.
Joseph started a Master of Public Health in Epidemiology program at the Harvard T.H. Chan School of Public Health this year.
"With healthcare recommendations changing so fast, I aspire to have the ability to critically assess studies and interventions catered to Harborview patients," he said.
Joseph is very happy living and working in Seattle – he finds the rain relaxing, appreciates how fresh the air is, and enjoys the hiking (see photo) and distance running community – and particularly relishes being a part of the UW Medicine system in his role at Harborview Medical Center.
"I feel a close connection to the vision of Harborview, where people are so accomplished, mission-driven and kind," he said. "We do not turn anyone away based on race, ethnicity or ability to pay and that is important to me."
"As a colleague said, 'If you want to change the world, go to Harborview.'"