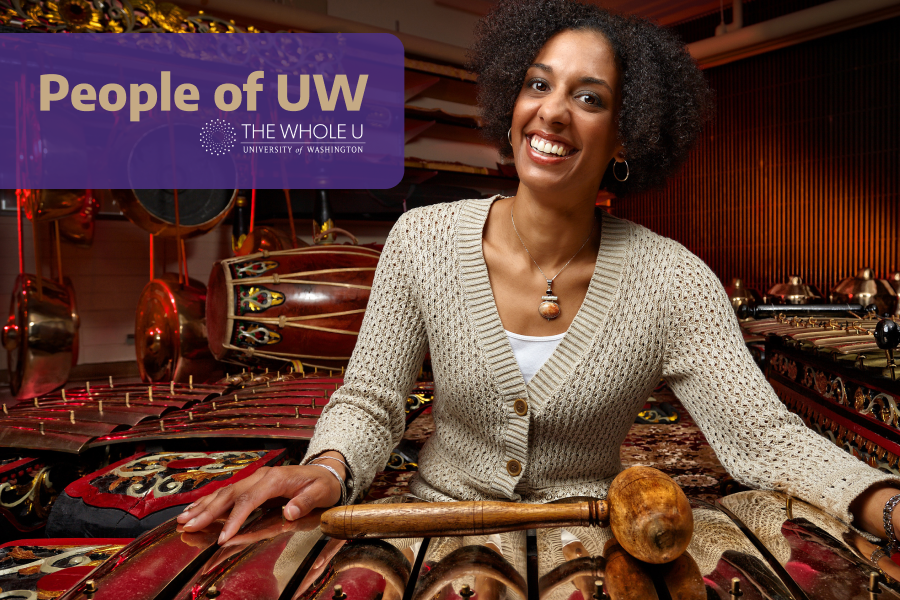 People of UW: Meet Ethnomusicologist Christina Sunardi
Exploring Indonesian culture and identity 
The UW campuses abound with people who could rightly be characterized as Renaissance people, polymaths, multipotentialites – those who possess both strong intellectual curiosity and strong creative ability, coupled with interest and expertise in multiple subjects – and ethnomusicologist Christina Sunardi is no exception.
Christina's intellectual curiosity was ignited as a child, nurtured at her International Baccalaureate high school – where interdisciplinary global studies were emphasized – and fanned in her wide-ranging coursework at UC San Diego, where an introductory course on the music of Africa prompted her choice of music as her major.
"Studying music allowed me to combine many of my interests," Christina said. "History, culture, languages, anthropology… and of course playing music."
As for creative ability, Christina is a musician of immense talent and range. Piano, clarinet, saxophone, mallet percussion – she has studied them all. In high school, she was in the marching band, jazz band and concert band.
"I was a band nerd—that was my community," she laughed.
When she was growing up, Christina's parents loved music and that love rubbed off. The Adelaide D. Currie Cole Endowed Professor of ethnomusicology in the UW School of Music, Christina also chairs the Department of Dance. Her research focuses on ethnography, gender, and spirituality all in the context of Indonesian culture, identity, and artistic performance.
She first encountered Indonesian music in college: that music of Africa class was followed by a music of Asia class, and she remembers the day the instructor played a selection of traditional Indonesian gamelan ensemble music.
"I practically fell out of my chair," Christina recalled. "The music was so incredible. Something clicked for me in that moment."
Indigenous music with contemporary appeal
Native to the Indonesian islands of Java and Bali and rooted in centuries of convention, gamelan is an orchestral ensemble style of music centered on percussive instruments: metallophones, xylophones, gongs, and hand-played drums with bamboo flutes, strings and voice. Traditional gamelan music brings life to dance and shadow puppetry as well.
The sound produced by the instruments – described as atmospheric, richly textured, and 'stratified polyphony' – is in part the result of a unique way of collectively tuning the ensemble's instruments to one another, rather than to an external standard of pitch.
Listen to recordings of Seattle-based ensemble Gamelan Pacifica, founded in 1980 and widely considered one of the most distinguished ensembles outside Indonesia.
Christina was instrumental (pun intended) in the acquisition of UW's bronze gamelan, named Hapsari Kusumajaya (Heavenly Nymph Flower Power), after she arrived in Seattle in 2007 to join the School of Music faculty. The School of Music Director found the money and together, he and Christina made it happen.
Hapsari Kusumajaya is a beautiful, hand-painted complete set. The 16 students currently comprising UW's gamelan ensemble, consistent with tradition, learn more than just one instrument in the set, in order to better understand what each instrument provides to the whole.
Long distance romance
Following that providential encounter with gamelan music as an undergrad, Christina shifted her Spanish-language focus to the Indonesian language, and a planned study abroad to Latin America became an auspicious study abroad in Yogyakarta, on the island of Java.
Auspicious, because it was there that she met her future husband, Sunardi.
Over the next few years, Christina accumulated air miles by the thousands traveling back and forth from California to Java to see Sunardi (who, like many Indonesians, does not use a surname and goes by a mononym).
When she moved to the Bay Area to embark on graduate studies in ethnomusicology at UC Berkeley, her route to Java changed, but her commitment to Sunardi did not. They were married in 2002 and he joined her in the U.S.
At Berkeley, Christina and Sunardi joined a robust community of Indonesians – a community that flourishes in the Seattle area as well: both the Indonesian Student Association at UW and Permias Seattle, for example, host a variety of cultural and educational events throughout the year.
"Seattle has a great Indonesian community," she said. "Sunardi and I have never felt isolated here."
The couple also built ties with the area through the foster care community. Partnering with Seattle-based Amara, they fostered infants and toddlers with special needs who had been removed from the home. And while fostering could be emotionally exhausting and bureaucratically challenging, it was also deeply meaningful.
With a two-year-old of their own now, they are not currently fostering, but certainly have not ruled it out for the future. "When our daughter gets older, I'd be open to giving fostering again some thought," Christina said.
Centering expressions of identity
For more than 15 years, Christina has continued her deep study of Indonesian arts and culture, intertwining her artistic passion with her ethnographic research in the expression of gender through performance in east Javanese culture, particularly in east Javanese dance traditions, such as Beskalan and Ngremo.
Christina explores ways musicians and dancers navigate and complicate gender identity. The interdisciplinarity of such research, Christina says, is one of the great things about ethnomusicology – a program UW has offered since 1963.
Her students – music lovers to a person, naturally – graduate equipped with skills in ethnographic research, field study, musicology, history and theory, ready to take on any number of endeavors: they go to grad school, of course, but also become writers, artists, and, in one case, a bodybuilder.
Christina is immensely glad to be a part of the UW community of Renaissance people, where diversity of experience is wholly embraced and her scholarly and artistic pursuits are celebrated. Indeed, she is still very much among her people – the band nerds and polymaths – and the better for it.
Interested in hearing gamelan music for yourself? Join UW Ethnomusicology for a performance by visiting artist Heri Purwanto on Friday, May 27 at Meany Hall. Master Javanese gamelan musician Heri Purwanto performs with his students, accompanied by Christina as the evening's dancer, in this celebration of music from central and east Java.