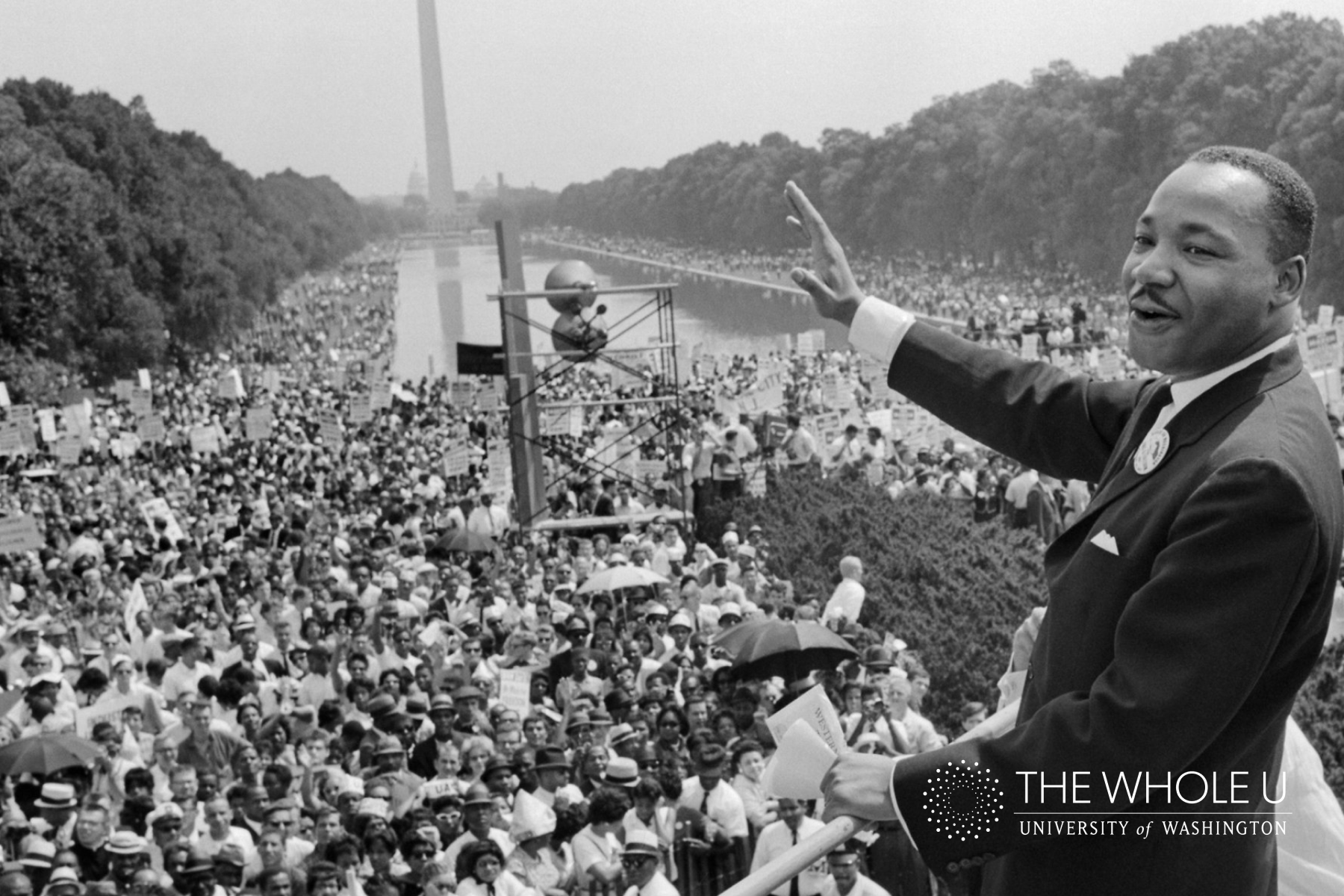 Honoring MLK: Practicing Advocacy and Compassion
"Our lives begin to end the day we become silent about things that matter." 
 – Martin Luther King, Jr.2
The University of Washington celebrates the life of Reverend Martin Luther King, Jr. and pays tribute to his legacy of justice and social advocacy. As members of the community, it is our civic duty to work towards peace, justice, and racial reconciliation to create a space that is safe and inclusive for all. 
As we start the new year, let us not forget the Black Americans who have lost their lives due to the harmful and unjust systems and institutions in place. Rest in peace and power to George Floyd, Breonna Taylor, Tony McDade, Ahmaud Arbery, Elijah McClain and many others. MLK Week is a reminder that the work is not yet done, and that "injustice anywhere is a threat to justice everywhere." 
The Whole U recognizes that social advocacy and activism is an ongoing process and commitment that requires compassion, consistency and an eagerness to learn. Join us as we celebrate MLK Week through events that include virtual workshops, panels, discussions and more.
---
Tribute website 
Visit the UW Medicine tribute website and explore resources for learning and engagement, honoring Dr. King and his legacy.
---
January 14 at 5 PM | Zoom Event
Attend this panel and join the discussion with community figures, movement leaders, and individuals working to create more just systems. They will speak about their experiences bringing abolitionist values to action through activism and policy advocacy. The conversation will allow us all to think deeply about what it means to hold abolitionist values within an established institution — and how we might each influence governments and institutions to more fully embrace anti-racist policies. 
---
January 11 through 17  | Various times and locations
Join Seattle MLK Coalition in honoring the 40th Annual MLK Jr. Day. Offerings include a youth event, virtual job fair, virtual workshops, a rally at Garfield High School and subsequent march.
Seattle MLK Coalition workshop series to delve deeper into issues of anti-racism, social advocacy, racial reconciliation and more. All webinars are free and accessible through zoom. Register for individual workshops through their website!
Every year, the Seattle MLK Jr. Organizing Coalition does what they can to tell our civic leaders that Martin Luther King Jr.'s dream is alive and well–2022 is no different! Please see the rally and march event website for important details about this year's event. Connect on Facebook or at #MLKSeattle.
---
January 17 at 7 PM | Rally 
The 5th Avenue Theatre and the Kent Valley School District invite families from around the Sound to remember Dr. King's work and the continuing struggle for liberty and justice for all people at their Rally for Dr. Martin Luther King, Jr. This rally is led by a team of passionate teen leaders and features musical performances, community speakers, and student reflections on the life, work, and legacy of Dr. King. 
---
January 17 at 8 PM | Livestream & recording
Join the city of Tacoma during their annual birthday celebration for Dr. King. This year's event theme is "Hope & Healing." The program will highlight the present and the future of Dr. King's impacts on our community and will feature local performers and speakers who work and volunteer to ensure our community represents equity, hope, and healing.
---
January 18 from 9-5 PM | Virtual Event Series
Be sure to stop by sometime throughout the day to celebrate the work and legacy of Dr. Martin Luther King, Jr. with the Washington State History Museum, Tacoma Arts Live, Write 253 and Valencia Carroll Families through virtual activities and performances, including Get on the Bus and Ruby Bridges.
---
January 19 at 6 PM | Zoom Event
Listen and learn from educator, poet, and New York Times bestselling author, Clint Smith and then participate in a discussion with local experts specializing in African American history in our area. This evening of virtual conversation about advancing racial equity in our community is a dynamic and thought-provoking event. You don't want to miss it! Pre-registration required.
---
Share with us additional MLK Day events and activities in the comments below or via email at wholeu@uw.edu.