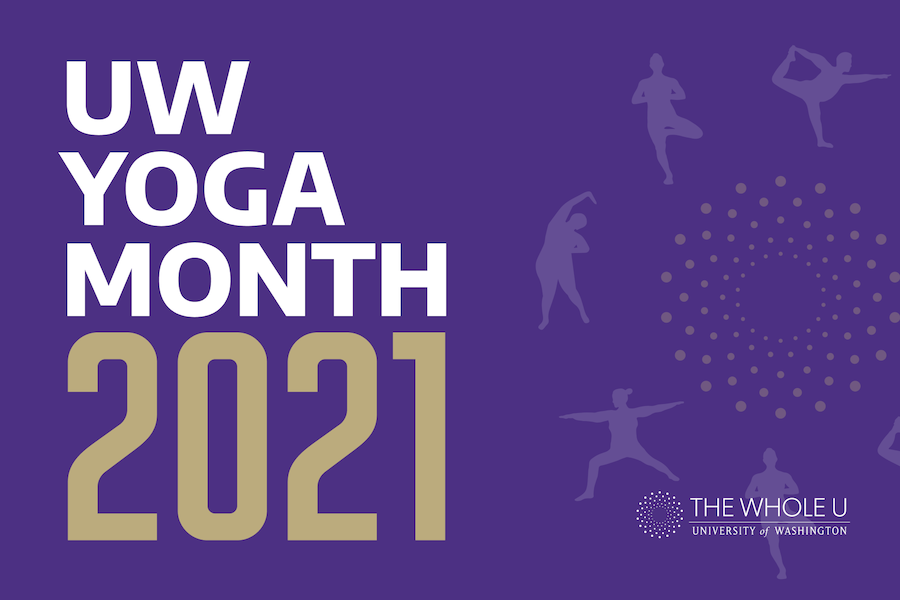 Celebrate Yoga Month This October
Join The Whole U and our partners all throughout October as we reconnect with the ground beneath us, creating a sense of normalcy and calmness. This year marks the eighth year in a row that The Whole U has supported National Yoga Month, encouraging UW faculty, staff, and students from all campuses and medical centers to try yoga and learn more about the practice. From postures to flows, thousands of avid yogis and new practitioners alike have discovered the incredible benefits of this lifestyle.
---
Why Yoga Month
There are endless reasons to celebrate Yoga Month and give yourself a much-needed focal point for self-care during this time. From back to school, to the end of the year, to the changing of the seasons, Yoga Month comes at the perfect time to remind us to connect with others, take deep breaths, and feed our bodies with movement.
Yoga Month starts Monday, October 4, so get excited to celebrate together as we increase relaxation, relieve stress, and build mental and physical strength through free, virtual classes led by experts and additional virtual content to explore.
---
What's in store
Join us on Zoom every Monday and Friday at 11:00 a.m. for a 15-minute yoga break led by UW Recreation mindfulness manager Danny Arguetty and other UW Recreation yoga instructors.
Enjoy many hour long yoga classes hosted by UW yoga partners on Zoom all throughout the month as well as weekly flow videos led by Diana Ratsamee from The Whole U.
Lastly, enjoy articles and social media content based on the benefits and the many facets of yoga.
---
Endless free classes!
Here's a snapshot of all that we've got coming your way. Be sure to register for the classes you're most excited about!
Fridays – 7:00 a.m. – Vinyasa with Zem Yoga Studio Roma – Register here!
Oct 1 – Noon – Vinyasa with Zem Yoga Studio Roma – Register here!
Oct 5 – Noon – Vinyasa with UW Recreation – Register here!
Oct 11 – 7:00 a.m. – Restorative Flow with UW Recreation – Register here!
Oct 11 – Noon – Vinyasa Flow with TruFusion – Register here!
Oct 14 – Noon – Vinyasa with Diana Ratsamee – Register here!
Oct 18 – Noon – Slow Flow with Seattle Yoga Arts – Register here!
Oct 22 – 9:00 a.m. – Move, Breathe, Connect Workshop with Elise Ray – Register here!
---
Still unsure if Yoga Month is right for you? Here's what previous participants had to say.
"Danny Arguetty's instruction was simply superb. The yoga and meditation were mindful, positive, uplifting and rejuvenating. I will definitely continue to pass along word of this event and will seek out other offerings with Danny Arguetty. Thank you to Whole U and a special thank you to Danny for his work."

"This was fabulous. I love the instructor. This yoga was very doable for beginners. And he offered ways to modify and make it more challenging for those who needed more. Thank you, thank you, thank you."

"Thank you for a relaxing and wonderful way to spend my lunch hour. I felt refreshed and energized for the rest of the afternoon (and didn't even need my usual 3pm pick-me-up coffee). I would love to see more noontime offerings like this, especially ones where we don't get too sweaty. Thank you!"
---
You will join thousands of colleagues in generating positive energy and creating a greater sense of wellbeing across UW!
Family and friends are also welcome to join. 
---
UW Yoga Month is possible thanks to our amazing partners UW Recreation, Zem Yoga Studio Roma, TruFusion, and Seattle Yoga Arts. A special thanks to AT&T and BECU for being Whole U program sponsors!