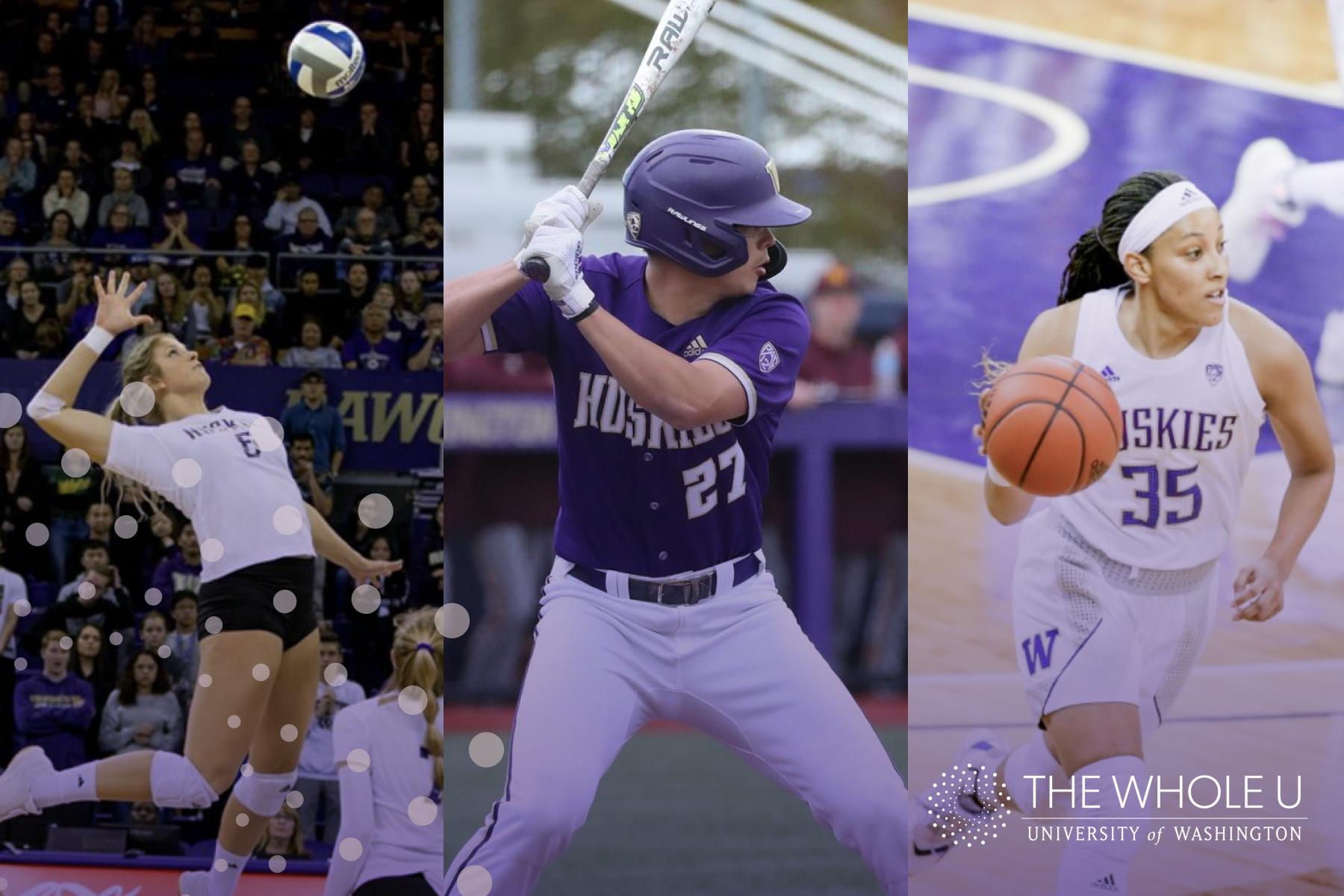 Summer is in full swing and summer camps are back in session! If you're looking to sign your athlete up for a sports camp this summer, there's no better experience than working with the coaches and athletes of our very own UW Husky team's. Find the camp's that are right for your athlete out of the list below!
---
Baseball Camp

The Washington Baseball School provides some of the finest youth and high school baseball camps in the country. Whether you are a young beginner just learning the game, a middle school player ready to take your game up a notch, or a high school player with aspirations of playing at the next level, Washington baseball school has a camp to suit your needs.
Coach Meggs, head coach at the University of Washington and his staff are present for all camps and take great pride in the quality of instruction, providing a 1 to 8 coach to camper ratio.
---
Men's Basketball Camp
All camps are located Alaska Airlines Arena on the UW campus. Mike Hopkins Basketball Camps are open to any and all entrants (limited only by number, age, grade level, and/or gender).
---
Women's Basketball Youth Camp
UW Women's Basketball will be hosting a free virtual camp for all youth campers (8th grade or younger due to NCAA Regulations)! Camp participants will connect virtually to work on skills such as shooting, passing, defense, and much more! Virtual camp will include participation options for campers with varying amounts of resources – ball and hoop are recommend, but not required.
---
Women's Rowing Camp
Learn the approach that crowned the 2017 NCAA Champion Washington Women's Rowing team with an unprecedented sweep of the PAC-12 and National Championship.
Coached by the University of Washington coaches, these camps are designed to give you the tools to develop your physiology and skill set required to compete at the Division I and international level.
---
Men's Soccer Camp

Washington Soccer Academy camps are open to any and all entrants (limited only by number, age, grade level, and/or gender).
Little Dawgs Camp is for soccer players in K to 5th grade. The tentative camp schedule is July 19th-22nd. The emphasis of the camp is on having fun while learning the game. Campers will learn in small group situations and play games that teach the fundamentals of soccer. Individual skill development will be emphasized in a fun filled learning environment. Camp will run from 9am-noon Monday-Thursday.
---
Women's Soccer Camp

Situated on campus at the University of Washington, these 4-day camps are a great way for young players to spend some time having fun while playing soccer in a positive environment. Each day will center around a soccer-theme (dribbling, passing, etc) and will include a ton of fun exercises and games designed to challenge each individual player.
These sessions are appropriate for boys and girls from all levels of the sport. The camps are run by a staff with many years of camp experience, motivated by a desire to inspire and coach youth players!
---

Tennis Camp
Washington Tennis Camps are committed to providing a camp that is both instructional and informational along with creating a great atmosphere to learn! The coaching staff at the Washington Tennis Camps is dedicated to the development and growth of tennis players of all ages and skill levels. We are committed to providing a positive and instrumental learning experience for all camps.
Washington Tennis Camps range in age and we should have a program to fit your needs. If you do not see a date that works for you at this time please check back to the site as we add new sessions often.
---
Volleyball Camp
UW Volleyball strives to give youth in our community a fun, memorable experience with the game of volleyball. Our camps, led by NCAA Division I coaches and former collegiate All-Americans, prioritizes learning the fundamentals of volleyball drills, working together as a team, and enjoying the sport. Welcome to Keegan Cook Summer Volleyball Camp in Seattle!
---
Thank you UW Athletics for supporting future Huskies!