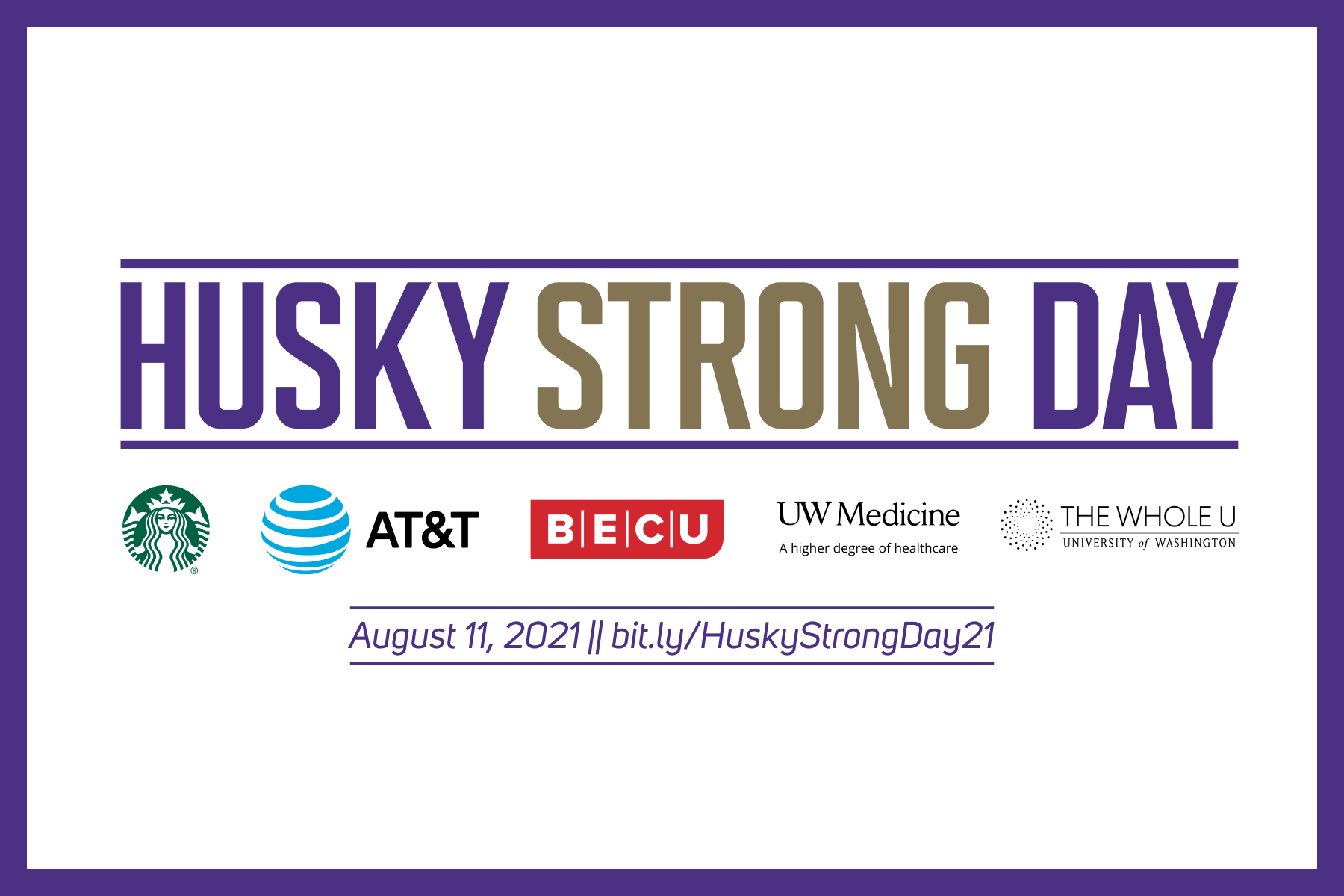 Celebrate Husky Strong Day August 11!
Calling all Dawgs! The Whole U is thrilled to invite you to virtually come together with fellow Huskies from across the University of Washington on August 11 for Husky Strong Day. This year has been full of challenges, but Husky Strong Day will be a virtual celebration of health, movement, and exercise for your whole family on Zoom. 
If this year has taught us anything, it's that we are stronger when we come together as a community. In that spirit, Husky Strong Day is benefiting the COVID-19 Employee Emergency Fund with a suggested $5 donation for all participants. 
The fund supports employees facing financial hardships brought on by critical, temporary and unforeseen circumstances during the COVID-19 public health crisis. Register today and help us reach our donation goal of $7,500! To date, over 700 UW faculty and staff have already registered, and have brought in over $3,000.
---
Want to know a bit more? Here is what's in store.
1. A day full of virtual fitness classes.
On August 11, all participants are invited to join hundreds of fellow Dawgs on Zoom anytime between 6:30 a.m. and 8:45 p.m. for a variety of fitness and exercise classes. Find your own path and attend the classes that interest you! Here's a snapshot of the schedule: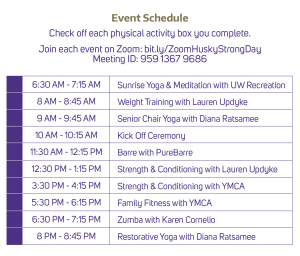 2. Set a personal exercise goal and track your movement.
Using the Husky Strong Day Activity Tracker that arrives in the mail, you can set your own goal for the day and track your progress. Whether you move entirely on your own or attend a Husky Strong Day class on Zoom — be sure to record your total minutes.
3. Receive a special Husky Strong Day hat and a Starbucks gift card!
Be one of the first 1,500 participants to register, and you will receive a one-of-a-kind Husky Strong hat and a $7 Starbucks gift card shipped directly to your address. Wear your hat on August 11 to show your Husky spirit and represent the resilience of the University of Washington! 
4. Enter to win prizes!
Share a photo with The Whole U on social media or via email and you could be a lucky prize winner! Score something to go along with your Husky Strong hat. 
Husky Strong Day is about coming together to celebrate our community and show appreciation for just how strong and capable you are. Get ready for a day full of camaraderie as we get up, get moving, and give back together. 
---
A very special thanks to our fabulous Husky Strong Day sponsors and partners who helped make this amazing virtual event possible:
UW Recreation

YMCA

BECU

UW Medicine 

Pure Barre

AT&T

Starbucks