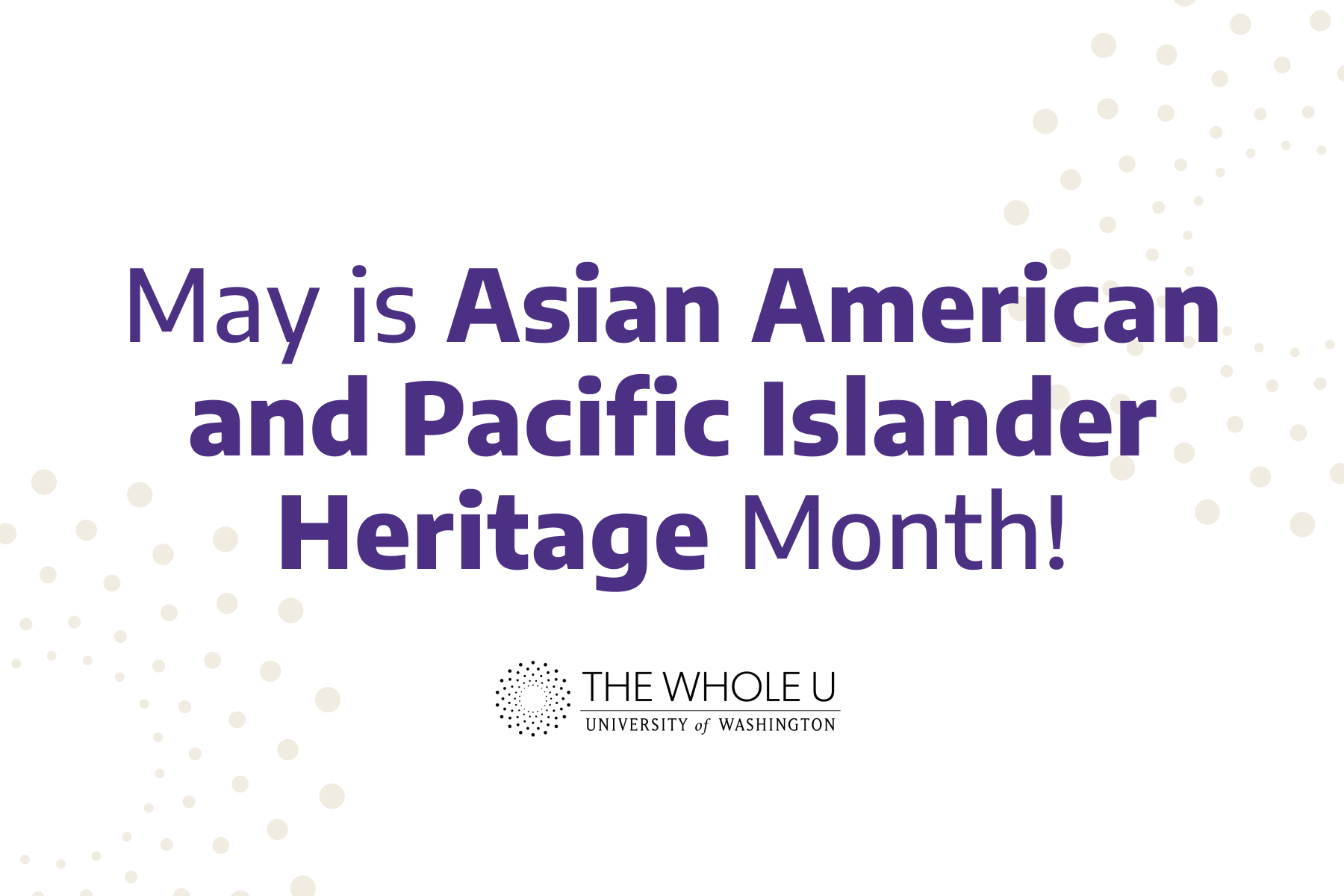 Celebrate Asian Pacific American Heritage Month 2021
Since 1978, May has been the month in which the U.S. government commemorates all individuals of Asian American and Pacific Islander (AAPI) descent and The Whole U is excited to recognize this celebration of the multitude of cultures, traditions, and rich histories of Asian Americans and Pacific Islanders in the United States. Across the country and throughout US history, the Asian American, Native Hawaiian, and Pacific Islander (AANHPI) community has shaped and contributed to the US in many ways. Even on our very own campus, some of the beloved cherry blossoms were gifted by the Japan Commerce Association of Washington to the UW Department of American Ethnic Studies in celebration of the Japanese-American relationship at the University.
As we celebrate AAPI Heritage Month and the accomplishments and contributions of the AAPI community, we recognize the harmful and discriminatory practices inflicted upon them. From the impacts of historic redlining in Washington state and the incarceration of over 12,000 Japanese Americans as part of the World War II Japanese Internment to today's rise in violence and discrimination that has been committed against the AAPI community witnessed across the country and on our campuses. As President Cauce wrote, "… this form of bigotry is not new and it has a long and shameful history in our nation. We must recognize this anti-Asian hate for what it is and stand together to condemn it. We must commit ourselves as a society to eradicating the despicable racism that inspires such terrible violence."
We invite our community to practice social advocacy, empathy, and continue to educate ourselves and our peers on the injustices happening in our country as we stand in solidarity with the AAPI community.
Below, you can find events celebrating AAPI Heritage and resources that provide support, from mental health and community service, to fundraisers and charities! Join us this month celebrating the wonder and joy in AAPI Heritage and Culture.
Cultural Education & Activities
"No Longer Invisible" is a project that first launched in 2014 as a means of expression for UW students, staff, faculty, and alumni alike of the AAPI communities to use their own words in voicing their stories and lived experiences. These stories are based on serving as a spotlight to feature the diversity of lived experiences from members of the many communities that make up the AAPI community as a whole. Diversity in aspects of identity such as culture, religion or spirituality, language, and tradition, among many others within and of the AAPI communities. Submit your story here.
Asian and Pacific Islander Stories
Celebrate AAPI Month this May and every day with a special PBS collection of stories that explores the history, traditions and culture of Asians and Pacific Islanders in the United States.
AAPI Heritage Month Celebration at the Seattle Center
Seattle Center Festál presents AAPI Heritage Month Celebration in partnership with the Asian Pacific Directors Coalition (APDC). The festival marks the beginning of the officially proclaimed and recognized Asian Pacific American Heritage Month (APAHM) of May in the Greater Seattle area. It aims to preserve and promote the culture, heritage, and contributions of Asian Pacific Islanders (API) and Asian Pacific Americans (APA). This event happened on May 2, but the recording can be seen here.
Support Local Businesses and Explore Chinatown
Seattle's Chinatown-International District is one of Seattle's most vibrant, culturally rich and diverse neighborhoods. Explore all of the AAPI-owned businesses, restaurants, museums and cultural institutions. Learn more here.
After being closed for a year due to the pandemic, Seattle Asian Art Museum will reopen to the public May 28. The Museum recently underwent a major renovation and redesign in 2019. Current exhibits include Boundless: Stories of Asian Art, and Be/longing: Contemporary Asian Art. Learn more and buy tickets here.
Wing Luke Museum of The Asian Pacific American Experience

The Wing Luke Museum is located in Chinatown-International District, and tells the story of the AAPI experience in Seattle and beyond. During the pandemic, the Museum has offered virtual programming, tours and book clubs to continue to engage the community. Their programming also includes school tours, training and workshops, and community engagement. Learn more here.
UW Communities
Asian & Pacific Islander American Faculty & Staff Association
Recognizing and honoring the rich ethnic, cultural and social diversity of University of Washington AAPI faculty and staff, the purpose of the Asian and Pacific Islander American Faculty and Staff Association (APIAFSA) is to create, engage, maintain, and sustain a visible and supportive AAPI community. Get involved, learn more, follow the APIAFSA on social media, and join the mailing list here.
The Samuel E. Kelly Ethnic Cultural Center of the University of Washington is part of The Office of Minority Affairs & Diversity. The Kelly ECC has a wealth of resources and opportunities available to students including student advising, organizational development, personal growth, and referrals to different departments and programs. Learn more here.
ASC is a community that provides a platform for all Asian/Asian American UW students in the fight for social justice, cultural preservation, & visibility. The ASC holds several events that include political corners, panels, socials and more. Learn more here.
Mental Health Resources
Asian Counseling and Treatment Services 
ACTS is a treatment agency that has been certified to treat Substance Use Disorders and take pride in our Domestic Violence Victim's Safety Program. Currently ACTS provides treatment programs for those for whom English is a second language, including Korean, Samoan, and Vietnamese, as well. ACTS serves about 700 to 800 clients per year. Learn more here.
Multicare Asian Counseling Services 
MultiCare Asian Counseling Services have been meeting the unique needs of immigrants and refugees from Cambodia, Korea, Vietnam and the Pacific islands since 1985. We help people achieve well-being and self-sufficiency in a way that honors their cultural identity. Learn more here.
Asian Counseling and Referral Services 
ACRS promotes social justice and the well-being and empowerment of Asian Americans and Pacific Islanders and other underserved communities – including immigrants, refugees, and American-born – by developing, providing and advocating for innovative, effective and efficient community-based multilingual and multicultural services. Learn more here.
Support
As hate crimes against AANHPI people continue to rise, it is more important than ever that we stand together during these challenging times. You can make a difference by donating to these organizations via the UW Combined Fund Drive or by spreading the word to your friends and family:
Asian Americans Advancing Justice (charity code 1479276): Fighting for civil rights and empowering Asian Americans to create a more just America for all.
API Chaya (charity code 0320806): We envision a community free from violence. The mission of the Asian and Pacific Islander Women and Family Safety Center is to organize communities, educate, train, and provide technical assistance and comprehensive culturally relevant services.
Asia and the Pacific Fund (charity code 1482504): Support the Global Impact Asia-Pacific Fund, which focuses on economic and social growth for the people of this region.
Asian Pacific Islander American Scholarship Fund (charity code 1480374): APIASF works to create opportunities for students to access, complete, and succeed after post-secondary education thereby developing future leaders who will excel in their career, serve as role models in their communities, and will ultimately contribute to a vibrant America.
Asian Counseling And Referral Service (charity code 0320807): Nationally recognized organization offering an array of human services behavioral health programs to Asian Pacific Americans.
To find more organizations to donate to, check out the Combined Fund Drive's article.
Cultural celebration and social advocacy is an ongoing, consistent and committed practice. We invite our community to celebrate AAPI Heritage not only during the month of May, but every month of the year!