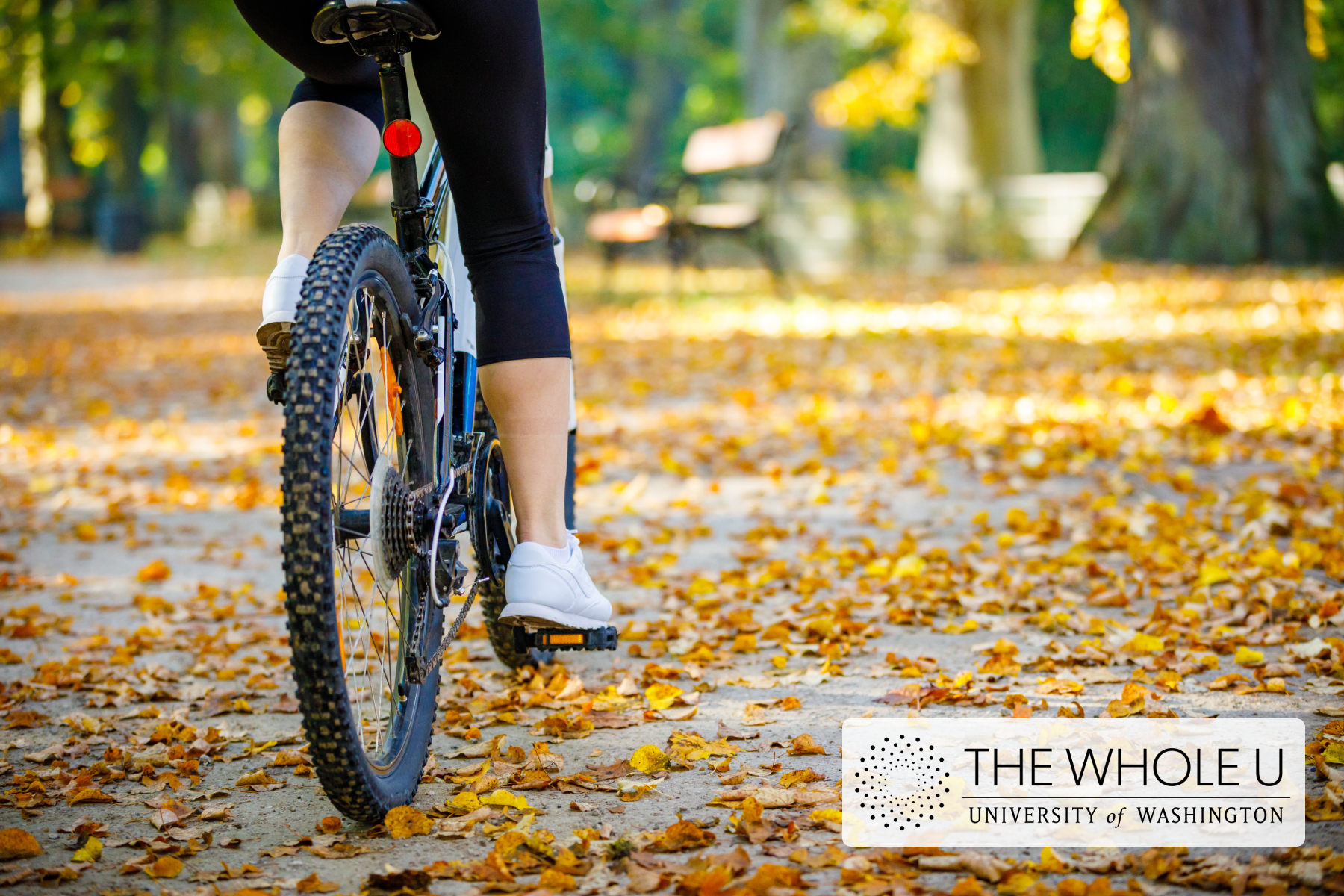 Ride into May with the Bike Everywhere Challenge!
May is Bike Everywhere Month, and with warmer weather and spring sunshine returning to Washington, many of us are looking for new ways to be outside. After an incredibly challenging year of lock downs and social distancing, choosing more active and scenic ways to get around has never sounded more enticing. Whether you are biking as a form of exercise, to cut commute costs, or to be better to the environment, anyone can experience the many benefits of biking. As we ramp up for Bike Everywhere Month, consider ditching your car and join The Whole U and UW Transportation on your bike around town!
This May, UW Transportation Services and their partners are encouraging Huskies to ditch traditional commute modes and put the pedal to the metal with the Bike Everywhere Challenge. According to UW Transportation, University of Washington employees make over 21,000 bike commute trips to the UW in a typical week. Bicycling isn't just great for your overall physical health; it also alleviates congestion on busy city streets and is good for the environment.
Whether you ride a fancy racing bike, an old cruiser in socks and sandals, or an e-bike with your kids in tow, you are still contributing to a more sustainable campus and a healthier you. As you bike around this month, be sure to prepare your gear and plan your routes to ensure a safe and fun ride.
Check out these Commuting 101 steps from UW Transportation to get started.
Step 1: Find a bike that's right for you
It's important to find a bike that you feel comfortable on. Not ready to buy yet? Try renting at first, or using a bike share service.
If you are looking to purchase a bike, stop by a local bike shop and tell them what you'll be using the bike for. They should be able to tell you your frame size and suggest different styles and sizes to try. Bring a bike-minded friend along with you for support, or reach out to Transportation Services for some purchasing recommendations.
In addition to your bicycle, certain accessories are required by law, and others will make your experience on a bike more enjoyable. Visit UW Transportation's Rules & Safety page to learn more about the accessories you need for a safe commute.
Step 2: Plan your route to the UW
Visit the Routes & Resources page to check out popular routes to campus and tips on planning your own route. Once you decide on a route, test it out! Ask a friend or co-worker to ride with you, or get help from a Bike Buddy. UW Transportation hosts a program on campus that will connect you with another biker looking for a buddy. If you're not back on campus yet, keep this in mind for when you return.
Step 3: Know where to park your bike
The UW campus is home to almost 10,000 bicycle parking spaces, including racks, lockers, rooms and houses. Check out our bike parking page for more information. No matter where you park, using a U-Lock is always recommended to keep your bike safe and secure.
Step 4: Prepare your attire
Keep yourself warm and dry from the Washington elements by investing in rain and wind gear. Rain jackets and pants should be waterproof, light and breathable. Look for biking-specific features such as extra flaps or built-in reflectors. Invest in gloves to keep your fingers warm and waterproof booties that you can slip over your shoes. Caps designed for biking will keep your head and ears warm under your helmet.
Step 5: Register your bicycle
Register your bike with Bike Index. If your bike is stolen, this will make it easier to get it back.
Safe riding Huskies and we look forward to zooming (no pun intended) past you on campus in the near future! To learn more about Bike Everywhere Month and to join the Bike Everywhere Challenge, visit these resources from UW Transportation below:
Join the Bike Everywhere Challenge: https://transportation.uw.edu/news/bike-month
Learn more about biking to UW: https://transportation.uw.edu/getting-here/bike
Routes & Resources: https://transportation.uw.edu/getting-here/bike/routes-resources
Rules & Safety: https://transportation.uw.edu/getting-here/bike/rules-safety