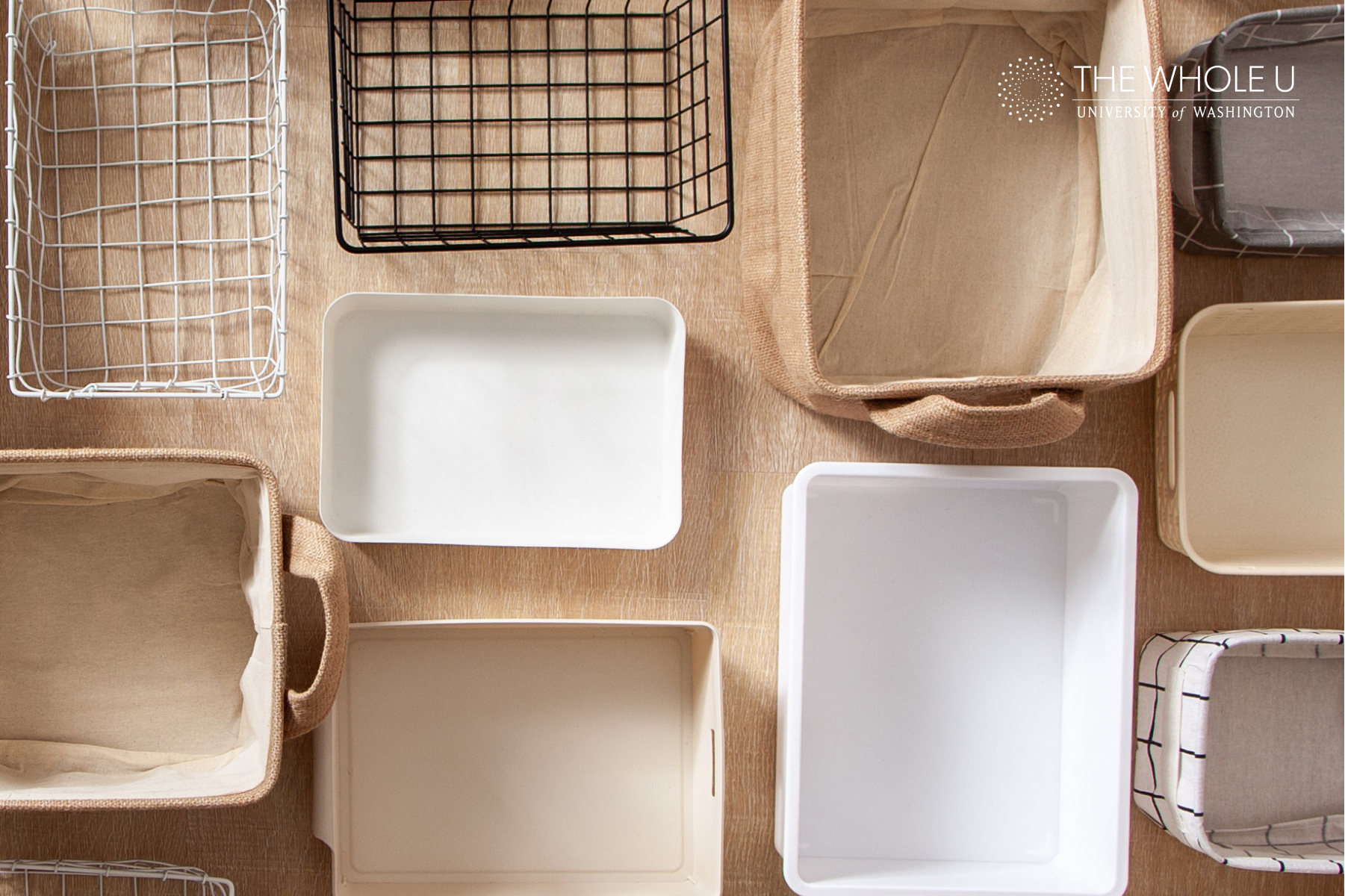 Open Life's Possibilities by Living with Less
The most complicated thing about getting organized is that it's really simple. Let me explain.
When you don't know where to begin, organization can feel paralyzing. However, I have found that the thought of organizing causes more stress than the actual process. When I get stressed, I procrastinate. I dwell and get consumed with critical thoughts and my creative energy comes to a halt. That is the power that clutter has on the mind. Clutter is simply an accumulation of delayed decisions followed by non-action.
How do I rise past feelings of procrastination?
It's not the first time I've been asked this. If we look at this at a deeper level, the question is really masked by a level of self-doubt. Living organized is a lifestyle choice, not a permanent state of being. In fact, when I organize my clients' spaces, I always make a bigger mess of the space initially before it gets better!
The breakthrough happens when you can recognize the feeling of being overwhelmed. Once you acknowledge that feeling, it's time to get curious. Ask yourself: what would open up for me if I lived with less?
It's a human condition that life is messy, but no matter how messy it gets, we can always clean it up. Start with basic systems: living with less and daily habits.
When life gets busy, our spaces get stuffed.
When stuff piles up, it leads to more stress at the point of feeling like you have to make the decision to clean up, but delaying it for another time. By living with less stuff, you ultimately have to make fewer decisions about the objects around you, which in turn leads to less stress. The reward is found when we cut the clutter and learn to love our lives with less.
Maintenance of your space should happen continuously!
A simple answer: Daily, monthly and seasonally. The everyday portion of maintaining an organized space should only take you 5-10 minutes a day on each room. When you are on top of your daily space tidying, then can you advance to adding a monthly purge to your home. This means, in every space you can quickly identify things that are not used and cycle it out of your home. If you don't love it or don't use it, toss it!
10 Questions to Ask Yourself:

Do I need this?
Does this make me feel happy?
Have I used this within the past year?
If I were out shopping would I buy this?
Am I holding onto this for sentimental value?
Is this something I use regularly?
Do I feel obligated to keep this item?
Am I saving this item "just in case" I need it in the future?
Is this item worth the time and effort to keep, store and maintain?
Could I use this space for something else by letting this go?
3 steps to get started
As simple as it may sound, start with a clear floor. Once everything is up off the floor you can move onto your counter spaces and from there into drawers, cupboards, closets, etc. Focus on making large single categories of items. All paperwork if possible, should go into one pile labeled paperwork. As you move through the room simply collect similar items and give them a large category name.
You want to gain a quick sense of accomplishment, so start with a pile that simply doesn't belong in the current space and relocate it to where it belongs. For example, if you have a bunch of clothes in your office get them into your bedroom.
Next, it's time to downsize your large category piles. The easiest decisions to make are the obvious ones. Organize each pile to completion one at a time, leaving the paperwork for last, as paperwork often can be most time-consuming.
Now evaluate your storage solutions. At this point everything you have in a room should be something of use to that relevant space and easily accessible by large category. Keep the same type of items in a centralized location so they are easy to locate. Labeled bins are recommended to contain similar items and when they begin to overflow you know it is time to purge!
Timesaver Tips

Only keep daily use items on countertops. Items that are used most often should be in "prime real estate" spots that are easily accessible.
Keep surfaces clear.
Store items in baskets and drawers that flow with the décor in your home for quick cleanup.
If items don't live in the room, return them to their own room.
Create "drop spots" for items that go from your car to your home on a daily basis such as keys, purse, bags, etc.
Just remember the number one way to stay organized is to start!
---
Kammie Lisenby is the CEO of Organizing Experts.