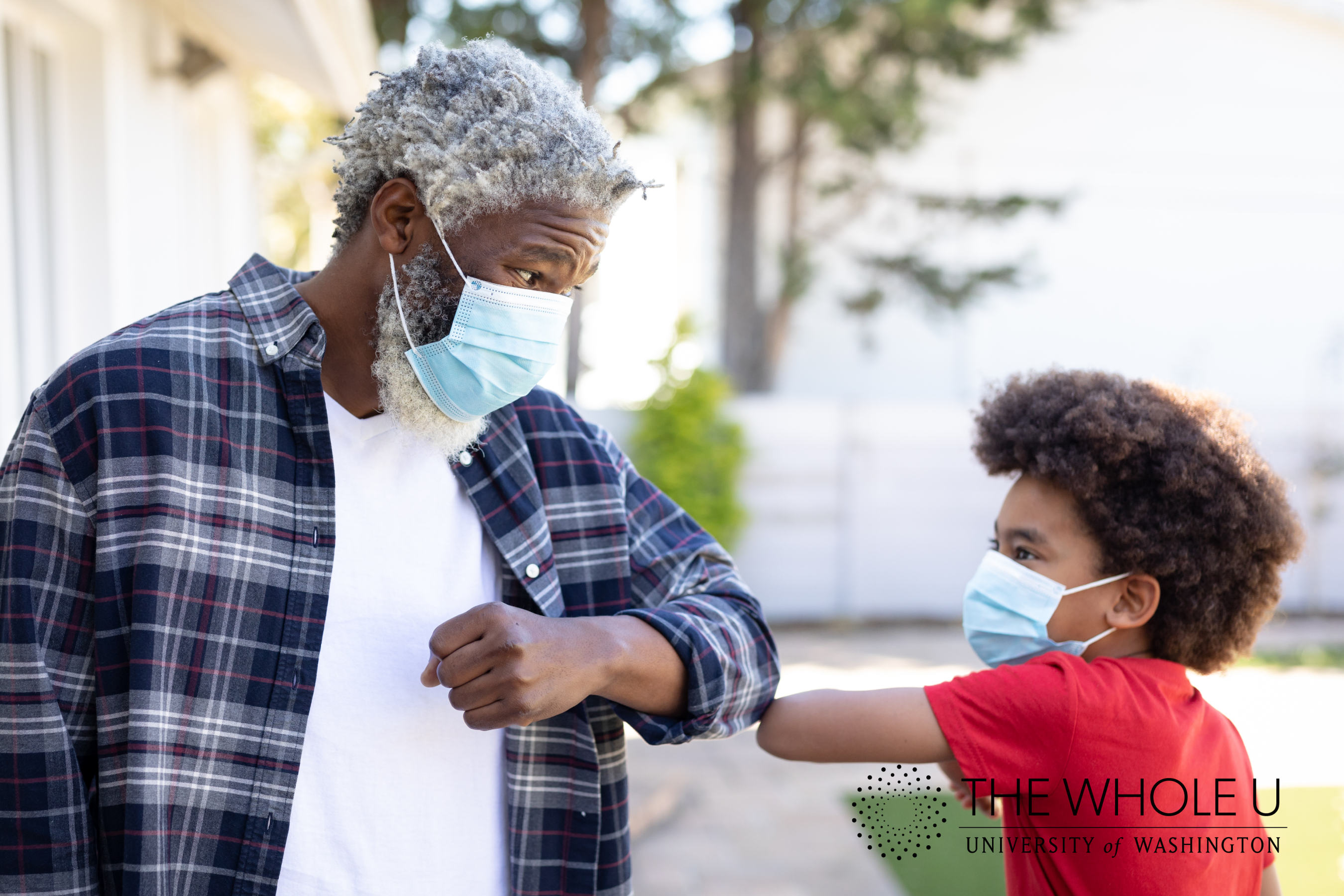 COVID-19 vaccines and connections with older adults
We are all hopeful that 2021 will bring more indoor and in-person quality time with family and friends. If you have loved ones over the age of 65, you may be particularly eager for them to receive the COVID-19 vaccine. You may also be wondering how your interactions with one another will change after they have been immunized.
Of course, everything starts with getting the vaccine.  Dr. John Lynch, medical director of infection prevention & control and employee health programs at Harborview Medical Center, empathizes with everyone who is tired of waiting:
"We have done so much in the past year to keep ourselves, our families and our community safe. I totally acknowledge it has been a long and very difficult time waiting for vaccines. And, in the big picture, we're past the long stretch and the light is at the end of the tunnel. We need to keep moving forward together, as a community."
Lynch is optimistic about the vaccine supply chain, and thinks we are weeks away from providing wider-spread vaccine access to those at higher risk. While most of us want peace of mind for ourselves and our family, he reminds us that immunizations matter for our community as well as for individuals.
He emphasized a few general facts about the COVID-19 vaccine to help us understand what will be different after our family members are immunized:
1. The approved COVID-19 vaccines are incredibly powerful and 95% effective at protecting individuals by preventing symptomatic infections and reducing serious illness or death. Getting COVID-19 vaccines (plural) matters for both the Moderna and Pfizer products: the first vaccine gives some protection but the second is absolutely necessary. It takes at least 7-14 days days for the vaccine to be fully effective – that is 1-2 weeks after the second dose."
2. To end the pandemic, it is essential that we protect the community. Researchers do not know whether a vaccinated individual can carry and spread the virus to others and not know it. The bottom-line is that everyone who receives the vaccine will need to continue wearing masks, washing their hands and watching their distance. We'll all need to practice COVID-19 safety until public health officials are confident that enough of the population has immunity to the novel-coronavirus.
3. Someone can carry and transmit the novel-coronavirus without having any COVID-19 symptoms. In other words, we still need to practice COVID safety to protect others even if we have been vaccinated and feel great.
---
What does this mean for families eager to celebrate mask-free and share a year's worth of hugs? We presented a few common scenarios to Dr. Lynch and asked for his advice.
A family member who was in a high-risk population has been vaccinated. What can our family do differently now?
Your family member's safety will be massively improved ~2 weeks after their second COVID-19 vaccine. However, they may still acquire and transmit the virus to others – including family members, neighbors and others in the community. This means you can get together as allowed by Washington's Roadmap to Recovery and, when you do, your vaccinated family member will need to wear their mask, wash their hands and watch their physical distance.
---
What can we do differently after everyone in our multi-generational household or pod has been immunized?
This scenario is unlikely for several months or more as there are very few places where everyone is vaccinated. When you do get to this point, there will be very low risk that anyone will get sick with COVID-19 or have serious symptoms if they do. However, each of you may transmit the novel-coronavirus to one another and to folks outside your immunized family group.
Again, Lynch encourages us to keep the long-game in mind, "When most people are vaccinated, it will allow us to drop the masks and be closer with one another. Ultimately, that is our goal – to have time together in the most "normal" ways possible. But until everyone in our community is vaccinated, we still need to wear masks, wash hands and watch our distance – even if we've received the vaccine."
---
My parents living in a community setting. Should I be feeling relief that some residents and staff are vaccinated, or is it too soon to relax?
We should all be relieved when vaccines get into shared living settings, especially if residents are older than 65. We all want our loved ones to be safe and reducing risk among populations that are more likely to develop complications helps everyone by reducing the risk of overloading hospitals.
Lynch is optimistic that most residents and staff in adult living settings will be immunized as vaccines become more available in the coming weeks. It is reasonable to expect that assisted care and nursing facilities provide some visibility into vaccine access within their facilities, such as the proportions of residents, health care workers and companion care providers who have been vaccinated. The fewer residents and staff have been vaccinated the more restrictions you can expect for your loved on and their guests.
---
I haven't seen my parents in more than a year and they aren't getting any younger.  None of us have been vaccinated but I desperately want to see them. Is there a protocol I can follow to safely visit an older relative who lives far away?
It is understandable that we want to be with those we love and there are definitely ways to use testing to reduce our risks. However, risk reduction is really the best we can do right now and it will remain extremely difficult to get to zero-risk until vaccinations are wide-spread. Even if your parents are vaccinated and their risk for serious COVID-19 is decreased dramatically, you don't want to possibly expose them and risk that they become infected.
You can reduce risk by testing before seeing family although Lynch says you should definitely still wear a mask, even if your test is negative. A test tells whether you are carrying the novel-coronavirus at a specific moment in time and, given what researchers know about how long it takes for the virus to build-up on our bodies, a negative test is good for no more than 24-48 hours. You'll want to plan your test as close to your visit as you can. The type of test you receive matters, too. PCR tests, which are most common in drive through testing sites and clinics, are the best because they are the most sensitive and typically reveal asymptomatic infections.  Antigen tests are good but not as sensitive as the PCR.
Another option you can consider is quarantining for 14 days of zero-risk contact. Lynch gave an example of how important the 14-day time frame is. Let's say you were exposed to COVID-19 on January 1 and then went into quarantine. You could test negative for COVID for 10 days in a row but then test positive on day eleven – even though you didn't interact with another person during that time.
---
The bottom line from Dr. Lynch is that we'll need to keep wearing masks, washing hands and watching out distance even after our family members receive the vaccine.  While vaccines won't change things overnight, they are the start of a return to more normal routines after immunity is wide-spread: "Take a deep breath. We will get through this. Getting vaccinated in the next few days or weeks isn't as important as getting everyone vaccinated in the next year."