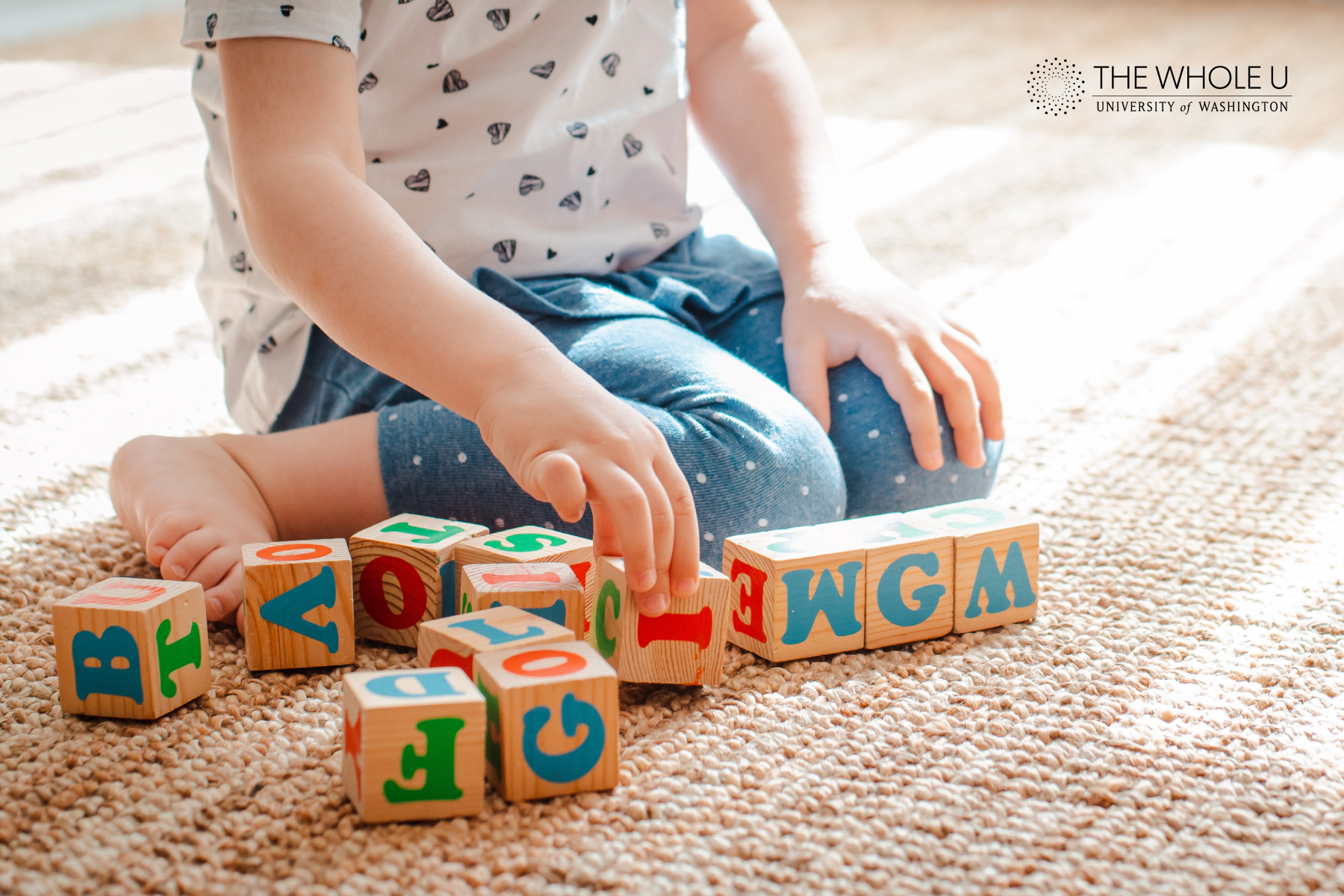 Early learning enrollment: is the wait over?
Did your family postpone enrolling a little one in child care due to COVID-19? You are not alone! Enrollments at child care centers across the country dropped during the early months of the pandemic but are on the rise. With vaccinations underway, you may be looking forward to enrolling your child in during the new year.
We turned to experts affiliated with UW's child care programs for advice and updates about child care enrollment. Check out the child care at UW website if your questions aren't answered here and sign-up for The Whole U's First 90 Confident Pandemic Parenting community for support while your kiddos are still at home.
How are enrollment trends changing and why?
Many providers are seeing renewed interest from parents who want to enroll their children in child care. Most parents are encouraged by vaccines and are less anxious because providers have many months of experience implementing COVID-19 child care safety measures to minimize the risk of COVID-19 transmission. Other parents are concerned they may lose an enrollment opportunity if they wait too long, and some are eager to have their young children socializing and learning with their peers.
Can we tour centers during COVID-19?
You will typically be invited to tour the center when you are offered enrollment. Due to the pandemic, most centers are not offering in-person tours to parents who are deciding whether to apply, although some are offering virtual tours. Providers are always eager to talk with prospective parents and understand anxiety may be high due to the pandemic. They encourage you to read their websites and invite you to reach out with your follow-up questions.
When should I apply?
As early as you can!  Parents can enter their baby's due date on the application form to get started. Foster and adoptive parents are encouraged to apply when they are scheduling their home visit and should talk with prospective centers about their family's situation. Please be sure to contact the center after your child arrives to confirm your plans and update your application.
How long will I wait for an offer?
Every child care provider wishes there was a simple answer to this question!  Unfortunately, centers need to look at all the variables listed below when filling vacancies.  They also understand parents are eager for information and say it is fine to check-in with them about your family's situation from time-to-time.
1. When vacancies open, centers give priority to siblings of children who are currently enrolled at the center.
2. After siblings, applications that are received first are considered first. However, being next-up in the applicant pool is only one consideration. Teachers also need to make sure there will be space available in the next age-group classroom when a new child is ready to transition. If your child is next in the wait pool for a toddler room, but will be ready for pre-school in two months, the center can't offer you a space if there will not be a pre-school opening when it is time for your little one to move up.
3. There may also be center-specific policies in place. For example, UW Children's Centers at Laurel Village and Radford Court give priority to students (ahead of faculty and staff) and Harborview and UWMC – Northwest employees receive priority for the hospitals' on-site centers. Bright Horizons centers and the KinderCare locations that offer UW priority will offer spaces to priority applicants before they offer them to the general community.
How can I find a child care center that's right for my family?
Securing convenient, affordable and reliable child care is a top priority for most parents and finding child care in the Puget Sound region can be particularly difficult. UW employees have access to several resources to make the process a little easier. We've summarized them below, and encourage you to visit UWHR Work-Life's  off-site child care website for details.
1. UW has six on-site children's centers, four on the Seattle campus, one at Harborview Medical Center and one at UW Medical Center – Northwest. Eligibility and enrollment priority at UW Children's Centers is determined by University policy and, like most centers in the Puget Sound area, they have waiting pools.
2. Benefits-eligible staff and faculty receive priority access to Bright Horizons centers across the country and to six KinderCare locations in the Seattle area. (Bonus! KinderCare also provides 10% of their tuition at all of their centers, nation-wide.)
3. Bright Horizons offers a tool to help you search for child care in their partner centers, many of which provide tuition discounts.
4. UW CareLink child care specialists will listen to your family's needs and provide a list of child care providers, camps and/or tutors that align with your preferences and that have space available.
5. Child Care Resources is a state-wide non-profit that offers a child care finding service that will connect you with open spaces in child care centers that meet your family's needs.