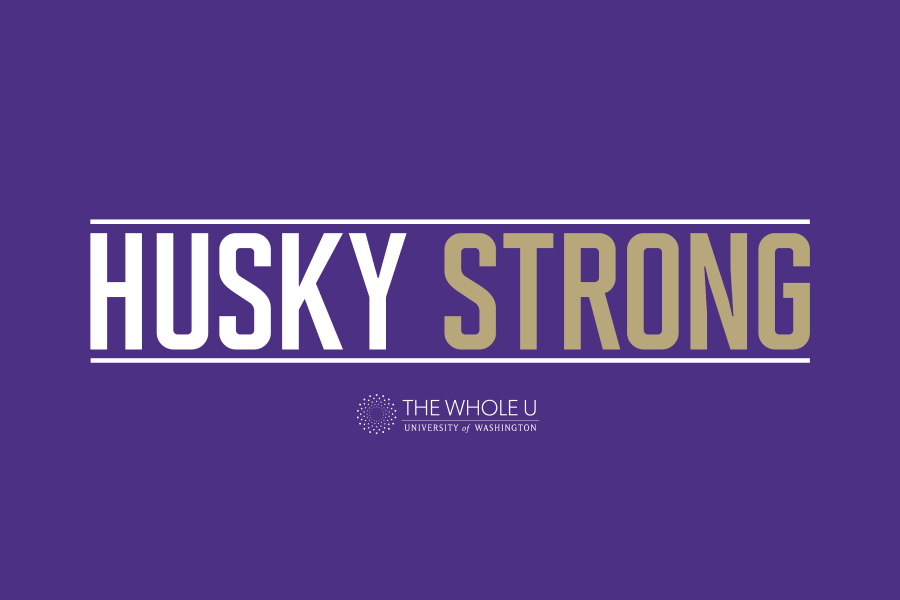 Husky Strong T-Shirt Sale Benefitting UW Employees
Throughout COVID-19, our staff and faculty have risen to every challenge the pandemic has thrown at them. From providing care in UW Medicine's hospitals and clinics, to keeping our facilities safe and clean, to redesigning classes, research and student programs to work remotely, UW employees have led the way with excellence, resilience, curiosity and compassion.
Show your husky pride and help support the UW COVID-19 Employee Emergency Fund by purchasing a Husky Strong t-shirt here. Buy one just for yourself or as holiday gifts for friends and families, proceeds go through the UW Combined Fund Drive to support UW employees facing temporary, critical and unforeseen hardships that make it hard to pay for basic household expenses, health care or child care.
That's right! Through the purchase of this $25 t-shirt, designed by UW student Jubilee Cho, you help support the fund that has provided hundreds of small grants (up to $750) to employees with financial hardships.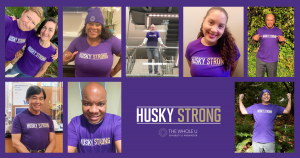 ---
---
DETAILS
ACT NOW: Order by December 9 to make sure your t-shirt arrives before the holidays.
CONVENIENCE: Your t-shirt order will be delivered to the address of your choice.
QUALITY: These 100% cotton t-shirts are super soft and come in two style choices: Regular crew neck (S-XXXL) or slim fit with a slight scoop neck (S-XXL) – this style fits small.
GOAL: If the UW community purchases 1000 t-shirts, together we will raise over $10,000 for the UW COVID-19 Employee Emergency Fund.
Let's reach this goal together and wear our HUSKY STRONG shirts as we continue to be in this together.
---
FAQS
How much is shipping?
The t-shirts ship to the address of your choice at no extra cost (continental United States only).
Already have enough t-shirts but want to give?
Help a fellow Husky and donate here. Read what employees are saying about the COVID-19 Employee Emergency Fund.
Want to place a large order for your department as recognition?
Email wholeu@uw.edu and we will take care of your group order with UW budget.
Want to order t-shirts to multiple addresses?
You will need to create separate orders for each mailing address you want your t-shirts delivered to.
How does my donation reach the COVID-19 Employee Emergency Fund?
The Whole U is collecting credit card payments through UW Merchant Services credit card processing platform. At least $10 for every t-shirt sold is sent through the UW Combined Fund Drive to support the UW COVID-19 Employee Emergency Fund.
What is the UW Combined Fund Drive?
The UW Combined Fund Drive is the University of Washington's workplace giving campaign. With more than 5,000 nonprofits in the campaign, it is easy to support your favorite charities through payroll deduction.
Is my t-shirt purchase tax deductible?
Your gift is tax deductible to the extent allowed by law. Please consult your tax advisor for guidance.
Can I exchange my shirt or get a refund?
All sales are final due to a third partying shipping the shirts, the fundraiser, and inability to handle the shirts ourselves.
---
Make your shirt order today and show your Husky pride, supporting your fellow colleagues! Order for your family and friends as a holiday gift, or gift to a colleague for working hard this last year. We're in it together Huskies!