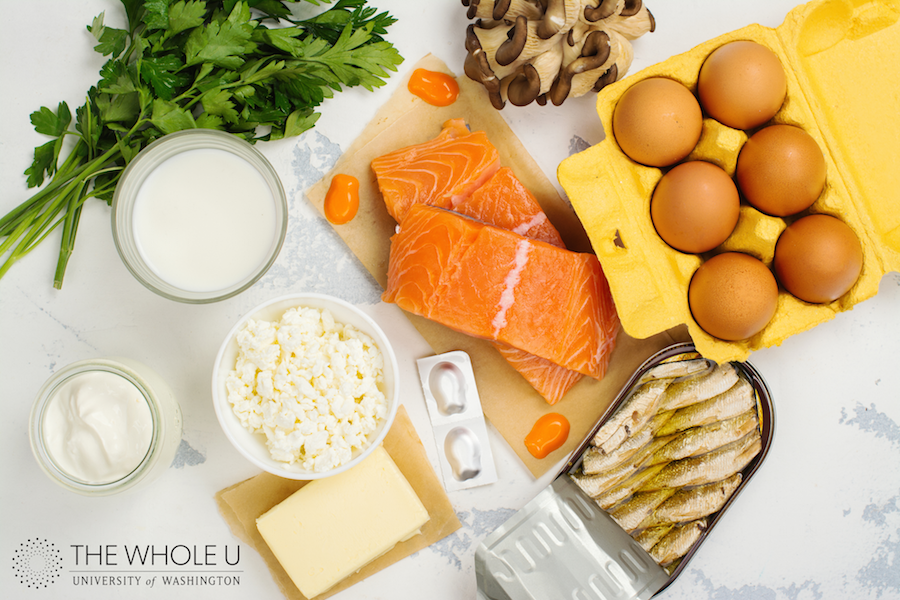 What's the Deal with Vitamin D?
Vitamin D has many functions in the body. It helps us to absorb calcium from our diets and maintains the health and strength of our bones. It can affect our immune health and our muscle health. Newer research has even suggested that vitamin D may help to prevent some chronic diseases, such as diabetes, heart disease, and certain types of cancer.
Do we get enough?
There are two primary sources of vitamin D: UVB rays from the sun, and diet. A third source is supplementation.
In the Pacific Northwest, exposure to UVB rays is limited, especially in the winter, and risk for deficiency is higher than in other parts of the world. In the summer time, atmosphere penetration of UVB rays improves, but there is risk associated with exposure. As was discussed in a recent Whole U article, Sun Safety: Vitamin A to Zinc Oxide, sun exposure can be dangerous and may lead to skin cancer. If you are protecting your skin in the recommended ways (i.e. using sunscreen, wearing protective clothing, staying in the shade, etc.), you are simultaneously limiting your vitamin D exposure and therefore increasing your risk for deficiency.
According to the American Academy of Dermatology, "adequate amount of vitamin D should be obtained from a healthy diet that includes foods naturally rich or fortified with vitamin D. [It] should not be obtained from unprotected exposure to ultraviolet radiation."
How much do we need and how do we get it?
The Recommended Dietary Allowance (RDA) of vitamin D for adults is 600 international units (IU), or 15 mcg, per day. This is increased to 800 IU per day for those over the age of 70. The maximum recommended amount is 4,000 IU per day.
Eating vitamin D
Few foods naturally contain high levels of vitamin D. In the United States, most of our dietary vitamin D comes from fortified foods. Common examples of fortified foods include milk, orange juice, and breakfast cereals. Be sure to read product labels to determine if a food has vitamin D added, and if so, how much.
A note on food labels
Fortunately, the FDA's recently mandated changes to the nutrition facts label requires that all food labels declare vitamin D content in micrograms and percent daily value (%DV).  The new food label is gradually being rolled out by manufacturers over the coming years. If a product's food label has not yet been updated, it will contain only %DV of vitamin D and this percentage will be based on the outdated recommendation for 400 IU vitamin D per day.
Here is a great chart that shows common dietary sources of vitamin D:


Adapted from:  Vitamin D. Health Professionals. Dietary Supplement Fact Sheet. National Institutes of Health. Office of Dietary Supplements. March 2, 2018.
Who needs supplementation?
Some people have an increased risk for developing vitamin D deficiency. These groups, among others, include the elderly, those with limited sun exposure, and those with dark-colored skin. Anyone who follows a vegan diet or who limits dairy in their diet may also be at risk for deficiency. Your doctor or dietitian may recommend checking your vitamin D levels if you fall into a high risk category.
If you take a standard multivitamin, keep in mind that most will contain 400-1000 IU of vitamin D. If you think you may need additional supplementation, talk to your doctor or dietitian about how much and which type.
To learn more about supplementing your vitamin D intake, here is a UW Medicine blog post that discusses when vitamin D supplements are useful.
A recipe high in vitamin D
Whole wheat spaghetti with lemon, basil, and salmon
Source: Food Network, Giada De Laurentiss
Vitamin D content per serving: about 600 IU
Ingredients
1/2 pound whole-wheat spaghetti pasta
1 clove garlic, minced
2 tablespoons extra-virgin olive oil
1/2 teaspoon salt, plus more for seasoning
1/2 teaspoon freshly ground black pepper, plus more for seasoning
1 tablespoon olive oil
4 (4-ounce) pieces salmon
1/4 cup chopped fresh basil leaves
3 tablespoons capers
1 lemon, zested
2 tablespoons lemon juice
2 cups fresh baby spinach leaves
Directions
1. Bring a large pot of salted water to a boil over high heat. Add the pasta and cook until tender but still firm to the bite, stirring occasionally, about 8 to 10 minutes. Drain pasta and transfer to a large bowl. Add the garlic, extra-virgin olive oil, salt, and pepper. Toss to combine.
2. Meanwhile, warm the olive oil in a medium skillet over medium-high heat. Season the salmon with salt and pepper. Add the fish to the pan and cook until medium-rare, about 2 minutes per side, depending on the thickness of the fish. Remove the salmon from the pan.
3. Add the basil, capers, lemon zest, and lemon juice to the spaghetti mixture and toss to combine. Set out 4 serving plates or shallow bowls. Place 1/2 cup spinach in each bowl. Top with 1/4 of the pasta. Top each mound of pasta with a piece of salmon. Serve immediately.
---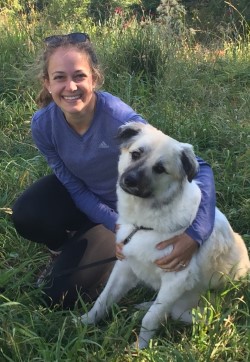 Liz Spiess is a registered dietitian and certified specialist in oncology nutrition who works with the bone marrow transplant service at the University of Washington Medical Center. In her spare time, Liz enjoys getting outdoors for runs or walks, competing in local road running races, and hiking with her dog, Cali.