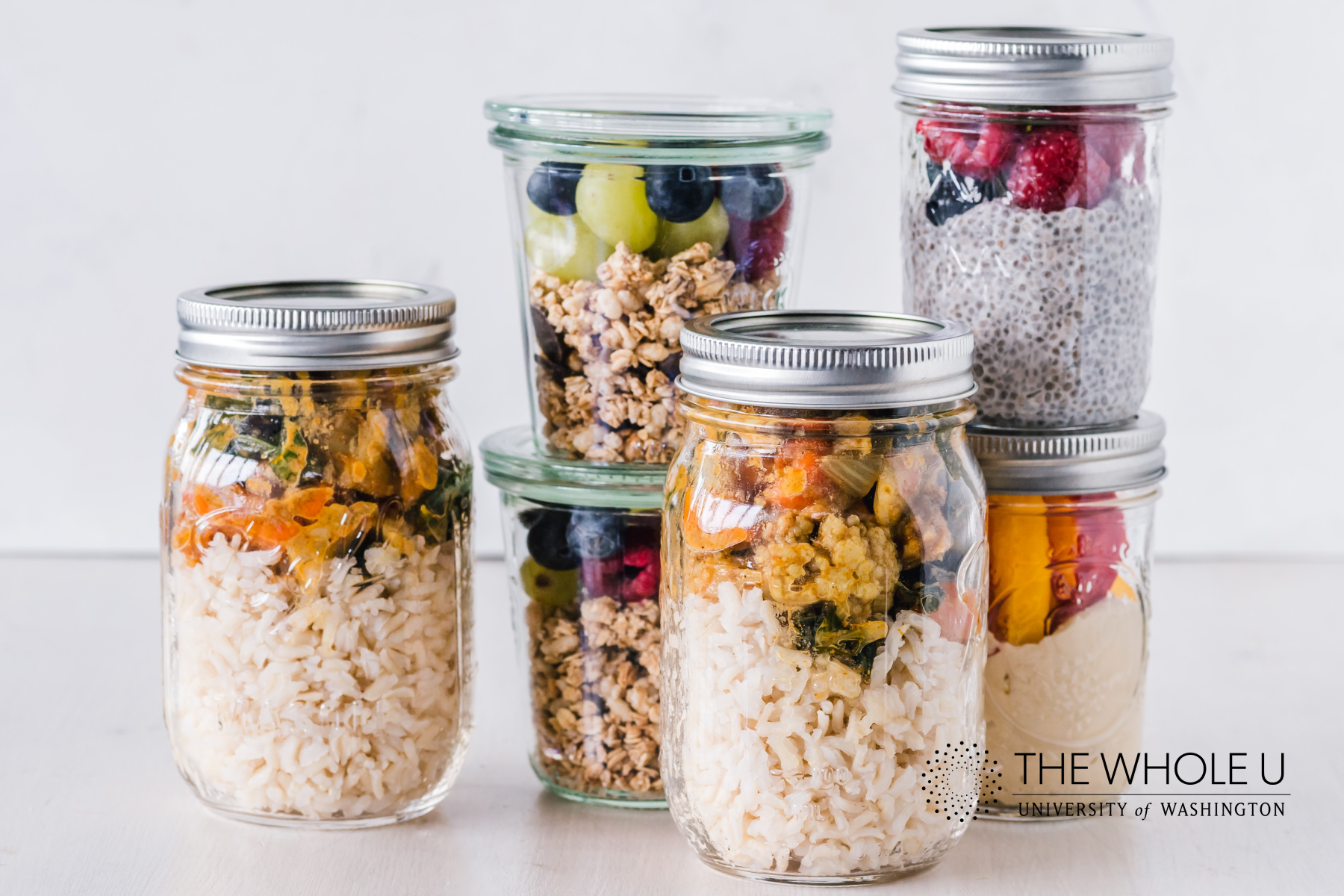 We've all been encouraged to meal prep and pack our own lunch at some point in our lives. If only it were super easy! Packing your own lunch can feel like a lot of work and take up precious time and space in your fridge. However, once you've prepped those meals, enjoying a nutritious and varied diet becomes that much simpler! Meal planning is a great way to ensure that you eat a diet full of nutrient-dense and balanced foods. One great way to do so is to use mason jars.
Mason jars are a great solution to food prep. They are made of glass and can preserve food longer than plastic alternatives, are easy to reuse and wash both by hand and in a dishwasher, take up less room in the fridge and are stackable, and the list goes on! Additionally, we can all agree there is something to be said about enjoying a beautiful looking meal. Mason jar meals tend to look pretty awesome once finished! At the end of the day, the best thing about mason jar meals is how simple they are to assemble.
Let's get started! First things first, pick your jar size
Wide mouth jars are best as it is easier to get ingredients in and out.
Pint-sized jars are great for entrée salads.

Quart-sized jars are perfect for desserts and breakfast dishes.
How to layer your ingredients
The most important thing to know about mason jar meals is the correct order in which to layer ingredients. Although it may sound silly, the wrong order can make enjoying your meal much more difficult and shorten the life of the meal.
Here's a rundown:
Layer 1: Dressing and wet ingredients go at the bottom of the jar
Layer 2: Hearty vegetables (they will not wilt in the dressing and can act as a barricade layer)
Layer 3: Other vegetables/fruits (to provide an additional barrier between the dressing and the greens)
Layer 4: Pasta/grains/beans (any type of pasta, quinoa, farro, or beans)
Layer 5: Proteins (cheeses, eggs, meats, or tofu)
Layer 6: Greens (pack the greens toward the top to keep them from getting soggy and use any greens you prefer: kale, arugula, spinach, or romaine)
Layer 7: Fruit/nuts/seeds
Types of meals to create
The variations of meals that you can create in a jar is truly endless!
Here's a short list to get your imagination running:
Yogurt parfait
Granola parfait
Quiche jar
Breakfast jar
Oatmeal parfait
Salad jar
Rice jar
Lunch jar – any base here works!
Quinoa jar
Stir-fry jar
Veggies & dip jar
Give it a try with fresh recipes
Now that we've covered the correct order for filling the jars, give mason jar meals a try with our curated recipe guide from Whole U dietetic interns Molly Bowdon and Kate Ueland and UW Medicine dietitian Charlotte Furman.
Complete with oatmeals, salads, and even desserts—these versatile recipes will get your mason jar meal obsession started.
Do you have a favorite mason jar meal? Please share it below!