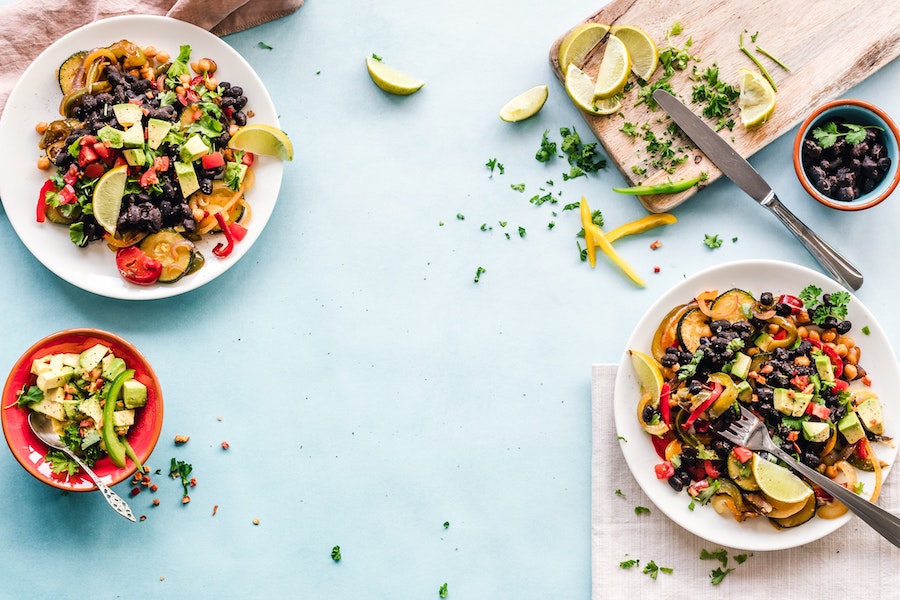 How to Talk to Teens About Healthy Eating
Eating healthy is an important part of a healthy lifestyle, but it can sometimes be tricky for parents when children reach their teens. Oftentimes, as teens begin to gain more independence and begin to dine out with friends—typically at affordable fast casual restaurants or other social places where junk foods are readily available.
It can feel difficult to prevent or change bad habits in teens, especially if it seems like the last thing they want to discuss, but here are a few tips on ways to convey that eating healthy can be a way of fueling their fun. Maybe you'll even be able to convey that eating healthy can be fun on its own!
Here are 10 Talking Tips
1. Find a good time to talk. A formal sit down "let's talk or we need to talk" most likely will encounter resistance and may not the best approach to get through a teen. Dr. Ron Taffel, a noted child and family therapist, says "pay attention to when your kid opens up naturally." For some, that might be after school; for others, it might be before bed or when you cook or do activities together. Pick a time when you both feel relaxed and calm and teens are less likely feel like they are being lectured.
2. Be a good listener. Listening rather than talking too much is crucial.  More is always less with teenagers. We become more empathetic and tune into their needs.
3. Be positive. Acknowledge when your teen makes a good choice.
4. Prep meals together! Prepping meals together provides a great opportunity to talk about healthy eating. Follow their lead but try to use healthy ingredients and cooking methods, such as baking or broiling instead of frying.
5. Stock up healthy ingredients, fruits, vegetables and healthy snacks (see below). These can also be used as talking points when teens are hungry and looking for food!
6. Find what matters to them. It is important to be aware that teens do not have the patience and concerns for the future such as disease prevention; they might be more interested in what you have to say about healthy eating if you can focus on short term benefits such as concentration, school or sports performance and having more energy.
7. Be a role model. Make healthy choices yourself when you go out to eat or cook at home. Sometimes it's best to let action do the talking.
8. Let minor consequences do the job. Often, we have to let natural consequences teach teens and college students a lesson when they find out it is no fun after skipping meals or eating large sugary meals. Once teens had the chance to try it their way and see that it does not work, they will be more likely to listen to you.
9. What NOT to talk: weight and scales. Do not focus on numbers and/or weight. Body image and perceptions are heightened at this age. Focus on the positive benefits of healthy eating without focusing on body size.
10. Finally, be patient. Change takes time. Focus on small things that can add up to a long-term commitment to a healthy lifestyle.
Healthy Snack Ideas for Teens and College Students
Veggie sticks with hummus
Whole grain crackers
Peanut butter with crackers or a piece of fruit
Fruit (fresh, dried, freeze dried, or frozen kabobs)
Popcorn (popped with oil)
Beef jerky
Yogurt smoothie drinks (look for brands with minimal added sugars)
Nuts
Trail mix with unsweetened fruit and nuts
Cheese sticks or slices and whole grain crackers
Tortilla wraps made with lean meat, cheese, and veggies
Try a Fun and Healthy Recipe Together – Cucumber Sushi Rolls
Making sushi with your teen can be fun! You can add or substitute ingredients based on what you like. Rolling with a bamboo mat makes it even more fun. I was beyond excited when my younger daughter asked me to make sushi with her. She made this sushi roll, plated with shredded carrots and posted it on Instagram!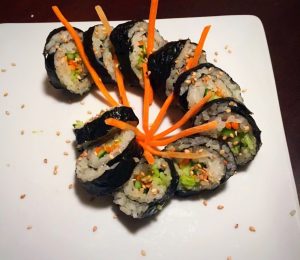 Ingredients
2 cups sushi rice, rinsed and drained
2 cups water
1/4 cup rice vinegar
2 tablespoons sugar
1/2 teaspoon salt
2 tablespoons sesame seeds, toasted
2 tablespoons black sesame seeds
Bamboo sushi mat
8 nori sheets
1 small cucumber, seeded and julienned
3 ounces imitation crabmeat, julienned
1 medium ripe avocado, peeled and julienned
Reduced-sodium soy sauce, prepared wasabi and pickled ginger slices, optional
Directions
1. In a large saucepan, combine rice and water; let stand for 30 minutes. Bring to a boil. Reduce heat to low; cover and simmer for 15-20 minutes or until water is absorbed and rice is tender. Remove from the heat. Let stand, covered, for 10 minutes.
2. Meanwhile, in small bowl, combine the vinegar, sugar and salt, stirring until sugar is dissolved.
3. Transfer rice to a large shallow bowl; drizzle with vinegar mixture. With a wooden paddle or spoon, stir rice with a slicing motion to cool slightly. Cover with a damp cloth to keep moist. (Rice mixture may be made up to 2 hours ahead and stored at room temperature, covered with a damp towel. Do not refrigerate.)
4. Sprinkle toasted and black sesame seeds onto a plate; set aside. Place sushi mat on a work surface so mat rolls away from you; line with plastic wrap. Place 3/4 cup rice on plastic. With moistened fingers, press rice into an 8-in. square. Top with one nori sheet.
5. Arrange a small amount of cucumber, crab and avocado about 1-1/2 in. from bottom edge of nori sheet. Roll up rice mixture over filling, using the bamboo mat to lift and compress the mixture while rolling; remove plastic wrap as you roll.
6. Remove mat; roll sushi rolls in sesame seeds. Cover with plastic wrap. Repeat with remaining ingredients to make eight rolls. Cut each into eight pieces. Serve with soy sauce, wasabi and ginger slices if desired.
---
References:
More ideas for recipes you can cook with your teens: https://kidshealth.org/en/teens/recipes/
https://www.tasteofhome.com/recipes/california-sushi-rolls/
https://www.bbcgoodfood.com/howto/guide/how-talk-your-teenager-about-their-body
https://www.goodhousekeeping.com/life/parenting/tips/a12218/give-advice-to-your-kids/
---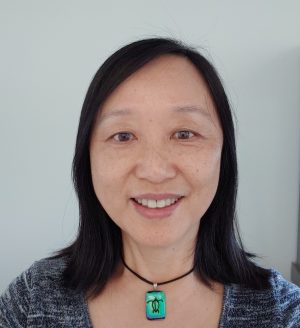 Toni Law is a registered dietitian at UW Medical Center. Toni has two teen daughters and enjoys spending time with family and friends, hiking with her dog, and Dragon boat paddling.