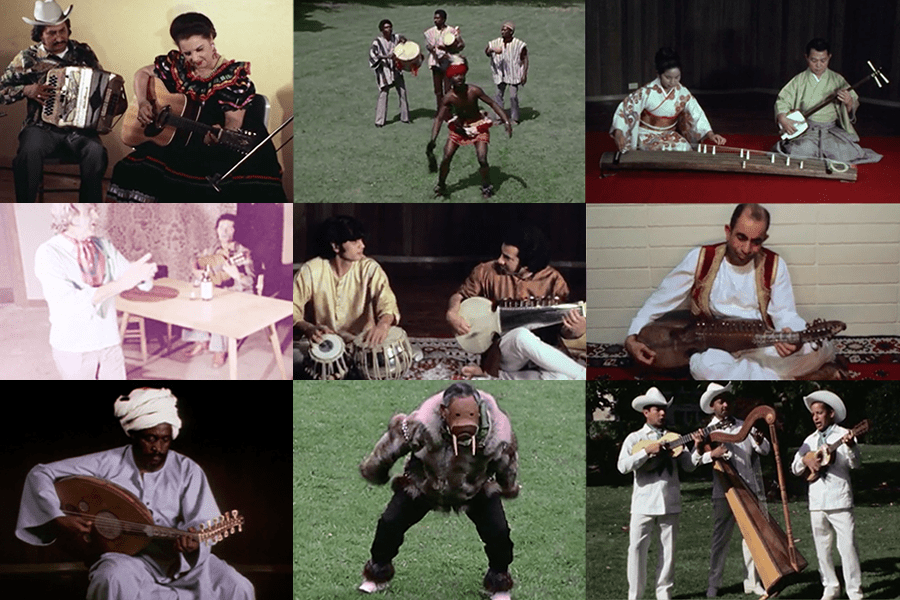 Discover UW's archive of world music recordings
As part of the University of Washington's celebration of UW Global Month this November, we decided to dive into the UW Ethnomusicology Archives to explore the Garfias Film Collection, a treasure trove of recordings made by ethnomusicologist Robert Garfias at the University of Washington during the 1960s and '70s featuring performances from musicians from around the world—many of whom were near the beginning of prolific careers.
Whether you're looking for some new background music to speed you along through your workday, want something entirely different to play at home during the coming holidays, or wish to learn more about different musical cultures from around the world, the following performances will resonate with you as vitally today as on the day they were captured at the UW for all time.
---
One of two main sub-genres of Indian classical music that evolved from ancient Hindu traditions, the Hindustani music of northern India is on display through the virtuosic talents of Ali Akbar Khan, who plays the stringed sarod, and Pandit Mahapurush Misra on the percussive tabla. Fun fact: Mahapurush Misra was featured on The Beatles' recording 'The Inner Light', as well as George Harrison's 'Wonderwall' soundtrack.
---
In 1974, Mohammad Omar received a Fulbright-Hays Foreign Scholar Fellowship to teach at the UW, making him the first Afghan musician to teach at a major university in the United States. His first rubab performance in front of a Western audience took place at UW on Nov. 18, 1974. Known as "the lion of instruments," the rubab is one of two national instruments of Afghanistan and has been played throughout central Asia since the 7th century.
---
Son jarocho, or sound of Veracruz, represents a fusion of indigenous (primarily Huastecan), Spanish, and African musical elements. This performance by Los Jarochos features Pepe Baradas (harp), Rene Rosas (requinto), Rafael Rosas (jarana). Read more about son jarocho and how the musical tradition continues in Seattle to this day in the second half of our Faculty Friday profile of Shannon Dudley, professor of ethnomusicology.
---
The eight dances presented by Inupiat performers from King Island, Alaska are as follows: a welcome dance; a kayak dance; a walrus dance; a snow dance; drum and chanting; good-evil spirit dance; two takes of a wolf dance; and a "fun" dance. The choyuk (drum) is made from walrus stomach with a driftwood frame. The stick is made of hickory. Performers: Teresa Penatac, Charlie Penatac, Sarah Koyuk, Joachim Koyuk, and Charlie Tigmeac.
---
This performance by musicians T. Brinda (voice, vina), T. Vega (voice, vina), and T. Ranganathan (mridangam) offers a window into the Carnatic musical tradition of Indian classical music from southern India. The main emphasis in Carnatic music is on vocal music; most compositions are written to be sung, and even when played on instruments, they are meant to be performed in gāyaki (singing) style.
---
Known for his exuberant, festive interpretation of the folkloric music traditions of southern Spain that comprise "flamenco," Anzonini del Puerto demonstrates various songs and styles in this collection of recordings. "Del Puerto" refers to his home town of El Puerto on the banks of the Guadalete River in the province of Cádiz. For another take on flamenco, read about guitarist Ricardo Garcia's 2018 UW residency.
---
This performance by musician Keiji Yagi (shamisen, koto), assisted by Kayoko Hashimoto (koto), features the shamisen, a three-stringed traditional Japanese musical instrument derived from the Chinese instrument sanxian and played with a plectrum called a bachi. The second performance highlights the sound of the koto, the national instrument of Japan that was first introduced from China in the 7th and 8th century.
---
Ghana's musical traditions are as rich and diverse as the country itself. Ghanaian ensemble Oboade toured the globe between 1972 and 1977. This 1973 performance at the UW features Mustafa Addy, Obo Addy, Ismall Addy, Jacob Addy (drums), and Thomas Anang (dancer). For more from Oboade, check out this YouTube recording—perfect for energizing your day or as complement for your commute or next workout!
---
Legends of the north Indian classical tradition, Ashish Khan and Zakir Hussain both remain active performers to this day, renowned the world over. After last performing at the UW in 1970, Zakir Hussain brought his virtuosic tabla playing back to campus in late 2017 as a visiting artist in UW Ethnomusicology—some 47 years after his first performance was filmed by Garfias. He'll return to Seattle in March 2020 for a performance at the Moore Theater.
---
A Nubian Egyptian/Sudanese composer, oud player, tar player, and vocalist, El Din was born in southern Egypt and subsequently lived and studied in Italy, Japan and the United States, later collaborating with performers including Sandy Bull, the Kronos Quartet and the Grateful Dead. The first piece is called "Grandfather's Story," the second is "based on a traditional farmer's song," while the third piece is played on the tar, an ancient style of drum.
---
Known as "La Alondra de la Fronteras (The Lark of the Border), Lydia Mendoza packed a powerful voice and played an unconventionally tuned 12-string guitar, presenting through her music a view of Mexican-American life that wasn't always festive. In addition to the UW, Mendoza performed at president Jimmy Carter's 1977 inauguration and received the National Medal for the Arts in 1999.
---
Want to listen to even more great music recordings you're not likely to find anywhere else? The University of Washington and UCLA Ethnomusicology Archive have teamed up to curate a diverse and comprehensive catalogue of music from around the world featuring thousands of audio field recordings and interviews, educational recordings, film footage, field notebooks, slides, correspondence and ephemera from over 60 fields of study.
There are also plenty of live performances to see at the UW in the remaining weeks of 2019! Check out the UW School of Music's calendar of upcoming performances and revel in the UW's tradition of world-class performance.