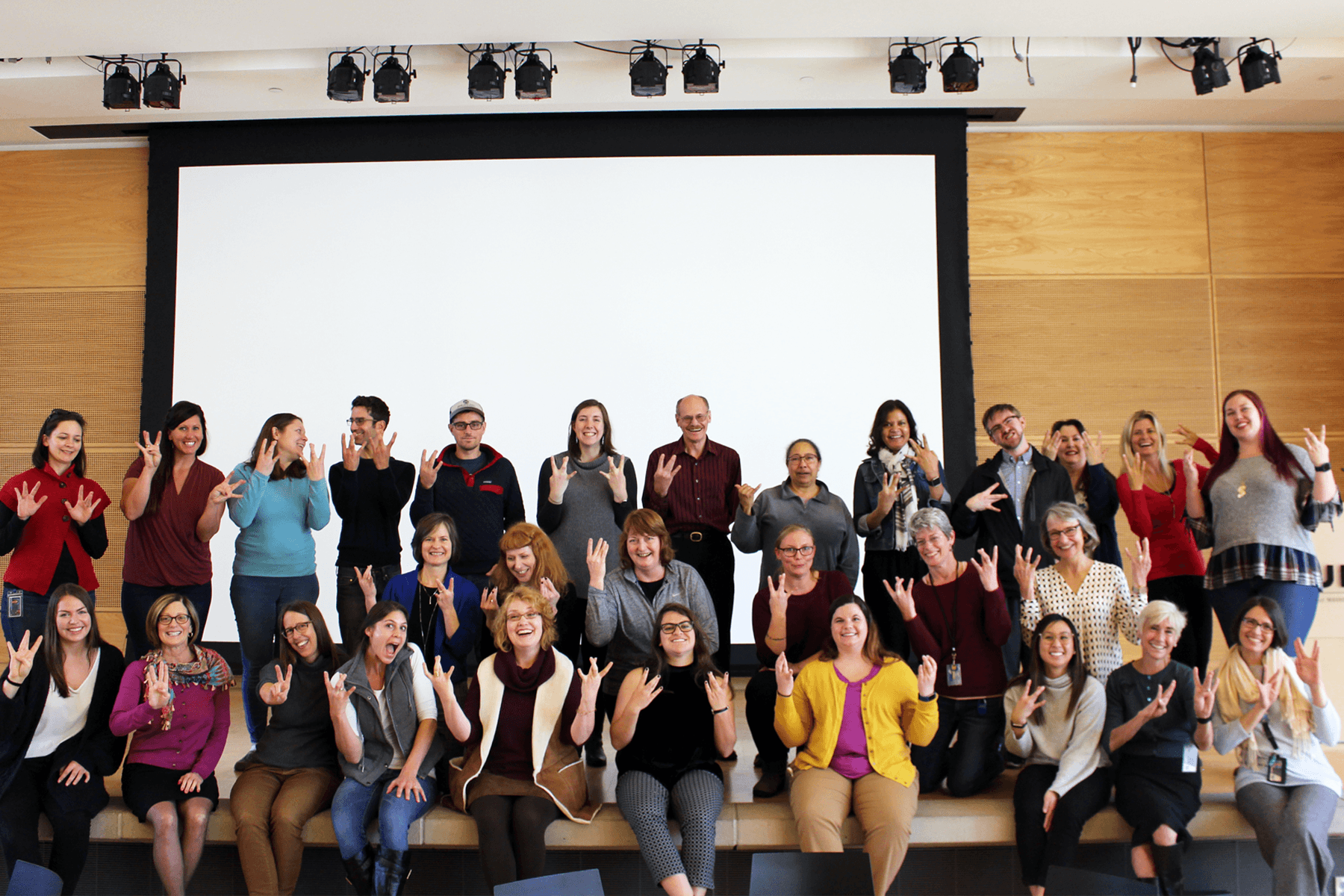 The Whole U Ambassador Program
The Whole U's greatest asset is our fantastic community of ambassadors. Ambassadors are UW faculty and staff who represent all organizations within the UW and UW Medicine. They help others in their community and departments learn more about The Whole U program and all it has to offer.
Ambassadors have a passion for community, connection, and fostering overall wellness. They help others feel supported and encouraged to participate in activities and events offered by The Whole U, while helping to adapt offerings to best fit the culture, schedule, and regulations of their specific work environment.
---
Interested in becoming one of The Whole U ambassadors in 2020?
Email us at wholeu@uw.edu!
---
Here's a breakdown of your role as ambassador:
Promote
Spread the word! The best advertising is person-to-person. You are our voice and our brand. Help us promote discounts, seminars, challenges, and events throughout the year. Work with departmental leadership to share news about upcoming programming and events. We'll help by sending you emails with content to share.
Share The Whole U website! Share our web content in your newsletters and on your intranet sites, add our events to your department calendar, and post our flyers in break rooms and high-traffic areas. We'll send you flyers to share and are always happy to come by and present on our program at department meetings.
Engage
Engage with us on social media! Follow The Whole U on social media and like, share, retweet, and comment on our content. We want to engage with you! Facebook: The Whole U | Twitter: @UWWholeU | Instagram: WholeU
Encourage
Rally your department! Encourage your department to participate in events and activities that interest them.
Be the role model! Participate in the opportunities that interest you. Show up and bring some colleagues.
Make a fun challenge! Challenge your department to have the most attendance, participate in events as a team, and participate in a seminar or class together.
Attend
Show up! Join us for our twice-annual ambassador luncheon and celebrate your great work with prizes and exclusive opportunities to contribute ideas, envision activities, and help orient new program ambassadors.
Volunteer at large events! Assist The Whole U team at events a few times a year as a volunteer.
Be a leader! Lead an activity or interest group in your community or connect a colleague that may want to lead an activity or group with The Whole U.
Be a Voice
Share your feedback! Feedback is important to The Whole U. Contribute your ideas, suggestions, enhancements, and interests to help the program grow and improve.
Solicit suggestions from colleagues and send them our way. Share colleagues' positive experiences and success stories with The Whole U so we can share with the wider UW community and suggest experts from your organization or department who would make good speakers or website contributors.
Educate us! In addition to helping UW faculty and staff to learn about the program, Whole U Ambassadors are our best way to learn about the specific needs, interests, and constraints in your department. The more The Whole U team knows about what faculty and staff are interested in, the better we can respond to meet that need.
---
If you're ready to be a positive force within your department or campus organization and can't wait to make meaningful impact across the University of Washington as a whole, you're ready to be an Ambassador for The Whole U! Email us at wholeu@uw.edu to get involved.