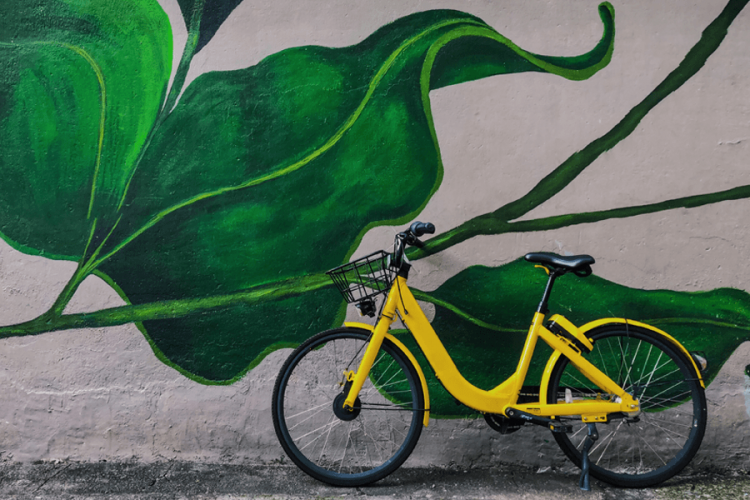 May is Bike Everywhere Month!
"I don't ride a bike to add days to my life. I ride a bike to add life to my days." – Unknown
---
According to UW Transportation, University of Washington employees make over 21,000 bike commute trips to the UW in a typical week. Bicycling isn't just great for your overall physical health; it also alleviates congestion on busy city streets and is good for the environment.
The benefits of biking were no mystery to Arthur Conan Doyle, the creator of Sherlock Holmes, who once wrote, "When the spirits are low, when the day appears dark, when work becomes monotonous, when hope hardly seems worth having, just mount a bicycle and go out for a spin down the road, without thought on anything but the ride you are taking."
Everyone bikes for a different reason – from exercising and staying healthy, to spending time with their children, to cutting commute costs, or being better to the environment. In celebration bicycling's many benefits, UW Transportation invites all of UW to take part in Bike Everywhere Month this May.
The goal is to celebrate the reasons that inspire us to hop on a bike and to make it as easy as possible to continue to make that choice every day by connecting participants with resources and knowledge that enable them to do so. So, whether you are a seasoned cyclist or haven't been on a bicycle in years, this is the time to come together and celebrate biking!
Here's how:
Register for the Bike Everywhere Challenge
Make new friends, log those miles and win some prizes. All you need is a bike and a helmet! Join a team or captain one of your own, and log your trips during May in the Bike Everywhere Challenge. UW Transportation makes it easy:
The Love to Ride challenge platform syncs trips from your favorite ride apps (like Strava) and gives you credit for both number of trips and distance traveled
New riders earn double points so there has never been a better time to start biking
All you need is a bike and a helmet to participate and be eligible for cool prizes!
Get a UW Bike Buddy
First time participating in the challenge? Interested in biking to campus but unsure where to start? UW Bike Buddies are here to help! Get matched with a fellow Husky who loves to pedal to campus and lives near you. They can show you the best way to bike to campus, as well as share some tips and tricks on bike commuting. Contact UW Transportation to learn more and get connected.
Events
Trailside Afternoons
Every Monday in May
4 – 6 p.m., Lower Rainier Vista
Celebrate Bike Everywhere Month with Transportation Services and ASUW Bike Shop with a mini-trailside party every Monday in May. Grab some sweet UW swag and a snack, get your bike assessed by ASUW Bike Shop Mobile mechanics, register your bike with UWPD and meet your fellow bike commuters on your way home from work and class. Hop off the Burke-Gilman Trail at Rainier Vista and join us.
No Trailside Afternoon on May 27 because of the UW holiday.
UW Bike Everywhere Day Celebration Station
Friday, May 17
7 – 9:30 a.m., Lower Rainier Vista
Transportation Services, UWPD, U District Let's Go, UW Sustainability and more will host the biggest bike party of the month on Rainier Vista off the Burke-Gilman trail. Join our celebration station for extra swag, goodies, and all around fun.
Workshops and Classes
ASUW Bike Shop Clinics
Session 1: Tuesdays, 9 – 10:30 a.m. (May 7, 14, 21, 28)
Session 2: Tuesdays, 5:30 – 7 p.m. (May 7, 14, 21, 28)
Session 3: Wednesdays, 5:30 – 7 p.m. (May 8, 15, 22, 29)
HUB 103
ASUW Bike Shop is holding a four class series on introductory bike maintenance! Classes will be taught by mechanics from the bike shop, and the whole series is $15 per participant. The topics will range from general bike care to specifics, like brake and shifting adjustments, to hub adjustments and wheel truing!
Classes take place in the Bike Shop, HUB 103. Payment must be made in advance at the Bike Shop. There is limited space, so if you have any questions or want to make reservations, email asuwbike@uw.edu!
Bike Mechanics 101
Thursday, May 9
12 – 1 p.m., HUB 307
Learn the basics of bike mechanics, like how to fix a flat tire, with Transportation Services and instructor Shannon Leigh!
Family Bike Riding Class
Monday, May 13
3 – 4 p.m., HUB 238
Learn the basics of family bike riding including types of setups available, basic gear, what to do when it rains, basic route planning, and how to create a backup plan for emergencies and meltdowns. Instructor: Lindsey Bartley from Family Bike Seattle.
Intro to Bike Commuting
Monday, May 20
12 – 1 p.m., HUB 307
Come learn from a certified Cascade Bicycle Club instructor about the basics of bike commuting. We will cover topics such as how to ride comfortably and safely, planning your bike route, bike gear and more. Great class for beginners.
Note: Check back often as we'll be updating the calendar of workshops and classes happening during Bike Everywhere Month!
Still Have Questions?
Email ucommute@uw.edu with the subject line "Bike Everywhere Month".