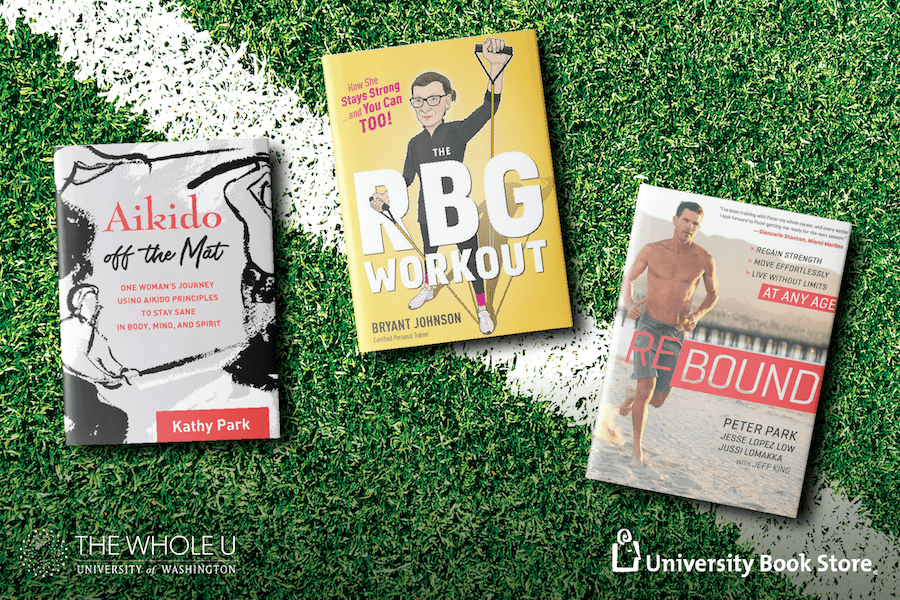 5 Guides to Lifelong Fitness from U Book Store
Get ready for UW Fitness Day and a lifetime of healthy exercise with these great guides on keeping fit! Whether you're looking for something more from your runs, want to try something new, want a quick guide to yoga at your workspace, University Book Store has the titles to get you there!
---
Have you ever wondered how Justice Ruth Bader Ginsburg, one of the Supreme Court's favorite octogenarians, stays so sprightly? She owes it in part to the twice-weekly workouts she does with her personal trainer, Bryant Johnson, a man she's called "the most important person" in her life. Now you too can work out with Justice Ginsburg's trainer in the comfort of your home with The RBG Workout. 
From planks to squats to push-ups, this simple, yet challenging workout—illustrated with four-color illustrations of Justice Ginsburg in workout gear—will have you getting fit in no time. With tips from the bench, and sidebars with Bryant's folksy wisdom on getting fit and staying healthy, this delightful book is a perfect gift for anyone looking to emulate one of America's most admired women.
---
This full-color practice deck of the Ashtanga Primary Series is perfect for quick, easy practice both at home and in the office!This full-color set of practice cards includes 90 poses (the series plus each pose in Surya Namaskara A and B), each with photos, instructions, the drishti (point of focus), and a list of benefits.
Kino MacGregor's clear, step-by-step instruction of the Ashtanga Yoga Primary Series is a wonderful initiation for both those who are new to the practice, and more experienced yogis working toward perfecting their form. MacGregor's devotion to yoga as a path of self-realization will inspire all practitioners.
---
Rebound by Peter Park, Jesse Lopez Low, Jussi Lomakka, with Jeff King
Peter Park has worked with pro athletes (Justin Verlander, Giancarlo Stanton) and celebrities (George Clooney, Matthew McConaughey, Maria Shriver, Rob Lowe). Park himself is a three–time winner of the World's Toughest Triathlon. As one of his clients says, "Having Peter as your trainer is kind of like having Bill Gates as your computer science teacher."
Now Park and his team bring their expertise to anyone who spends long hours at work, has lost strength, mobility, and freedom of movement, and who wants to get it all back. Reboundfocuses on relearning the fundamentals of exercise so people of all ages can work smarter, not harder, and stay fit at any stage of life. With a series of workouts that build upon one another, readers will learn to get the whole body working together, restoring the core and regaining pain-free movement to truly live a life without limits.
---
The Tao of Runningoffers fresh, unique perspective to the topic of running, and explains why a good run is so satisfying. Full of vivid firsthand accounts illustrating the high adventure of running, Dudney's insights teach fundamental lessons about goals, self-awareness, and how running can be a transformative existential experience.
Going beyond the standard training and racing advice found in other running books, The Tao of Runningguides runners to a wider understanding of how running fits into their own aspirations, goals, and life philosophy. It also offers readers lots of practical advice on getting the most out of running. Readers will gain a greater appreciation for the rewards and possibilities inherent in running and will significantly deepen, enlighten, and enrich their running experience.
---
A deeply personal and compelling memoir that illustrates how the basic principles of Aikido can help us cope with the challenges of life outside the dojo
Drawing from more than forty years of experience as an Aikido practitioner and teacher, Kathy Park explains how principles such as embodiment, grounding, centering, extension, 360-degree awareness, blending, and alignment can be applied to everyday life. Not quite a traditional "how-to" manual," but rather candid stories from her own life show how the purpose of practicing Aikido on the mat is to take it off the mat and into the world. Whether Park shares a story about prisoners, horses, or her work as a sculptor and artist, Aikido Off the Matis a thoughtful and poetic account of Park's transformation, and how aikido gives us the tools to continue on our own journeys.
---
Want to meet your (new) favorite author? University Book Store hosts hundreds of reading and signing events every year! Check out our events page or sign up for our e-mails and stay up-to-date on all things University Book Store!