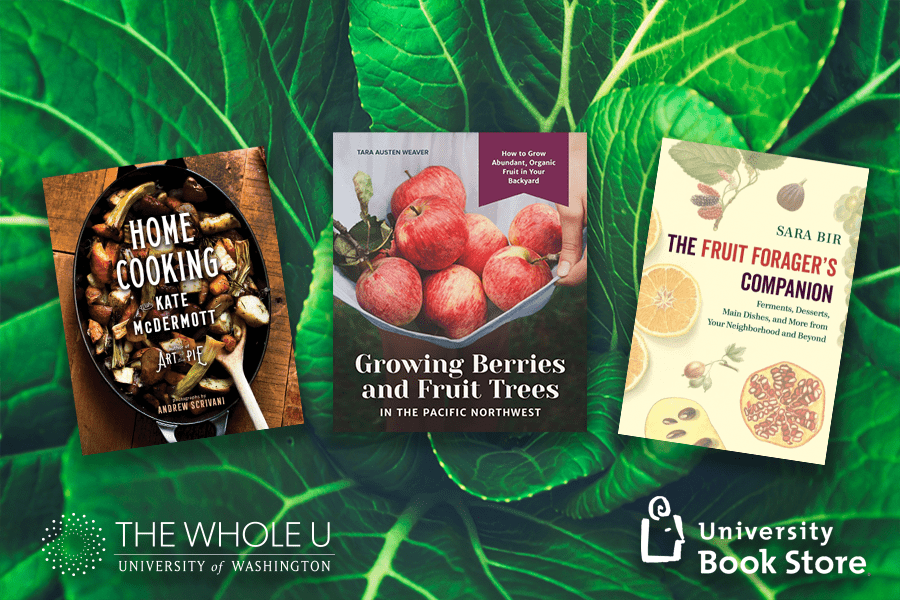 5 Fresh, Home-Grown Reads from U Book Store
Ahh, the spring thaw—with the snow and cold past us, March creates opportunity to practice healthy habits we've built through the winter. To continue nurturing a healthy relationship with fruits and vegetables, from foraging to fermentation, here are five reads from University Book Store to motivate you to explore new modes of healthy living!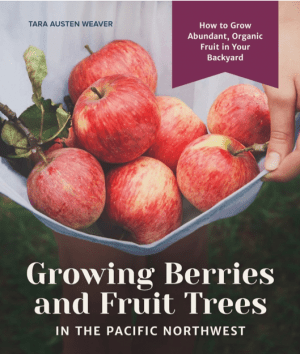 This beautifully photographed guide teaches you how to grow delicious fruit in your backyard! Complete with selection, planting, and organic care for more than 75 cultivators of berries and fruit trees, and their recommended varieties suited for the Pacific Northwest climate, both east and west of the Cascades! Weaver's complete, detailed book teaches you everything you need to know to grow your own apples, pears, peaches, figs, persimmons, raspberries, blueberries, currants, elderberries, and more!
In addition to her many clear instructions, Weaver also offers master recipes, with variations no less, for preserving your bountiful harvest. She also includes informative sidebars that showcase historical orchards, fruit enthusiast societies, gleaning organizations, and more, to help connect you with like-minded individuals to build your own community of passionate home orchard keepers.
---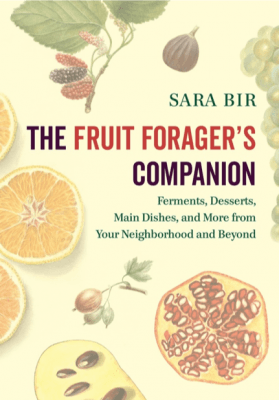 Half of the fruit that grows in yards and public spaces is never picked or eaten. Citrus trees are burdened with misshapen lemons while berries grow in tangled thickets on the roadside. For someone with all of the green instincts but none of the garden space, The Fruit Forager's Companion is a how-to guide on making the most of your local fruits—from the familiar apple to lesser known fruits like pawpaws and mayhaws.
With nearly 100 recipes devoted to the secret, sweet bounty just outside our front doors and within our neighborhoods, Sara Bir—a seasoned chef, gardener, and forager—primes readers on foraging basics, demonstrates gathering and preservation techniques, and presents a suite of recipes including habanero crabapple jelly, lime pickle, pawpaw lemon curd, and fermented cranberry relish, to help you make the most of your unused, local bounty.
---
3. Fresh & Fermented by Julie O'Brien and Richard J. Climenhage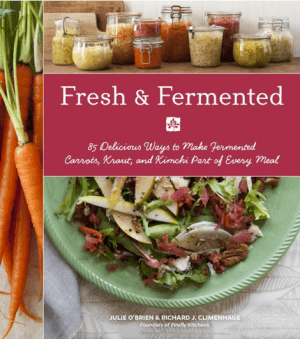 Fermented foods offer more than just sweet, vinegary taste and a satisfying crunch; naturally probiotic, eating fermented foods is a healthy, easy way to help improve digestion. Even better—making homemade fermented foods is simple, rewarding, and delicious!
Balance your digestive system and boost your immunity with these easy, everyday recipes from Firefly Kitchens. With 85 recipes for kimchi, krauts, carrots, and more, Fresh & Fermented teaches you how to ferment your own food and incorporate them into delicious, healthy meals you might already be enjoying: from smoked salmon Reuben sandwiches to flank steak over spicy noodles! Discover new ways to enjoy fruits and vegetables with the new tastes and health benefits fermented foods have to offer.
---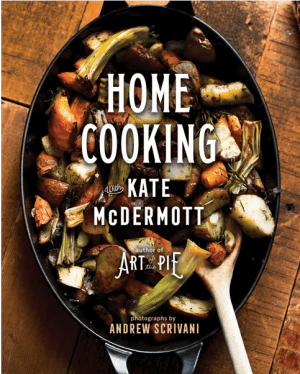 From the beloved author of Art of the Pie comes a new, stunningly photographed book about the joys and rewards of healthy home cooking! Whether it's roasted chicken and veggies for Sunday supper to batches of hearty lentil soup to reheat when there's no time to cook, this practical cookbook focuses on staple recipes for people who aren't looking for a part-time job in the kitchen but still want to elevate their health and enjoyment of food, for themselves and their families.
By rooting her ingredients to key ingredients that can be found in any supermarket, and using techniques that every home cook needs, McDermott shares tasty and repeatable meals for friends and family. Her recipes are accompanied by moving stories, from anecdotes of single motherhood to building a home in the foothills of the Olympic Mountains.
---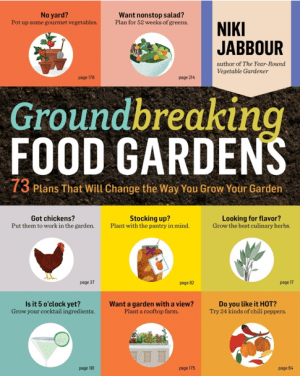 Nikki Jabbour's innovative guide to home gardening promises something delicious for everyone! Whether you've got a yard full of potential, a few clay pots, or even some small planters by the window, these 73 novel and inspiring food garden designs include a cocktail garden, chili peppers, and a year's with of salad greens—plus grains, fruits, and mushrooms, all presented with the off-beat personality and quirkiness for off-beat, quirky people!
Each contributor to this eclectic collection, including Amy Stewart, Barbara Pleasant, and Joe Lampl, brings their own unique takes to their themed plans, and will inspire readers to explore different possibilities for their home gardens. Regardless where you live or what you like, Groundbreaking Food Gardens offers a fun, home-grown twist on foods you enjoy!
---
Want to meet your (new) favorite author? University Book Store hosts hundreds of reading and signing events every year! Check out our events page or sign up for our e-newsletter!