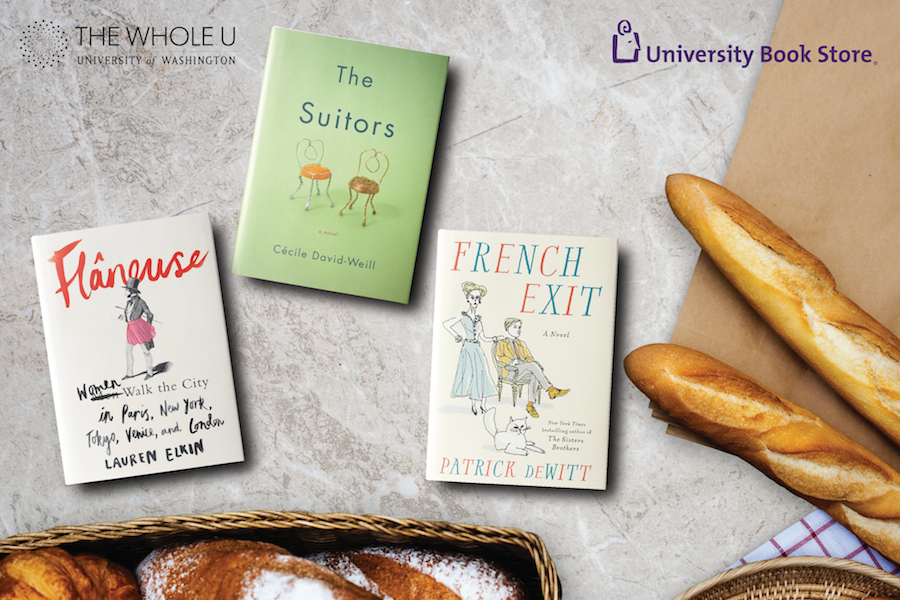 Vacation, J'adore: 5 Transportive Reads
As the sun sets on summer, why not have one last hurrah and plan a literary getaway with some suggestions from the U Book Store? Explore Paris from the comfort of your home through fiction, essays, or memoir! You won't have to worry about layovers with these five titles! And don't forget to check out upcoming Reading Allowed Events to see what—and who—is coming to the U Book Store this fall!
---
By Patrick deWitt
French Exit is a hilarious 'tragedy-of-manners', a dark comedy full of quick, clever dialogue with delightfully dislikeable characters, and a memorable supporting cast including a bashful private investigator, an aimless psychic proposing a séance, and a doctor who makes house calls with his wine merchant in tow.
Frances Price–tart widow, possessive mother, and Upper East Side force of nature–is beset by scandal and impending bankruptcy. Her adult son Malcolm, stuck in a permanent state of arrested development, is no help. Then there's their cat, Small Frank, who Frances believes houses the spirit of her late husband whose tabloid death rendered Frances and Malcolm social outcasts. So to cut their losses, Frances and Malcolm leave New York for Paris.
---
By David Sedaris
Winner of the Thurber Prize for American Humor, Me Talk Pretty One Day is a collection of essays written by New York Times bestseller David Sedaris after he moved to Paris, and attempted to learn French. Sedaris's essays on living in Paris are some of the funniest he's ever written—written with an acerbic wit that even Voltaire would have to doff his hat to.
Sedaris' family is another inspiration. One vignette in the book, "You Cant Kill the Rooster," is a portrait of his brother who talks incessant hip-hop slang to his bewildered father. And no one hones a finer fury in response to such modern annoyances as restaurant meals presented in ludicrous towers and cashiers with 6-inch fingernails. Sedaris will have you rolling in the aisles, even if there's not an aisle seat in sight.
---
By Julia Child and Alex Prud'homme
Best known for her acclaimed cookbook Mastering the Art of French Cooking and her television show—The French Chef—and for just being a sheer delight, Julia Child wasn't always a master chef. Once upon a time, even she was a stranger in Paris! Child's bestselling autobiography My Life in France, co-written with her great-nephew, was the basis for Julie & Julia, starring Meryl Streep and Amy Adams.
When Child first arrived in France in 1948 with her husband, Paul, who was to work for the USIS, she spoke no French and knew nothing about the country itself. But as she dove into French culture, buying food at local markets and taking classes at the Cordon Bleu, her life changed forever with her newfound passion for cooking and teaching. Also roast chicken and butter.
---
By Cécile David-Weill
The Suitors is an amusing insider's look at the codes, manners, and morals of French high society: a comedy of manners that serves as an insightful look at the lives of those in the upper classes. After two sisters, Laure and Marie, learn of their parents' plan to sell the family's summer retreat, L'Agapanthe, they devise a scheme for attracting a wealthy suitor who can afford to purchase the estate. Selling it would mean more than just losing a place to go during the summer—for the sisters, it's become a necessary part of their character, their lifestyle, and their past. L'Agapanthe, a place of charm and nostalgia, is the perfect venue to exercise proper etiquette and intellect, though not all its visitors are socially savvy, especially when it's a matter of understanding the relationships between old money and the nouveau riche.
---
By Lauren Elkin
Alright, so we know it's not just about Paris, but Lauren Elkin's inspiration came from a French word and we just think it's neat. A native New York based in Paris since 2004, Elkin has lived for various periods in London, Venice, Tokyo, and Hong Kong.
A flâneuse (flah-nooz) is, in Elkin's words, "a determined resourceful woman keenly attuned to the creative potential of the city, and the liberating possibilities of a good walk." Virginia Woolf called it "streethaunting," Holly Golightly epitomized it in Breakfast at Tiffany's, and Patti Smith did it in her own inimitable style in 1960s New York.
Part cultural meander, part memoir, Flâneuse traces the relationship between singular women and their cities as a way to map her own life—including the paths beaten by such flâneuses as the cross-dressing, nineteenth-century novelist George Sand, the Parisian artist Sophie Calle, the journalist Martha Gellhorn, and the writer Jean Rhys. With tenacity and insight, Elkin creates a mosaic of what urban settings have meant to women, charting through literature, art, history, and film women's sometimes liberating, sometimes fraught relationship to the metropolis.
---
Again, be sure to check out the UW Bookstore's full list of Reading Allowed Events. You never know when your favorite author might be coming through town!