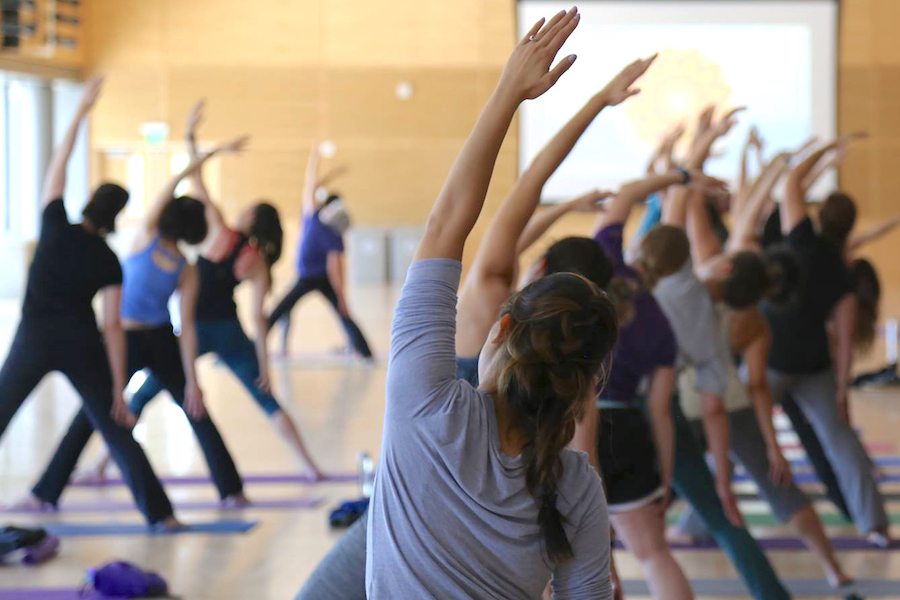 Autumn Yoga Series with The Whole U and UW Recreation!
Kick off the school year with improved mental and physical well-being by signing up for one (or both) of the autumn yoga series with The Whole U and UW Recreation. The 10-week vinyasa yoga series at the HUB costs $55*, while the 8-class flow yoga series at South Campus Center costs $45*.
---
Autumn Vinyasa Yoga at the HUB
Starting October 3  •  Wednesdays, noon to 1:00 p.m.  •  HUB
The 10-week Autumn Vinyasa Yoga series is a dynamic heat building practice that synchronizes movement with breath. This class utilizes progressive and creative sequencing to build towards a peak pose that enlivens your body, mind, and heart. Cultivate physical strength, cardiovascular health, mindful awareness, and a greater sense of overall well-being. Some experience with yoga recommended. Please bring your own yoga mat.
---
Autumn Flow Yoga at South Campus Center
Starting October 2  •  Tuesdays, 11:00 a.m. to 11:55 a.m.  •  South Campus Center
The 8-class Autumn Flow Yoga series is a medium pace class that weaves together synchronized movement and breath with longer posture holds. This class emphasizes basic alignment principles and creative sequencing to foster greater mental clarity and awareness. Cultivate physical strength, reduce stress, increase brain functionality, and improve spinal health. No prior experience with yoga required. Please bring your own yoga mat.
*Please note there is at 15.6% institutional overhead charge for using credit card, cash or check.