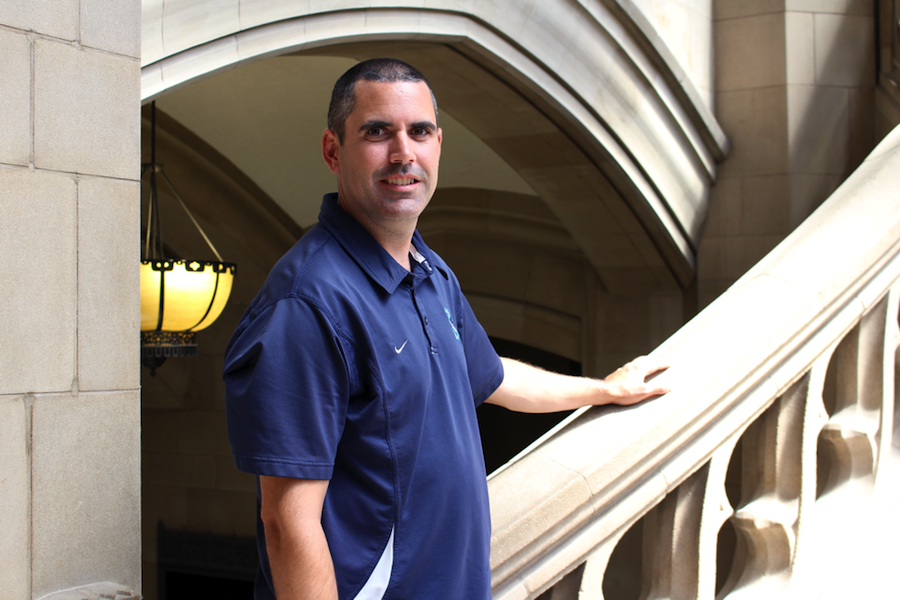 Faculty Friday: Andrew Loveless
Hailing from Yakima and wearing a well-loved Mariners cap, Dr. Andrew Loveless might seem like your average Washingtonian. However, the principal lecturer in the Department of Mathematics has set himself apart in a field that is notoriously difficult to teach.
In his classes, Loveless utilizes a strategy of gamification that emphasizes student engagement to mitigate math's intimidating reputation as a challenging academic roadblock. "People like solving puzzles," he explains. "If you can make the math just a puzzle, a game, problem solving, usually it goes better."
Flipping the classroom so that students feel intrigued by the problems and involved in puzzling them to solutions, Loveless encourages students to talk through mathematical equations, step by step. To begin each lecture, he greets students with two problems on the board and then proceeds to walk through rows of desks answering questions as they work each through.
Loveless' encouragement of this form of consistent practice is inspired in part by his years as a tennis player at the University of Puget Sound and sustained success at the state level well into his thirties as one of the better over-35 players in Washington.
"I'm a guy who's about practice, practice, practice," he says efforts on court and in class. "Just because you know how to do that problem, we still have to practice. We need to just hammer it into the ground until we got it. The tests are the game."
Loveless stays in practice as a principle lecturer by always looking for ways to improve his teaching style. Each year, as the academic year begins, he reflects on his self-proclaimed side mission: "How can I make the experience better for the average student at the UW?"
To that end, Loveless develops an arsenal of test prep resources he provides to thousands of students each quarter. Published weekly, class newsletters give students problems to review, a look at classwork in the week ahead, and a few words of encouragement. Each year, he adds his newly developed review sheets to an extensive back catalogue online, which he keeps open and free for all to use—even by students who aren't enrolled in his classes.
"I think of myself as a coach, a guide, and a delivery boy," he says regarding his role in creating a bank of resources that reach well beyond Washington: a student from the University of Georgia recently emailed him just to extend a thank you for his calculus guides.
For Loveless, a significant portion of teaching means getting to know students and helping them use mathematics and the skills they develop studying it to succeed in all areas of life. As one of the instructors for the honors calculus series, Loveless had the same students for three consecutive quarters. During that time, he made a point to learn their stories and goals, as well as the challenges his students are facing.
"Students have to be very open-minded and open to new opportunities if they're here," Loveless says, referencing the competitive environment he's often observed at UW—especially around being selected for majors. "Some of the doors may close and that can be tough."
He hopes his guidance can help alleviate the stresses of first- and second-year students learning the ropes at a large research institution.
As ever, Loveless' teaching philosophy circles back to his time on the tennis court.
"How do we deal with adversity and failure? To me, that's a central theme of everything I do when I coach, and I think it bleeds into how I teach."
His unwavering dedication to students earned Loveless the 2012 Distinguished Teaching Award and the Honors Excellence in Teaching Award. But for Loveless, being in the classroom is reward unto itself.
"I get to interact with musical talents, with sports stars, with students that are travelling abroad — all doing fun things," he says. "There aren't many places like a university campus—all the opportunities, all excitement."
Simple Significance
When Loveless arrived at the University of Washington in 2005, a distinguished teaching career was not in his plans.
"I wanted to find a place I could teach and work on my research," he says. "I applied here with the intention of only staying two or three years—and now it's been 13."
So what happened? Loveless credits the incredible faculty in UW's mathematics department.
"They all care a lot about students, and it's nice to be part of a group like that," Loveless says, citing his colleagues Dr. Jennifer Taggart, Dr. Matt Conroy, Dr. Jonah Ostroff, Dr. Alex Nichifor, Dr. Patrick Perkins, and Dr. Ebru Bekyel as major influences. Together, they form a team of instructors who teach thousands of UW students each year in introductory business and analytical calculus series.
But no matter how complicated the problem sets might get, Loveless says the beauty of mathematics shines through in its simplicity.
"I liked the idea that you could do something significant with just a pencil and paper."
By his own admission, Loveless is not from an academic family. He credits professors at UPS for encouraging him to apply to graduate school. Part of what inspires Loveless' teaching is a drive to give students the confidence to go after their passions, even if they might not align with their family's path.
During and after graduate school, Loveless committed years to researching number theory — a subject he describes as having some of the biggest—and oldest—unsolved problems in mathematics. A problem solver at heart, Loveless has also long been drawn to cryptography, a code breaking and creating discipline based off of computer science and mathematical theory.
Beyond his enthusiasm for mathematics and a passion for improving the student experience, Loveless says it's ultimately his family that keeps him so involved and passionate about the UW year after year. He says having children helped transform his teaching—as he strives to be the teacher he'd want his own kids to have.
Outside the classroom, Loveless devotes time to coaching a youth baseball team and cheering on his three children in a multitude of sports. But whether he's on the field, on the court, or in the classroom, his pride for Washington shines through.
"It's hard to think of moving."
---
Andrew Loveless holds a B.S. in Mathematics, a B.S. in Computer Science from the University of Puget Sound, and a Ph.D. in Mathematics from Washington State University.
Guest writer Noelle Morrison was a student in Professor Loveless' class in Winter 2018 and thanks Loveless for transforming calculus with clarity. She is currently the internal communications intern for University Marketing & Communications.