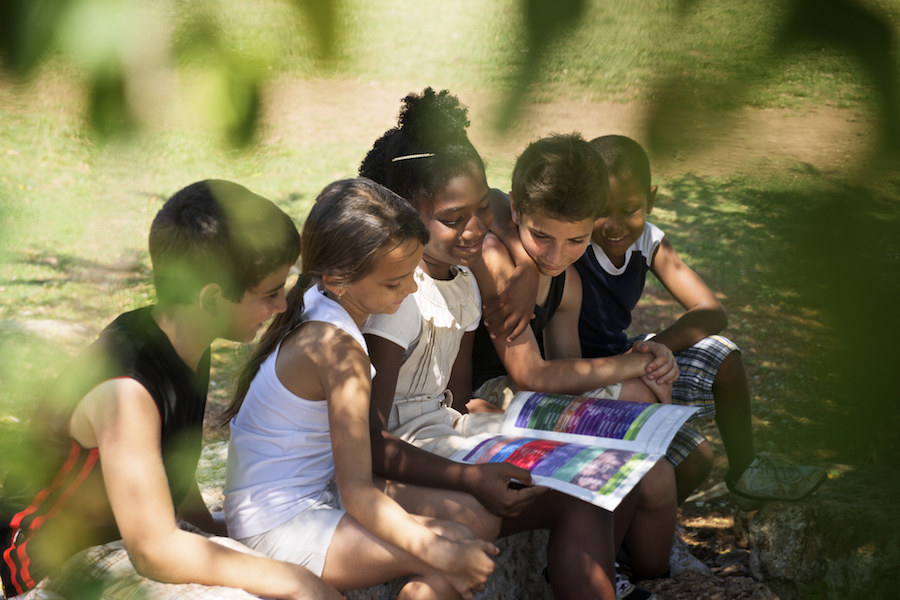 Dive into Summer Reading with the U Book Store
School may be out, but that doesn't mean the learning has to stop! Prevent summer slide and encourage a love of books this summer with the University Book Store's free summer literacy program: 20,000 Reads Under the Sea.
Getting started is easy: just visit the U District, Mill Creek, or Tacoma store to sign up. Kids will receive a Captain's Book Log to keep track of the books they've read. Parents will receive a coupon to save 20% on a Kids Books purchase to help get their child's reading adventure started. Then, readers can fill out their Captain's Book Log with short descriptions of the books they've read. Finally, return a filled-in book log to a participating University Book Store location to get rewards after reading 5 or 10 books:
5 books: Receive a fun prize.
10 books: Receive a FREE book, cool button, and an additional Kids Books coupon.
20,000 Reads Under the Sea runs from now through August 31. For additional details or questions, please speak to one of the U Book Store's booksellers or visit their website. Here are a few fantastic titles to help children of all ages get their summer reading adventure off to a great start.
---
Picture Books
A Perfect Day by Lane Smith
Everyone has their own idea of an ideal day. Cat is blissful sitting in a sunny bed of daffodils. Dog loves resting in the cool of a wading pool. Squirrel is happy munching his corncob. It looks like it's going to be a perfect day. Then along comes Bear.
The repeated refrain of "It was a perfect day" suddenly takes on a new meaning as this bothersome intruder proceeds to disrupt the restful days of the other local animals—crushing the daffodils, drinking the pool water, and gobbling Squirrel's corncob. This humorous picture book offers a lively illustration of the power of perspective. Lane Smith's vibrant imagery with lush colors, broad brush strokes, and a dash of whimsy make this a visually pleasing read.
Not Quite Narwhal by Jessie Sima
Young Kelp has always known he was a little different from his narwhal family. His tusk isn't as long, he doesn't like the same food, and he isn't that great of a swimmer. But since they don't mind, he doesn't mind. Then one day, he's swept to the surface and discovers a mysterious creature that looks just like him! Kelp isn't a narwhal after all…
Warmth, love, and acceptance are major players in this charming tale about fitting in, standing out, and family. We love Jessie Sima's adorable illustrations and the wonderful message behind this little unicorn's story.
Middle Grade
Summerlost by Ally Condie
It's been a year since the accident that took 12-year-old Cedar's father and brother. Her mother has brought the remaining family members to her hometown of Iron Creek, Utah for the summer to regroup. They're just settling in when Cedar spots a costumed boy riding by their house on a bicycle. Intrigued, she follows him and finds Summerlost, the town's annual Shakespeare festival.
It isn't long before she has a new job working concessions for the festival and discovers a series of mysteries, including a tragic Hollywood actress who haunts Summerlost and a series of strange gifts. Ally Condie—known for her Matched series—introduces a cast of quirky, memorable characters in her debut middle grade title. It's a story that realistically deals with the topics of grief, family, friendship, and resilience and is sure to strike a chord with readers.
---
YA
Still Life with Tornado by A.S. King
Sixteen-year-old Sarah is having an existential crisis. Someone sabotaged her art project, her art club friends have turned their backs on her, and her parents' broken marriage is just getting worse. What's more, she keeps encountering past and future versions of herself. Now, conversations with 10-year-old Sarah have her questioning the story of why her family stopped talking to her older brother six years ago after an incident in Mexico.
A.S. King takes readers on a journey through the streets of Philadelphia in a surreal, resonant tale that compellingly captures teen anxieties. Still Life with Tornado is a New York Times 2016 Notable Children's book, as well as a Publishers Weekly and Booklist Best Book of 2016. Prepare for a story that is thought-provoking, compassionate, and highly original.